Shrimp exporters eye over US$4 billion in export in 2021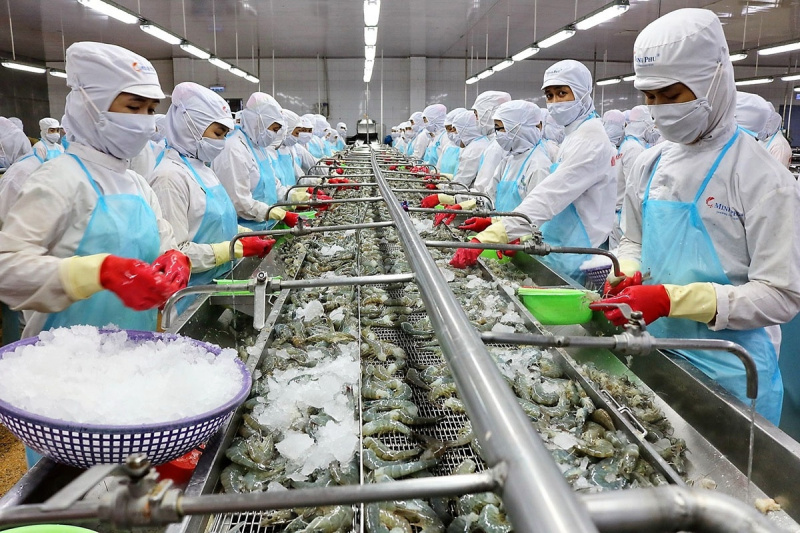 During the initial 11 months of last year, shrimp exports rose by 11.3% to US$3.4 billion despite the adverse impact of the novel coronavirus (COVID-19) pandemic and saline intrusion causing a decline in brackish water shrimp output, especially tiger shrimp.
Most notably, strong export growth was recorded in markets such as the United States, Canada, and Australia, with local businesses seeking more outlets and persified products which are suitable for different market segments in an effort to increase exports.
Economists believe that shrimp exports will witness robust growth in 2021 providing that businesses take full advantage of FTAs, while shrimp farming and processing procedures must be ensured.
According to the Vietnam Association of Seafood Exporters and Producers (VASEP), the global demand for shrimp is likely to rise, especially in the context of complicated developments relating to the COVID-19 pandemic.
The association says that Vietnam enjoys advantages over other rivals due to its successful containment of the COVID-19 epidemic. Major consuming markets such as the US, the EU, and China, have chosen to buy shrimp from Vietnam, thereby opening up bright prospects ahead for the local shrimp industry.
The VASEP forecasts that the shrimp industry is likely to achieve an export turnover of between US$4 billion and US$4.4 billion by focusing on developing the farming areas and investing in technologies and intensive processing in an attempt to meet the stringent requirements imposed by importing countries.
Nguyen Quoc Toan, director-general of the General Department for Agricultural Products Processing and Market Development, notes that along with organising a series of trade promotion events to promote shrimp exports, the department will also host a range of activities aimed at stimulating consumption among the domestic market.
Source: VOV
english.vov.vn
TAG: