RCEP signing: Highlight of Vietnam's 2020 ASEAN leadership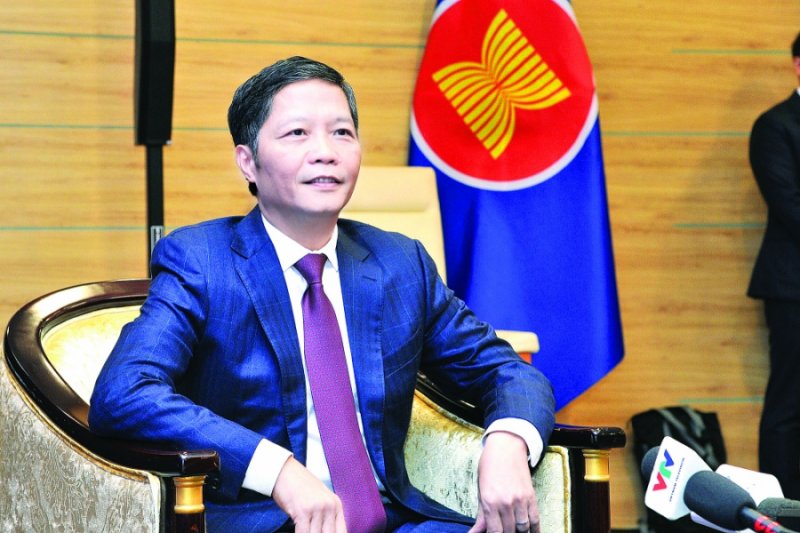 Minister of Industry and Trade Tran Tuan Anh
Could you describe Vietnam's leadership role as well as the role of the Ministry of Industry and Trade in strengthening ASEAN's economic pillar in 2020?
2020 can be said to be a year of great significance for Vietnam, marking its annually rotating chairmanship of ASEAN and also the 25th anniversary of Vietnam's ASEAN membership.
This year has seen special developments in the region and the world: the geopolitical competition as well as the conflicts and trade war between major economies; the Covid-19 pandemic, protectionism and unilateralism. In this special context, Vietnam has successfully played a positive role.
From the beginning of the year when the pandemic occurred, Vietnam hosted a number of ministerial level meetings, including the ASEAN Economic Ministers Meeting.
In the economic pillar, Vietnam proposed 13 initiatives covering a wide range of fields and meeting all requirements of
ASEAN intraregional cooperation and the bloc's cooperation with partners. Throughout 2020, Vietnam has taken the initiative in boosting adaptability and strengthening connectivity, as well as in implementing these 13 initiatives.
What impressed you most when coordinating activities related to ASEAN's economic pillar?
What impressed me most was the consensus by all member states on coping with difficulties in accordance with the theme of ASEAN 2020, "Cohesive and Responsive". Vietnam's ASEAN Chairmanship role was highly supported by member states and partners. The signing of the RCEP was a major highlight of ASEAN 2020.
The RCEP has formed the world's largest free trade area and economic region with gross domestic product (GDP) amounting to nearly US$27 trillion, accounting for 30 percent of global GDP, and a market with more than 2.2 billion consumers. It has created a new entity and a new model of free trade and economic connectivity.
ASEAN has signed the RCEP agreement with five partner countries: Japan, China, the Republic of Korea, Australia and New Zealand, and we still affirm the very important role of India in RCEP cooperation. We respect India and hope it will join the agreement in the near future.
Could you assess the RCEP's initial impact on Vietnam and ASEAN?
First, it must be affirmed that the agreement has created a large trade area and economic region on the foundation of free trade. I believe it will create favorable conditions for all signatories as well as their businesses to restructure their supply chains in order to join global ones.
Second, given the specific conditions and requirements of the agreement, we can expect it will facilitate trade in goods, services and investment among signatories.
Third, the main objectives of the agreement are to create opportunities for manufacturing capacity enhancement and to create the most populous trade area in the world.
Together with other free trade agreements, especially new-generation ones such as the Comprehensive and Progressive Agreement for Trans-Pacific Partnership (CPTPP) and the EU-Vietnam Free Trade Agreement (EVFTA), I believe the RCEP will help accelerate Vietnam's reforms.
Could you say something about new supply chains created by the RCEP?
Given the large size and diversity of the market as well as diverse economic development levels of RCEP member countries, Vietnamese companies and those of other RCEP members can rebuild their business strategies to join supply chains in the RCEP market.
Businesses of RCEP member countries will consider ASEAN in general, and Vietnam in particular ideal destinations for investment. The agreement will also create favorable conditions for human resource capacity enhancement, especially highly qualified human resources.
The ASEAN Community Vision 2025 and ASEAN Industry 4.0 projects will contribute to the formation of new supply chains and enhance their efficiency.
Recorded by Thu Phuong & Nguyen Huong
TAG: