Lao Cai and Yunnan provinces agree to strengthen bilateral ties
The provincial authorities of Vietnam's Lao Cai and China's Yunnan agreed on March 28 to take necessary measures to lift their comprehensive ties, especially trade.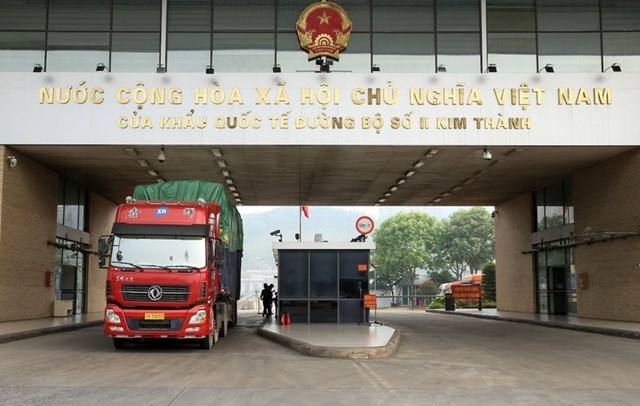 "The comprehensive partnership between Lao Cai and Yunnan has improved tremendously in recent years, but it has not reached its full potential," said Hoang Quoc Khanh, permanent vice chairman of the Lao Cai Provincial People's Committee.
Khanh suggested that Yunnan authorities further relax regulations and facilitate cross-border trade and travel between the two nations to improve bilateral relations.
The Lao Cai official said Chinese authorities should restore trade and travel activities to pre-pandemic levels.
He also urged the Chinese government to speed up the inspection of people and goods passing through the border gates of Lao Cai and Hekou, thus saving costs and time for both sides.
Khanh also suggested that both authorities set up joint border markets and officially open the border gates connecting Muong Khuong and Ban Vuoc in Lao Cai with Qiaotou in Yunnan.
"The Lao Cai-Hekou border gate must become a model for Vietnam-China relations. The two sides should develop the "priority line" for the passage of agricultural products at the Kim Thanh - Beishan border gate, thus boosting Vietnam's agricultural and aquatic exports to China," the Vietnamese official said.
He wanted the two sides to improve transportation infrastructure, especially the Lao Cai-Hekou railway, to better transport agricultural and aquatic products from Vietnam to China and connect Yunnan to Hanoi and Hai Phong.
In addition, Khanh urged the resumption of tourism and cultural exchange activities, such as the Vietnam-China Border Trade Fair and the "One Track, Two Nations" International Bicycle Race, as well as other areas, including education and training, border patrol, national defense and crime prevention, local exchanges, agriculture, environmental protection, water management, and labor administration.
For his part, Yang Bin, vice governor of the Yunnan Provincial People's Government, agreed with Lao Cai's suggestions, saying that Yunnan officials will discuss concrete plans with Lao Cai counterparts to implement the recommendations soon.
The Chinese official urged the two localities to find ways to strengthen the friendship between the provinces and their subordinate authorities.
He also encouraged colleges and universities in both provinces to continue cooperation.
"The Yunnan government will give scholarships to Lao Cai students and hopes that Lao Cai will warmly welcome Chinese students."
He also expected that the authorities of Vietnam and China would soon complete the construction of the Lao Cai - Yunnan Economic Cooperation Zone and build it into a world-class trade and logistics center.
Yang hoped that Chinese and Vietnamese enterprises would continue to strengthen their knowledge, skills, and local operations in both countries by market regulations.
Yang also agreed with Khanh's suggestion that authorities in the two provinces should work to promote a healthy tourism sector. In particular, travelers should be able to drive across the border themselves.
Agreement inked
The Vietnamese authorities of Lao Cai, Dien Bien, Lai Chau, and Ha Giang signed an agreement with the Yunnan Province delegation on March 27 to strengthen relations between Vietnamese border localities and Yunnan.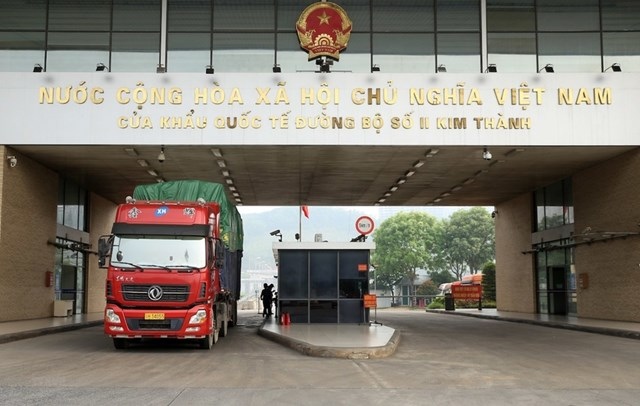 Chinese tourists visit Hanoi on March 15. Photo: Cong Hung/The Hanoi Times
"Vietnam's border provinces expect the two governments to speed up the establishment of new border gates, trading points, and joint markets and resume the organization of cross-border trade fairs and investment conferences," said Dang Quoc Khanh, secretary of the Ha Giang Provincial Party Committee.
At the third annual secretaries' meeting between Lao Cai, Dien Bien, Lai Chau, Ha Giang, and Yunnan, Khanh said, "Localities should find appropriate ways to create a good environment for businesses to cooperate and boost the production and consumption of agricultural products."
He urged the Vietnamese and Chinese governments to find solutions to relieve congestion at border gates and facilitate social exchanges between the people of the two nations.
Khanh also stressed the importance for the five Vietnamese localities and Yunnan to resolve border disputes in the spirit of friendship and peace. He also recommended the two sides to strengthen cooperation in national defense and crime prevention.
For his part,  Wang Ning, Secretary of Yunnan Province, hoped that the consensus on activities would facilitate further growth for the Chinese locality and its Vietnamese partners.
According to the General Department of Vietnam Customs, Vietnam's total trade value with China increased by 5.5% year-on-year to US$175.6 billion in 2022. China remained Vietnam's largest trading partner and export market.
Yunnan borders four Vietnamese provinces: Lao Cai, Ha Giang, Lai Chau, and Dien Bien. The Chinese province is also the key point of the economic corridor connecting Kunming with two major cities of Hanoi and Haiphong, Lao Cai and Quang Ninh.
The trade value between the Vietnamese provinces and Yunnan will increase by 39.5% from US$3.7 billion in 2017 to US$5.16 billion in 2021. In 2022, the two-way trade value was US$3.25 billion, down 18.5% from the previous year, as the two nations faced economic difficulties caused by the Covid-19 pandemic.
Hanoi Times
TAG: