Vietnam advised to pilot large-scale wind power projects
Vietnam should award large-scale demonstration wind projects to be commissioned in phases in order to kick-start the industry.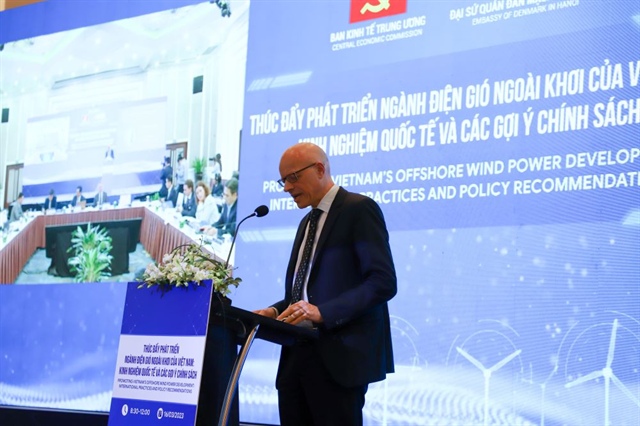 Henrik Scheinemann, Co-CEO of Copenhagen Offshore Partners (COP), speaks at the seminar held in Hanoi on March 16. Photo: Embassy of Danmark in Hanoi
It's the idea shared by domestic and Danish experts in the 'Input to Roadmap for Offshore Wind Power Development in Vietnam' report jointly prepared by the Danish Energy Agency and World Bank.
"It is now the ripe time for the government to take action if the target of having 7GW offshore wind capacity installed by 2030 as set out in the draft Power Development Plan VIII (PDP8) is to be met," according to the report which was presented in the seminar held in Hanoi on March 16.
Sharing the same view, Henrik Scheinemann, Co-CEO of Copenhagen Offshore Partners (COP), said Vietnam should focus on instigating this proven and highly effective renewable energy industry and learn from other markets that have progressed well during their journey in order to deliver an offshore wind industry that is well-suited to the country's needs and skills.
He noted that the move is "critical" as the country can and will get this industry established. For that reason, it's the time to "press forward and allow pilot projects to be instigated, a clear regulatory framework to be delivered, and for developers to share learnings to build up the local supply chain and address Vietnam's growing thirst for green energy."
The sharing was reached at the seminar 'Promoting Vietnam's Offshore Wind Power Development: International Best Practices and Policy Recommendations' co-organized by the Vietnam Central Economic Commission and the Embassy of Denmark in Hanoi.
The event aimed at creating a forum for open dialogue and discussion among Vietnamese ministries and agencies with local and international organizations, experts, and businesses to share international experience and propose relevant policies for Vietnam to develop its offshore wind power industry.
The workshop had five keynote presentations from experienced sector managers, international experts, and researchers. The recommendations focused on giving an overview of the global offshore wind power development, requirements to kick-start the first offshore wind power projects in Vietnam, and experience in implementing offshore wind power projects in some countries, such as Denmark, the US, and Taiwan.
In addition, the experts represented pilot and special schemes for offshore wind power projects and policy implications for Vietnam, exploitation of offshore wind power resources to ensure energy security and reduce emissions.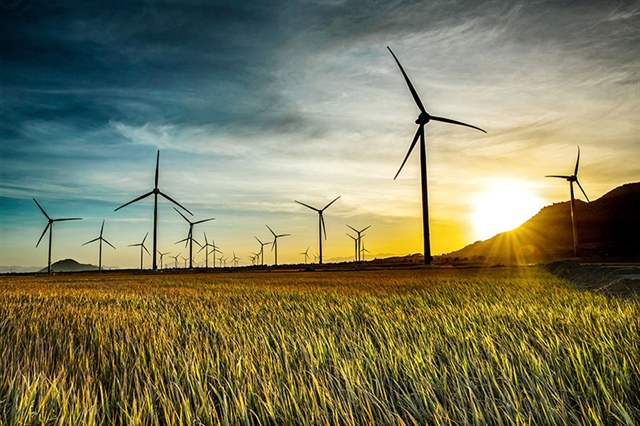 Vietnam targets to have 7GW offshore wind capacity installed by 2030. Photo: Trung Nam Group
Hanoi Times
TAG: