Thanh Hoa Province boosts industrial growth
Pham Ba Oai, Director of the Thanh Hoa Province Department of Industry and Trade, said that in the first nine months of 2022, the province's industry prospered, with its index of industrial production (IIP) growing 16.2 percent over the same period last year, and most manufacturing industries increasing contributions to the province's gross regional domestic product (GRDP). Notably, province-based manufacturers have created intensively processed products using high technology and adding high value, while many large-scale projects have been put into stable production.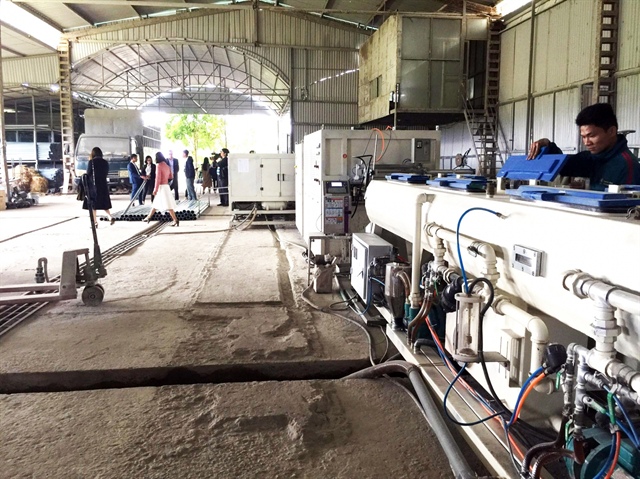 Testing an industry promotion project
Oai said industry promotion projects helped rural industrial establishments apply advanced technology and equipment, improve productivity and product quality, reduce employment and product costs, use raw materials efficiently, and minimize environmental pollution.
Thanh Hoa is currently focusing on trade promotion, market research, and construction of advanced production and trading models.
In the first nine months of 2022, rural industrial establishments benefiting from industry promotion projects and policies grew significantly compared to the same period in 2021, overcoming COVID-19 challenges. Most have expanded production and employed more workers, greatly contributing to the province's industrial and handicraft development.
Oai said his department and the provincial industry promotion and energy efficiency center will enhance their performance, further strengthen industry promotion projects and policies, encourage businesses to join industry promotion projects, attract investment from leading corporations, as well as domestic and foreign experts, enrich knowledge, and develop a high-quality workforce.
The provincial industry promotion sector aims to set up large-scale, long-term projects, focus on boosting industrial and handicraft production, combine industry promotion with trade promotion and market search through domestic and foreign fairs and exhibitions, and develop product branding.
VietNam Economic News
TAG: