Southern provinces strive to reach targets
According to data from the Ministry of Industry and Trade's Agency for Regional Industry and Trade (ARIT), VND38.4 billion of industry promotion capital (including VND5.7 billion of national industry promotion funding and VND32.7 billion of local industry promotion capital) was disbursed in the southern region in the first nine months of 2022, 37.6 percent of the 2022 target.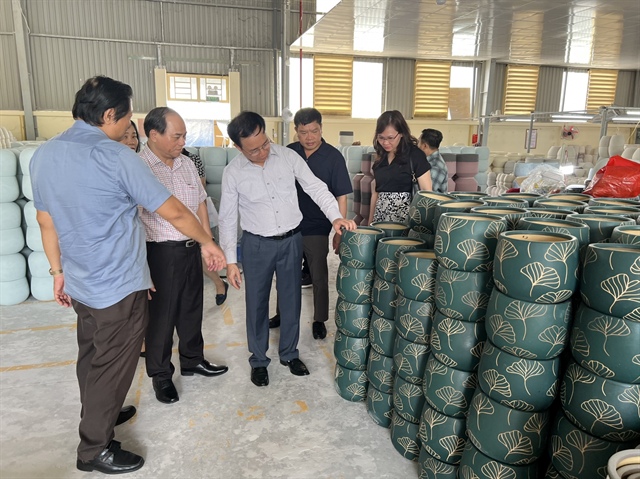 Leaders of the Agency for Regional Industry and Trade visit a southern province-based production facility
Specifically, in the first nine months, southern localities signed national industry promotion contracts to help 114 rural industrial establishments apply advanced machinery and equipment to production, and support one rural industrial producer in repairing and upgrading a pollution treatment system, all at a total cost of VND23.9 billion, accounting for 63.7 percent of all industry promotion capital allocated for the southern region.
Supporting the development of outstanding rural industrial products was also an important part of the industry promotion projects. In the first nine months, 274 and 220 rural industrial producers were helped to participate in trade fairs and exhibitions and promote outstanding rural industrial products, respectively. Industry promotion projects also helped five rural manufacturers launch product showrooms at a total cost of more than VND6 billion.
Southern provinces and cities are facilitating industrial park and human resource development, and rural industrial producer assistance. They are also easing problems and creating favorable conditions for project beneficiaries and relevant management authorities to reach 2022 industry promotion targets on schedule.
They will continue supporting technical demonstration model construction, technology transfer and advanced machinery application to help businesses create outstanding rural industrial products of high quality and high value, meeting consumer tastes.
VietNam Economic News
TAG: