Boosting business links with overseas trade offices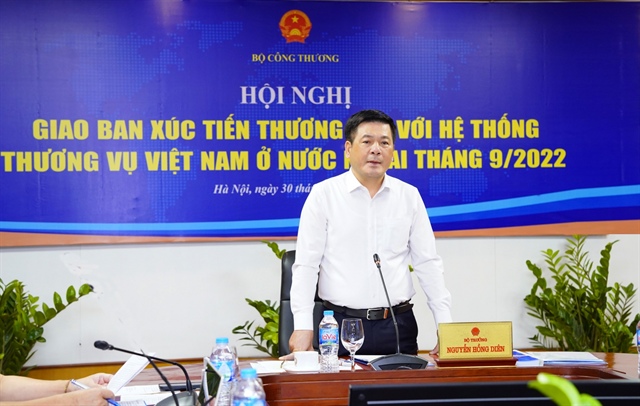 Minister of Industry and Trade Nguyen Hong Dien presides over the conference
Policy, market updates
A representative of the Vietnamese trade office in the UK reported that market demand for wood products is plunging as consumers cut non-essential spending. Given the current context of the UK economy, the official warned Vietnamese businesses of the need to be cautious when signing contracts even with traditional partners and avoid goods deliveries before payment is made. Businesses are also advised to learn carefully about partners through the trade office.
The Vietnamese trade office in Pakistan and relevant authorities are dealing with a matter related to seven pepper containers weighing a total of 180 tonnes worth US$750,000. Due to their long stay at the port awaiting payment, these containers risk being auctioned.
The Vietnamese trade office in Bulgaria recommended that domestic companies promote exports to this market. Although it is a niche market, Bulgarian standards are not as high as those of Western Europe and it does not require bonded warehousing. Moreover, the cost of transportation to this southeastern European market is lower than to Western Europe.
A representative of the Vietnamese trade office in China's Chongqing City reported on plans to launch a regional connection project in the cities of Chengdu and Chongqing with trade in goods expected to reach US$300 billion and trade in services US$35 billion. The official urged domestic companies to take advantage of this project to boost exports to China.
The Vietnamese trade office in Houston, Texas warned domestic companies of the need to pay special attention to the shelf-life of products as well as the efficiency of chips received from US businesses under technology transfer programs in the field of renewable energy and automation.
The Vietnamese trade office in France said that the success story of the Loc Troi Group with its rice products now present on the shelves of French supermarkets shows that businesses should seek the office's support in building a market access strategy as well as in seeking importers and negotiating with them.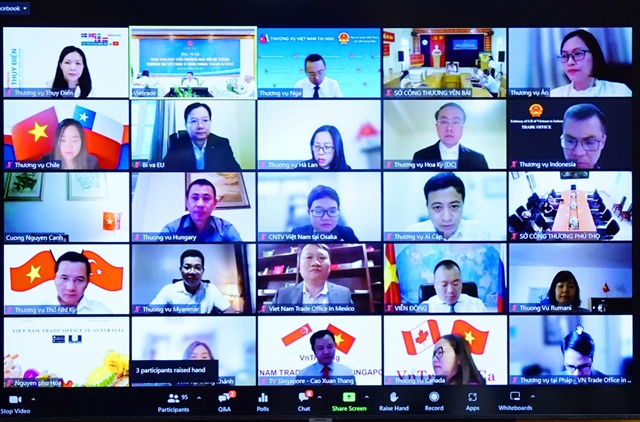 Overseas Vietnamese trade officials join the conference
Bridging role
According to Vu Ba Phu, Director of the MoIT's Vietnam Trade Promotion Agency, overseas Vietnamese trade offices have contributed significantly to Vietnam's import-export results. The offices have provided Vietnamese localities, associations and businesses with useful information about foreign markets as well as investment and trade policies of other countries, helping them diversify export markets and boost exports.
"The conference aims to update overseas Vietnamese trade offices on the demand for import-export promotion of localities, associations and businesses, while at the same time creating a forum for the offices to provide information about the markets and policies of foreign countries," Phu said.
Minister Nguyen Hong Dien described the event as a bridge between domestic companies and overseas trade offices, praising the offices for their significant contribution to the recovery and growth of the Vietnamese economy.
The fourth online conference on trade promotion through overseas Vietnamese trade offices is scheduled for October 31, 2022.
VietNam Economic News
TAG: