ASEAN ministers seek joint response to challenges
Important steps
Participants noted the growth of trade and investments in 2021, propelled by trade in electrical products and fuels that grew 21.5 percent and 52.2 percent, respectively, reaching US$3,340.6 billion or a 25.2 percent increase from the previous year. Investments reached US$174.1 billion or a 42.3 percent increase from the previous year, with robust expansion noted in the manufacturing, financial, and insurance services sectors.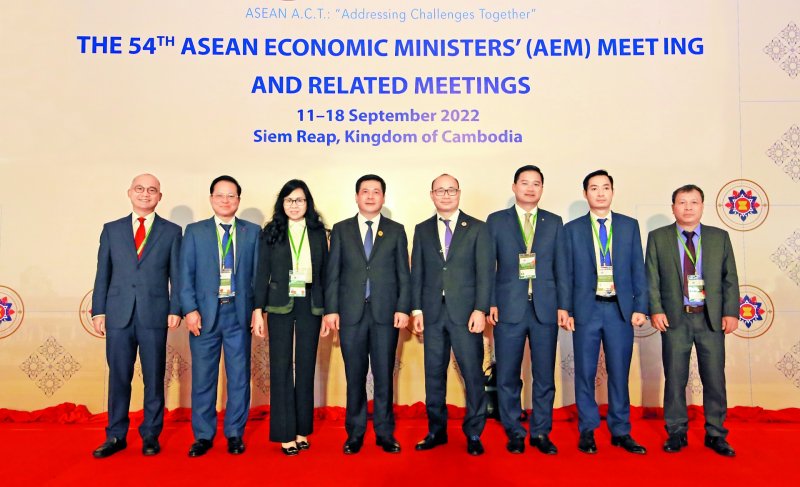 Vietnamese delegation to AEM-54
The meeting noted the significant progress in keeping the markets open for trade and investment through the implementation of the ASEAN Comprehensive Recovery Framework (ACRF), which serves as the region's consolidated exit strategy from the COVID-19 pandemic. The meeting welcomed progress achieved in various priority fields, among them the launch of the ASEAN Trade in Goods Agreement (ATIGA) Upgrade Negotiations, progress on a framework for implementing circular economies in member states, strengthening women's entrepreneurship and launching negotiations on an ASEAN agreement on competition.
The meeting emphasized that upgrading the ATIGA should ensure that ASEAN remains relevant, modern, forward looking, and more responsive to regional and global developments. Moreover, the upgraded ATIGA aims to foster intra-ASEAN trade and supply chain resilience through the effective utilization of ATIGA preferences by businesses to promote regional economic integration.
The ministers recognized that the conflict in Ukraine has aggravated disruptions in global value chains, further fueled inflation, and dampened overall economic expectations. In addition, the financial systems of major economies, especially developing economies, experienced heightened vulnerabilities due to capital flow reversals and currency depreciations. They noted that countries with high foreign currency-denominated debt and low foreign reserves were at risk as fiscal space was already drawn out due to the pandemic.
Vietnam's contributions
The Vietnamese delegation contributed constructive ideas to strengthen economic cooperation among ASEAN member states and between them and their partners.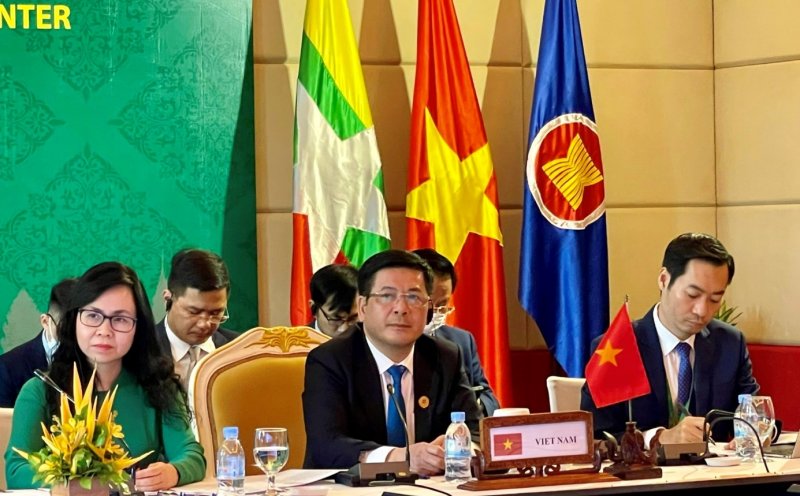 Minister of Industry and Trade Nguyen Hong Dien (middle) and other Vietnamese representatives at AEM-54
The delegation highlighted key issues for the negotiations to upgrade the ASEAN Trade in Goods Agreement (ATIGA), address non-tariff barriers in ASEAN countries and boost the implementation of trade facilitation measures to promote intra-bloc trade. It also proposed economic cooperation orientations between ASEAN and its partners to ensure practical benefits for Vietnamese and ASEAN businesses, thus contributing to the post-pandemic economic recovery.
On the sidelines of the meeting, Vietnamese Minister of Industry and Trade Nguyen Hong Dien held talks with Minister of Tourism, Trade and Industry of Timor Leste Jose Lucas Da Silva.
Minister Jose Lucas Da Silva spoke highly of Vietnam's trade potential and opportunities to strengthen cooperation in the fields of transportation, import and export, and seaports. He expressed hope that Vietnam will share information and experience in developing the national one-stop-shop mechanism, and in trade and investment promotion.
Minister Dien affirmed that Vietnam is ready to cooperate and support Timor Leste in the fields that Vietnam needs and in which Timor Leste has advantages such as minerals, forest and aquatic industries. He assessed that Timor-Leste market still has a lot of potential for Vietnam's exports such as rice, processed foods, milk and dairy products, footwear, beverages, household products, and electric machinery and equipment.
Dien also met with Alfredo E. Pascual, Secretary of the Philippine Department of Industry and Trade to discuss the positive results in bilateral trade between Vietnam and the Philippines in the context of the pandemic impact, supply chain disruption, the Russian-Ukraine conflict, and rising inflation.
Minister Nguyen Hong Dien held talks with Cambodian Minister of Commerce and Lao Minister of Industry and Commerce to promote bilateral trade with these two countries.
Duy Hung
TAG: