Ørsted and T&T Group hold workshop on offshore wind power development
The workshop was the latest edition of a series of practical supplier events to identify opportunities and develop solutions to participate in Vietnam's offshore wind industry supply chain.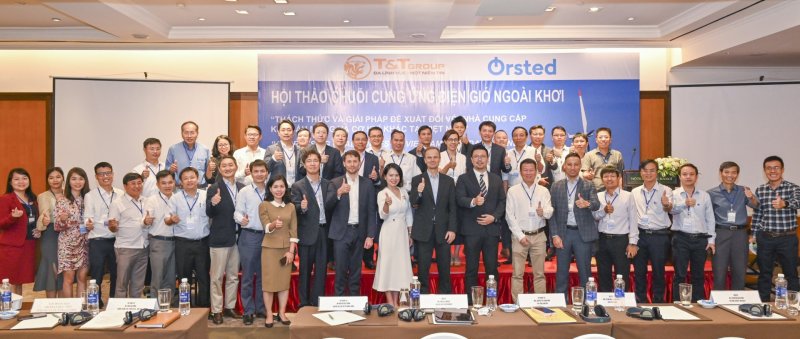 Ørsted and T&T Group host a workshop in Hanoi for high-potential local suppliers of foundations and mechanical fabrication services
Per Mejnert Kristensen, President of Ørsted Asia Pacific, says: "Vietnam offers excellent conditions to develop reliable and cost competitive offshore wind projects. Ørsted is here to build strong long-term relationships with Vietnamese companies, suppliers, stakeholders and government to fulfil these ambitions. We are ready to support Vietnamese companies in the journey ahead to maximize the giant opportunities of offshore wind power at home and overseas."
Experts and workshop participants collectively identified challenges and proposed practical actions to support new players to enter the offshore industry. Key topics included how to enhance provision of infrastructure, facilities, develop technical capabilities and processes to help construct world-class offshore wind farms in the years ahead.
The workshop was attended by leaders from the Departments of Industry and Trade of Hai Phong city, Ninh Thuan and Thai Binh provinces; the Vietnam Association of Mechanical Industry; the Danish Embassy and 30 leaders from 16 different suppliers with foundations and mechanical expertise.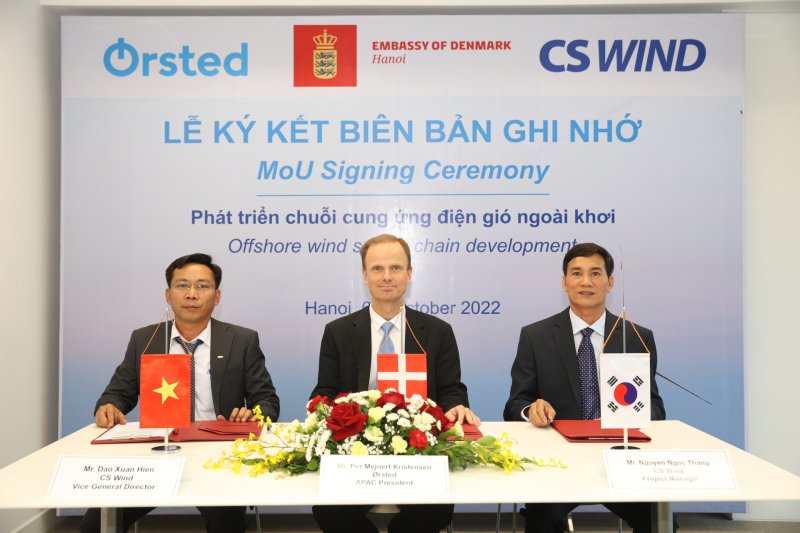 Mr. Dao Xuan Hien, Vice General Director CS Wind, Mr. Per Mejnert Kristensen, President Ørsted Asia-Pacific, and Mr. Nguyen Ngoc Thang, Project Manager CS Wind, at the MoU signing ceremony
In another step towards launching a new local industry which supports Vietnam's 2050 Net-Zero targets, Ørsted and CS Wind Vietnam signed a memorandum of understanding (MoU) on 6 October. This agreement launches a new collaboration for the offshore wind supply chain in Vietnam including manufacture of towers, foundation structures and steel fabrications.
Sebastian Hald Buhl, Country Manager of Ørsted Vietnam, says: "Ørsted's end-to-end business model means we are motivated to find long-term value in all parts of the wind farm lifecycle. This gives us a unique mindset different from many other investors who come to build, sell and leave. Ørsted is intensifying our efforts to support local partners and suppliers and we are working hard to deliver the first 2 GW from our pipeline by 2030."
Mrs. Nguyen Thi Thanh Binh, Vice General Director of T&T Group, says: "With favorable natural conditions along with suitable planning and development strategies, we believe that Vietnam will soon become one of the key offshore wind development hubs, not only meeting the domestic demand but also targeting global markets. Building and developing a local supply chain for the offshore wind industry is crucial in order to lay the foundations to reduce costs and also motivate the generation of green hydrogen from offshore wind, supporting the transition from fossil fuels and thermal plants to renewable energy as proposed in the Power Development Plan (PDP8)."
A spokesperson for CS Wind Vietnam, says: "The signing of an MoU with Ørsted recognizes CS Wind Vietnam, one of CS Wind Corporation's eight entities, as one of the best tower suppliers worldwide. We feel very proud to be a partner to Ørsted on the road ahead, not only for Tuy Phong and Hai Phong projects, but also for long-run. We will strive to maintain our position as one of the most reliable and pioneering suppliers for Ørsted to welcome the boom in the new wind energy sector in Vietnam."
In September 2021 Ørsted and T&T Group signed an MoU on strategic collaboration for offshore wind projects in Vietnam and are jointly developing a multi-GW pipeline of offshore wind projects in the North and South of Vietnam.
PV
TAG: