Solid macroeconomic fundamentals shield Vietnam from external shocks: IMF
Vietnam's strong macroeconomic fundamentals and investors' confidence in the economy are reasons to believe in a bright prospect despite external shocks, said Division Chief in the International Monetary Fund (IMF)'s Asia and Pacific Department Era Dabla-Norris at a meeting with Prime Minister Pham Minh Chinh in Hanoi on October 3.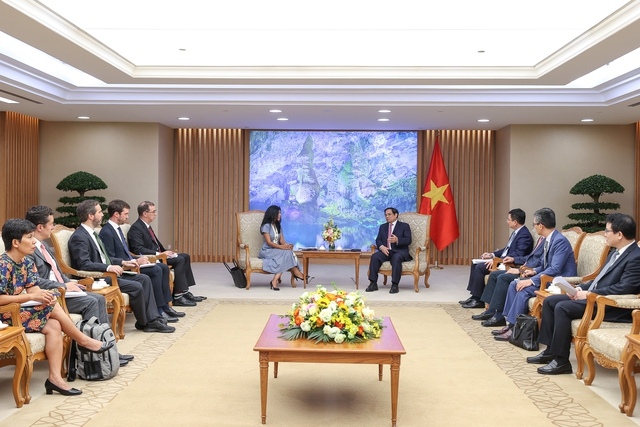 Overview of the meeting. Source: VGP
Era Dabla-Norris noted that what makes Vietnam's economy stand out from others are the successful Covid-19 vaccination campaign, effective Government measures, and the solid macro bases before the pandemic.
She also highlighted the Government's flexible management of monetary and fiscal policies to contain the pandemic and support socio-economic recovery.
This year, the IMF forecasts Vietnam's GDP growth at 7-7.5% and inflation below the 4% target set by the Government, lower than the global and regional average.
Era Dabla-Norris suggested that this is in stark contrast to other economies with a positive growth rate but high inflation, noting that the country is on track to get through a difficult 2023 and head into 2024 with solid momentum.
She expressed her admiration for Vietnam and its people, that have consistently shown their determination and steadfastness in pursuing development goals over the past two decades.
The country, therefore, is in a favorable position to achieve mid- and long-term goals despite the bumpy roads ahead, Era Dabla-Norris said.
For his part, Prime Minister Pham Minh Chinh thanked the IMF for its support over the years, including policy consultation, technical assistance, and human resource training.
Chinh stressed the significance of IMF's support for countries over the past two years during the Covid-19 pandemic, including the new Food Shock Window as a new emergency lending facility to aid countries addressing food insecurity issues.
According to Chinh, Vietnam's economy remains on track for recovery, with the GDP growth in the first nine months of 2022 expanding at 8.83% yearly and inflation at 2.73%.
Other key economic indicators have been positive, including tax revenue collection, which has reached 94% of the year's estimate, a trade surplus of US$6.52 billion, and agricultural exports of US$40.8 billion.
Chinh reiterated the government's stance to ensure macroeconomic stability and contain inflation to aid growth, especially through a 4% GDP socio-economic recovery program.
In the long term, the Government will stay focused on promoting the healthy and sustainable development of the actual state, capital, and labor markets, Chinh said.
The prime minister, however, noted the Vietnamese economy, with a high level of openness, remains vulnerable to external shocks.
"In this context, the country continues to face major challenges from geopolitical tension, rising prices of input materials, high inflationary pressure, and tightening monetary policies from countries around the world," he added.
Chinh called for the IMF to continue supporting the Vietnamese economy through policy consultation and assisting the country in promoting green growth, energy transition, digitalization, and climate change response.
Hanoi Times
TAG: