Vietnam seeks Singapore's experience for sustainable growth
Vietnam expects to push for a stronger strategic partnership with Singapore and look for the latter's experience in building an independent economy with active integration into the global economy.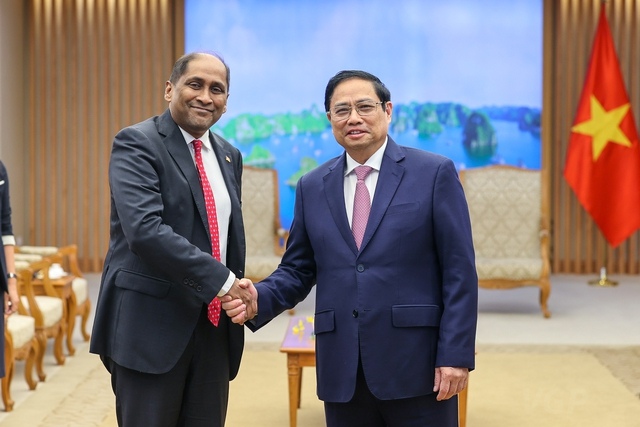 Prime Minister Pham Minh Chinh and Singapore's Ambassador to Vietnam Jaya Ratnam. Source: VGP
Prime Minister Pham Minh Chinh gave the remarks during a meeting with Singapore's Ambassador to Vietnam Jaya Ratnam and CEO of Temasek fund Ng Boon Heong on August 2.
At the meeting, Prime Minister Chinh expressed his delight at the strong Vietnam-Singapore strategic partnership in various fields, especially economy-trade-investment, amid growing global uncertainties.
In 2021, bilateral trade hit $8.3 billion, up 23% year-on-year, and the turnover was estimated at $4.75 billion during the first six months of 2022.
As of present, Singapore remained Vietnam's largest investor among ASEAN countries with 2,959 valid projects worth $70 billion, accounting for 16.3% of the country's total FDI commitments.
Both sides also maintained high-ranking exchanges with the visit of Vietnam's State President Nguyen Xuan Phuc to Singapore in February, and the visit of Singapore's Chairman of Assembly to Vietnam in May.
At the meeting, Chinh thanked Singapore's support, including the Temasek fund, in the Covid-19 response, and also the fund's 27 cooperation programs with Vietnam since 2008 with a total value of $10 million.
Ahead of the 50th anniversary of diplomatic relations and the 10th anniversary of strategic partnership in 2030, Chinh called for both sides to boost cooperation in priority fields of digital- economy, Government, society, citizens, green economy, and the development of the Vietnam-Singapore Industrial Park (VSIP).
"Vietnam welcomes and would create favorable conditions for Singaporean companies to operate in the country," said Chinh, expecting more to expand business in the country, especially in technology, strategic infrastructure, logistics, and innovation.
Singaporean Ambassador to Vietnam Jaya Ratnam and Temasek fund CEO Ng Boon Heong highly regarded the Vietnamese Government's response to the pandemic situation and economic recovery efforts.
Ratnam shared Chinh's view on the vision for an independent and self-reliant economy that is based on the human factor, noting Vietnam's achievements in attracting FDI showcase strong confidence from foreign investors in the country.
Hanoi Times
TAG: