Vietnam and Russia work to remove obstacles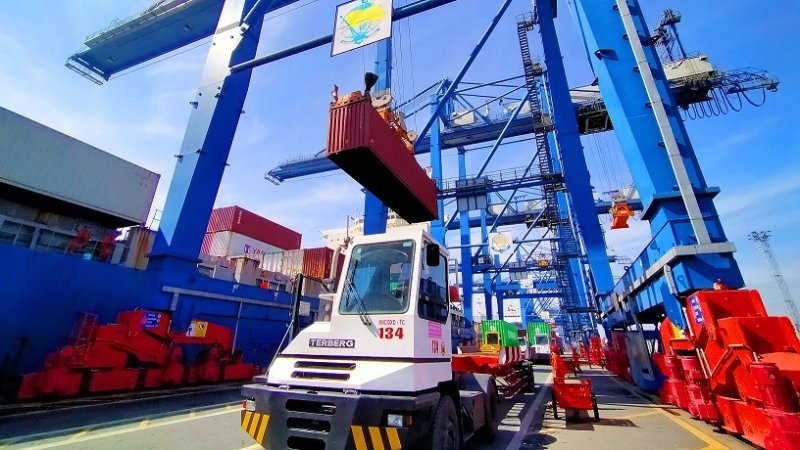 Vietnam is expected to increase its trade with Russia   
NDO - A significant reduction in trade and investment between Vietnam and Russia has prompted both nations to work out solutions to help enterprises out of difficulties.
Vietnamese Ambassador to Russia Dang Minh Khoi has reported to the Ministry of Foreign Affairs that the Russia-Ukraine conflict has had remarkably negative impacts on the global economic and political situation as well as Vietnam-Russia trade and investment ties.
"This would need more urgent measures to help enterprises and investors whose projects and plans are affected in Russia," Khoi said.
"In the first six months of 2022, we have sent about 130 reports to Vietnam, many of which are about difficulties in boosting economic, trade, and investment relationship between both countries," he said. "Over the past months, Vietnam's exports to Russia have been slashed by half year on year due to enterprises' failure in payment and cancelations in logistics chains and supply chains."
At present, Vietnamese investors are investing in Russia 22 projects registered at nearly US$3 billion.
It is expected that the Russian economy will continue facing difficulties in the coming time, with exports and imports being seriously affected.
The Vietnamese Embassy to Russia has reported the issues to the State Bank of Vietnam, asking it to facilitate the payment in USD instead of the ruble. It has also worked with authorised agencies in Russia to resume transportation to and from this nation via China. However currently Vietnam's goods are getting stuck at the Russia-China border gates, and the embassy is also working with both nations regarding this issue.
In addition, the embassy has also been working with Russian authorised agencies on a plan to open a sea route, with an average cost of US$16,000 per container for a 45-day journey. Vietnam's Vinasco and Vosco are expected to engage in this project.
Moreover, Vietnam and Russia are expected to establish a new air route to Russia's Far Eastern region in a bid to develop tourism, trade, and investment ties. Currently many Russian tourists cannot visit Vietnam directly, and the Vietnamese Ministry of Industry and Trade (MoIT) is now formulating a mechanism on consultancy between representatives from both nations in order to solve obstructions.
In the coming time, it is expected that the Russian economy will have to import a large volume of goods, and it "stands ready to purchase more of goods from Vietnam," Khoi said, adding that Vietnam and Russia can boost their cooperation in oil and gas exploration and exploitation.
"Vietnam can especially boost the export of agricultural, food, and foodstuff products to Russia as these items are not being embargoed," Khoi said.
Pham Hong Hai, deputy director of the Ministry of Foreign Affairs' (MoFA) Department of European Affairs, said that the conflict has forced investors from Russia to shift their investment from Europe to other potential markets, with Vietnam expected to be a good selection.
"This offers an opportunity for Vietnam to attract more Russian investment, especially thanks to the advantages from the free trade agreement (FTA) between Vietnam and the Eurasian Economic Union (including Russia, Armenia, Belarus, Kazakhstan, and Kyrgyzstan)," Hai said.
The FTA was signed in May 2015 and took effect in October 2016. This is the first FTA of EAEU, which brings many export opportunities to Vietnamese businesses.
Hai noted that the MoFA is working with the MoIT to work with the deal's member states on changing several some provisions in the FTA to further benefit Vietnam's businesses in terms of boosting goods to Russia.
Since last year, Vietnam and Russia have been exploring more solutions to recover their investment and trade relationship. For instance, Vietnam and the Russian Direct Investment Fund are seeking to increase investment cooperation, including in the fund's scheme to promote and support direct investment between the two countries, and also with other nations.
Such investment is aimed to take advantage of benefits from the FTA. The fund is Russia's US$10 billion sovereign wealth fund that was established in 2011 by the Russian government to make investments in leading companies of high-growth sectors of the Russian economy.
According to a priority list for jointly implemented Vietnam-Russia projects, there are 17 projects already approved by both nations. They will be implemented in the sectors of oil and gas, transport, agriculture, electricity, construction, industry, and high technology.
Vietnam and Russia are devising a roadmap for the deployment of these projects.
In late May, Russia's TransContainer launched regular public service for transportation of consumer goods from Vietnam to Russia via Zabaikalsk border-crossing point, as stated by the firm in a release.
The transit along overland route from Hanoi to Moscow region (Elektrougli Station), which is over 10,000km long, takes about 35 days. Within the service framework, TransContainer provides its own equipment and arranges for transportation across Vietnam, China, and Russia.
"This is TransContainer's first direct railway service from Vietnam to Moscow. It is aimed at transportation of tea, coffee, and clothes for further sale in retail chains," said Nikita Pushkarev, sales and customer service director at TransContainer.
According to the General Department of Vietnam Customs, total export-import turnover between Vietnam and Russia reached US$5.54 billion last year, including US$3.2 billion earned by Vietnam's exports. The 2-way trade figure hit US$734.5 million in the first five months of 2022, with Vietnamese exports totalling US$723.5 million.
Vietnam's main exports to Russia include seafood, vegetables, fruits, nuts, coffee, tea, pepper, rice, handicrafts, rubber, wood furniture, footwear, and electronics. Vietnam's imports from Russia include large amounts of wheat, fertiliser, oil and chemicals, pharmaceutical supplies, steel, and heavy machinery.
According to a joint statement on 2030 vision for development of Vietnam-Russia Relations released in December 2021, Vietnam and Russia encourage mutual investment in traditional and new fields, such as electricity generation, including renewable electricity, industry, mining, high-end technology, transportation, urban development, housing, urban technical infrastructure, agriculture, forestry; supporting to improve role and operational efficiency of the Vietnam - Russia High-Level Working Group on investment projects of priority.
Both nations have also vowed to strengthen cooperation in energy, oil and gas, which is a pillar of great importance in the Comprehensive Strategic Partnership, while expanding cooperation in promising areas such as the construction of gas-powered electricity plants and liquefied natural gas supply for Vietnam and the building of corresponding infrastructure, renewable energy development, petrol production, and the modernisation of energetic facilities; as well as supporting the implementation of operational or new projects with the participation of the Vietnam National Oil and Gas Group and companies of Zarubezhneft, Gazprom, Novatek, Rosatom, and others, including for electricity projects using liquefied petroleum gas in Vietnam.
NHAT HUY
TAG: