Bac Giang boosts advanced machinery use
For example, the province's Industry and Trade Promotion Center worked with the Bac Giang Province's Department of Industry and Trade's industrial management agency and Hiep Hoa District's economics and infrastructure department to test a high-technology electronics production machinery application project at an import-export production and trading joint stock company in the district's Thanh Van Commune.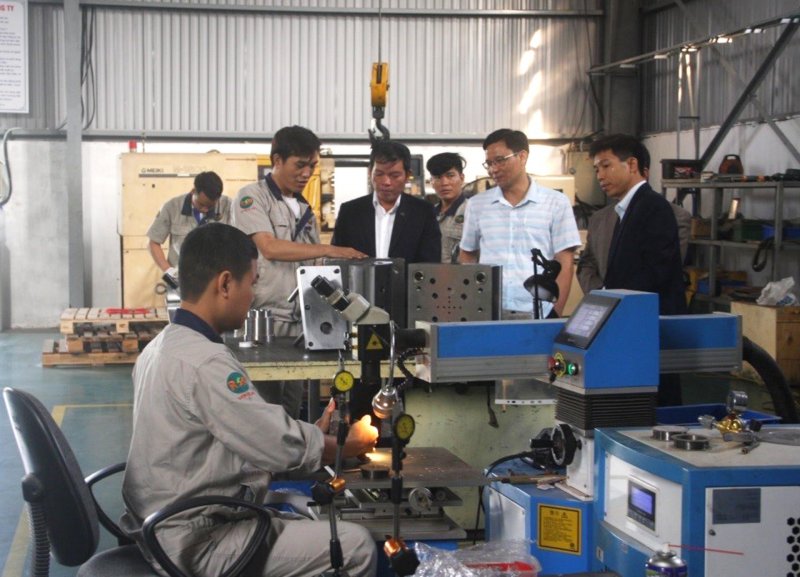 Industry promotion funding-financed projects help enterprises improve production efficiency and planning
The project has helped its beneficiary improve production efficiency and planning, reduce labor cost, and increase its total revenue and after-tax profit to VND45 billion and VND300 million per year, respectively.
The center also tested a produce preservation machinery and equipment project at the Vifoco Import-Export Joint Stock Company in Bac Giang City's Song Khe Commune. Specifically, benefiting from industry promotion funding enabled Vifoco to procure cold storage facilities to preserve agricultural products including lychee, longan, corn, pumpkin, potato, and tomato, among others.
The new equipment is expected to help Vifoco improve the preservation of input materials and finished products and take the initiative in raw material purchase during the harvest season in order to ensure longer production time. It is also expected to help the company increase revenue and after-tax profit by 20 percent and VND300 million or to VND35 billion and VND1.5 billion per year, and provide 50 regular jobs with monthly pay of VND6-8 million per capita.
These are two of the 10 support projects planned this year of technical demonstration model construction, technology transfer, and application of advanced machinery and scientific and technical progress in Bac Giang Province.
This year, the Industry and Trade Promotion Center of Bac Giang Province also set aside industry promotion funding for projects to develop outstanding rural industrial products, improve corporate management capacity and cleaner production in industry, provide development consultancy for rural industrial producers, strengthen industry promotion information, and better industry promotion management and implementation in the province.
The Bac Giang Province People's Committee approved a VND3.5-billion plan to implement 17 provincial industry promotion projects in 2022.
Viet Nga
TAG: