Warburg Pincus lead $250m investment in Novaland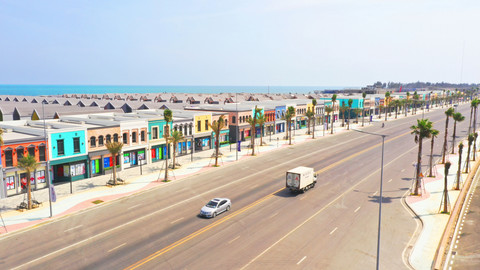 The money will also be used toincrease its land fund and develop projects at key locations to make use of southern provinces' improving infrastructure.
Novaland is working with other companies in the NovaGroup eco-system to invest in a variety of facilities in its large urban projects.
According to a Novaland spokesperon, this investment underlines Warburg Pincus' strategy of investing in Viet Nam's top businesses, and marks the start of a strategic partnership between the two.
This co-operation would reinforce Novaland's top position in the real estate market, thanks to Warburg Pincus' experience and expertise in global real estate, he said.
Bui Xuan Huy, chairman of Novaland, said Warburg Pincus is one of the world's most successful private-equity companies, and its large investment shows its strong belief in Novaland's growth potential.
"Warburg Pincus's wealth of experience, as shown from its assistance to successful real estate companies in Viet Nam and Asia, will bring great value to Novaland, and we hope that this partnership will be fruitful for our development."
This is another instance of Novaland's successful fundraising from international investors since July 2021, when it issued convertible bonds that are listed on the Singapore Stock Exchange.
Jeffrey Perlman, managing director and head of Southeast Asia and Asia Pacific, real estate, at Warburg Pincus, said his company has a long-term commitment to Viet Nam, and has over $1.5 billion in some leading businesses.
With its rising urbanisation rate and middle class population and varied economy, Viet Nam would see strong growth in the coming years and his company would pursue further investment opportunities here, he said.
"We are excited to invest in another top Vietnamese company. We have faith in Novaland's capability in utilising market growth opportunities, and we will help the company grow with our network, experience and expertise."
Credit Suisse, a Swiss investment bank and financial services company, is the sole financial advisor to Novaland in this transaction.
Novaland is a member of the NovaGroup ecosystem and one of the biggest companies listed on the HCM City Stock Exchange in terms of market capitalisation.
Warburg Pincus LLC is a leading private-equity company focused on global growth investment, with more than US$80 billion in assets under management and an active portfolio of 245 businesses around the world in many fields and at various stages of development.
It also has 21 private-equity and two real estate funds with more than $100 billion in investments in over 1,000 companies from over 40 countries.
It is currently one of the biggest investors in Asian property with over $7 billion in more than 40 real estate businesses over 15 years.
Since 2013 it has invested in retail platform Vincom Retail, logistics and industrial developer BW Industrial Development, homegrown integrated hospitality platform Lodgis Hospitality, joint-stock commercial bank Techcombank, and fintech platform MoMo.
bizhub
TAG: