Green Economy Forum & Exhibition 2022 gathers sustainable initiatives for Vietnam
The "Green Economy Forum & Exhibition (GEFE) 2022" will take place from November 28 to 30 in Ho Chi Minh City.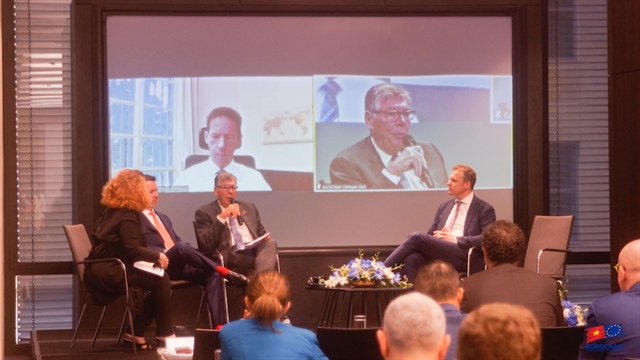 Delegates attend the press conference. Photo: EuroCham Vietnam
At the press conference, EuroCham Vietnam members said that the goal of the event is to support Vietnam in fulfilling its COP26 commitments and the socio-economic development goals specified in its National Green Growth Strategy for 2021-2030.
EuroCham encourages both foreign-invested enterprises in Vietnam and Vietnamese businesses to commit to a green growth roadmap.
Tim Evans, CEO of HSBC, a member of the EuroCham Vietnam valued the Government of Vietnam's determination in implementing the Strategy for the 2021-2030 period. Vietnam has gained some "green economy" achievements in comparison with some regional countries, he said.
Some European businesses operating in Vietnam has moved towards the green growth process, through independent operations or joint ventures with local enterprises to deploy works to reduce CO2 emissions into the environment.
Evans added that the driving force of Vietnam's economic development comes from  foreign investment. Every year, the foreign-direct investment (FDI) sector contributes 10% of the country's GDP and 80% of the FDI sector operates in the manufacturing and distribution industries.
With the requirements of export markets, manufacturers have no other path but to green the production process, so the pressure for green growth in Vietnam comes from all side, and not only on the government, but also investors, businesses, and consumers, he underlined.
The organizers expected the GEFE 2022 will bring together experts in sustainable businesses and governance for three days of conferences, exhibitions, and high-level business-to-business (B2B) and business-to-government (B2G) dialogue sessions, along with EuroCham Vietnam's Green Business Awards and annual Gala Dinner.
The whole slate of events will act as a platform to enhance cooperation between European and Vietnamese business communities, and to promote a sustainable green Vietnamese economy through expertise sharing and technology transfer initiatives.
At the event, Tomaso Andreatta, Chairman of EuroCham Green Growth Sector Committee said the first day of GEFE 2022 will include a plenary conference, which will function as a forum for high-level dialogue between European and Vietnamese government representatives and business stakeholders to coordinate and hold discussions on green policy frameworks, national energy plans, and climate risks more generally.
Each of the three days will entail panel discussions and seminars on a broad theme, including energy and green financing on day one, waste and sustainability on day two, followed by innovation and entrepreneurship on the third and final day. Each day will be further divided into subtopics, covering more than 20 green sector subjects in total.
GEFE 2022 will host experts, academics, innovators, students, and governmental representatives from Europe, Vietnam, and Southeast Asia. The event is being organized with EuroCham's Green Growth Sector Committee and will be supported by the Delegation of the European Union to Vietnam, EuroCham's nine affiliated national European business associations, European embassies and governmental organizations, as well as the Vietnamese government and its ministries.
To bring GEFE 2022 to its fullest potential, at the press conference on May 24, EuroCham Vietnam and exhibition organizer Reed Tradex Vietnam signed a memorandum of intent, according to which, both sides agree to collaborate on the organization and planning of GEFE 2022 as well as on future iterations of the event.
Hanoi Times
TAG: