Gold appeal sparkles amid rise of inflation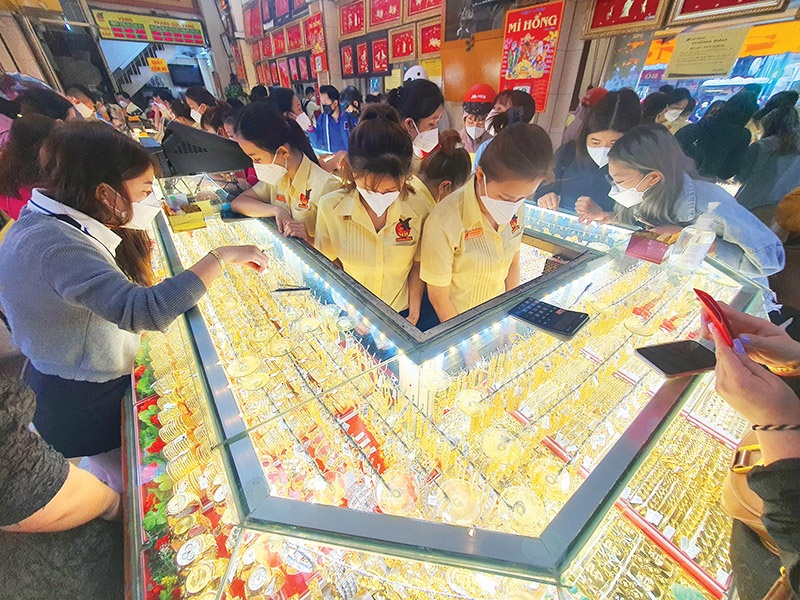 The World Gold Council (WGC) believes that the appetite for gold is often hampered by the interest rate, as when interest rates rise, gold loses its appeal. However, inflation is also a tailwind to gold demand as a common safe-haven asset. The USD tends to weaken when the Fed raises interest rates, which enhances gold's demand.
"Furthermore, what happens in China's consumer market has had a big impact as it's the world's largest consumer market for gold. We expect China to start to emerge from the worst of the pandemic and that will support consumer demand," the WGC noted last week. "It is difficult to predict how the geopolitical situation will play out. It depends on where inflation goes, but inflation is certainly the biggest driver at the moment, which will probably support institutional investment demand in the next quarter."
Meanwhile, the demand for gold in Vietnam was 19.6 tonnes in Q1 2022, up 6 per cent on-year. This growth was driven by a 4 per cent on-year increase in total bar and coin demand, from 13.5 tonnes in Q1 2021 to 14 tonnes in Q1 2022, cited the WGC.
Meanwhile, demand for jewellery is forecast to expand by 10 per cent on-year, from 5.1 to 5.6 tonnes.
As a result of the sinking VND and rising inflationary pressures, gold has become more appealing, as seen by the high local premiums. The surge in jewellery demand was bolstered by local events such as Lunar New Year, Valentine's Day, and God of Fortune Day, which also contributed to the recovery of economic activity to levels comparable to those seen prior to the ongoing pandemic.
Notably, demand patterns are varying between nations because of distinct pandemic cycles between different countries. For instance, in Southeast Asia, particularly in Malaysia, Vietnam, and Singapore, the demand for gold soared. In Indonesia and Thailand, however, demand dipped.
Meanwhile, there is a substantial gap between Vietnam's market and global gold prices. Economist Nguyen Tri Hieu stated the present disparity between local and international gold prices is excessive, because only the State Bank of Vietnam has the authority to import gold and distribute it on the market and the limited supply drives up gold prices.
"Due to the large variety of volatility, inexperienced short-term traders should not surf for this metal at the moment," Hieu said.
Huynh Trung Khanh, vice chairman of the Vietnam Gold Business Association, added, "Vietnam has not imported gold for almost a decade, resulting in a limited supply. Consequently, the price of SJC gold is soaring significantly as demand outweighs supply."
vir
TAG: