Working closely together in a more competitive world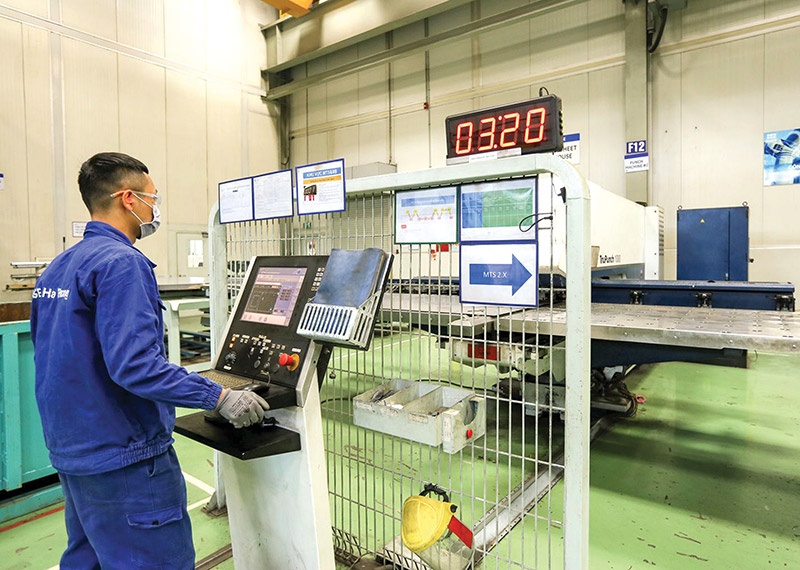 The US and Vietnam have a strong friendship anchored in mutual respect and work closely in many areas including health, education, security, food and energy security, disaster response and more. Prime Minister Pham Minh Chinh's visit to the US is a clear signal that things are getting back to normal after more than two years of disruption caused by the pandemic.
It has not been an easy time for businesses, and global inflation pressures, continued supply chain disruption, and the Russia-Ukraine conflict are all causing companies to look closely at their risk levels and business plans. In this environment, it is important that the Vietnamese government focus on making the country more competitive and improving the business climate.
The most important factor for a favourable investment climate and maintenance and growth of manufacturing supply chains is a fair, transparent, predictable, and streamlined regulatory environment that values innovation – not only to attract new investment, but also to maintain and grow the investment already here.
The stability and consistency of master plans and guidelines are also vital for businesses. I also believe that greater transparency and predictability in Vietnam's tax system would strengthen the country's investment climate, particularly avoidance of retroactive rulings and assessments.
Fostering cooperation
Now is a great time for Vietnam to work with the US on bringing modern, efficient infrastructure here to improve Vietnam's competitiveness. There are many things the government can do right now to make Vietnam more attractive for foreign direct investment. For example, we need accelerated use of e-government, e-commerce, e-banking, fintech, modern cloud computing, and the overall reduction of paper and cash for all businesses. Accelerated implementation of these digital economy objectives will greatly reduce administrative costs and time burdens for all businesses, and will attract new investors.
Another promising area is continuing infrastructure development, especially clean projects. Improving waste management and air quality concerns in Vietnam by accelerating the use of clean energy, clean vehicles, clean agriculture, and reducing the inefficiency and waste of energy, will help build a stronger circular economy and will spur job creation.
Today, the US and Vietnam are close partners and friends – something once thought unimaginable – and American companies and investors are now active in almost every sector of Vietnam's economy, helping to integrate the country into global supply chains, creating quality jobs, and making the country more productive, safe and cleaner. It is a credit to the people of both nations that we have been able to move beyond the tragedies of our shared past to build such a strong, vibrant relationship.
Since our founding, the American Chamber of Commerce has said that high-quality foreign investors not only help grow Vietnam's economy, but also help grow the entire ecosystem of local companies and entrepreneurs here. We fully support the Vietnamese government's commitment to the development of Vietnamese small- and medium-sized enterprises and their increased participation in global supply chains.
The size and rapid growth of economic ties and the tremendous economic interests both sides have in maintaining and expanding the relationship make it incumbent upon Washington and Hanoi to develop a vision for the future of the commercial relationship. The business communities in both countries want to be partners in developing this vision for deepening trade and investment ties.
Expanding trade and investment
Today, we see tremendous opportunities for both the domestic and foreign business sectors. Ongoing global trade tensions have highlighted concern about concentrating production in a single country, and Vietnam is in a position to gain some of that opportunity. Careful implementation of Vietnam's trade agreement commitments could further enhance this opportunity.
There is no doubt that we have had a transformative role on the development of Vietnam. From managerial practices and technologies, to service standards and ethics, the US business community here has affected Vietnam in many positive ways and foreign investment has helped to promote economic and social development here. Business activity started slowly for Americans here. In 1995, US-Vietnam trade was just $451 million.
Our two countries had $111.56 billion in trade last year and US companies and investors are active in almost every sector of Vietnam's economy. Even during the darkest days of the pandemic, the US remained the largest export market for Vietnam. When PM Chinh meets with US business representatives, he will hear that American companies are invested in Vietnam's continued success and we are looking towards a bright future in Vietnam.
The prime minister and his team will also hear that foreign investment limitations, an overly restrictive legal framework of laws, and burdensome administrative procedures should be carefully reviewed and selectively relaxed to encourage increased US investment in Vietnam. US company representatives will express their concerns about changes in policy and regulations which are often not feasible, enforceable, or consistent with international practices.
We believe that the business climate can best be helped by actions that increase productivity and reduce the costs and risks of doing business in Vietnam. Importantly, decreasing the cost and complications of doing business will benefit Vietnamese-owned businesses – many of which are small ones – and will spur entrepreneurship, which will ensure Vietnam's future competitiveness and growth.
Our members represent billions of US dollars in foreign investment, tens of thousands of direct employees, hundreds of thousands of indirect employees, and a significant share of Vietnam's exports and tax revenues.
It is important to know that while Vietnam's official investment statistics rank the US quite low, the truth is that the US is one of the top investors in Vietnam. The misunderstanding comes from complicated US tax laws, and corporate structures that utilise global supply chains and systems.
For example, Intel's $1.5 billion assembly facility in Saigon High-Tech Park is an investment made through Intel Hong Kong – so this counts as a Hong Kong investment even though Intel is an American company. Another example is P&G's $100 million factory down in the southern province of Binh Duong, which is an investment made through P&G Singapore – so this counts as a Singapore investment even though P&G is a famous American company.
There are many examples like this. We believe the US is one of the top five investors here and Americans are in Vietnam selling cosmetics, soft drinks and beer, cars, aircraft, software, industrial goods, educational services, mobile applications, financial and legal services, agricultural products, and so much more.
We live in a competitive world. Right now, almost every country in the region is working to grow a modern, digital economy, which will attract future investment and high-paying jobs for their people. For Vietnam to be successful, non-productive red tape must be controlled.
Vietnamese and foreign invested businesses alike need a supportive environment to thrive, and as you well know, that means their relationship with the administrative agencies should be mutually supportive. American investors remain optimistic about business prospects in Vietnam. However, we are concerned with recent changes in policy and regulations, which are not consistent with international best practices.
These changes expose many investors to considerable risks and obstacles in executing their investments. We believe that it is vital that laws and rules be designed to be enforced fairly and equally. Better results in this area will improve investor confidence.
Vietnam is a land of great opportunity for foreign investors. AmCham will continue to work on lowering barriers to trade, to help make it easier to do business, and to create a high-standard, transparent, and stable business environment to ensure that everybody has fair access to that opportunity.
vir
TAG: