International collaboration for health, safety, and sustainable hydropower development
This site visit is part of the technical assistance project that AFD and Team Europe sponsored for EVN. Accordingly, the parties performed a survey on the current status of EVN's health, safety, and environment (HSE) management system in the Ialy Hydropower Plant Extension project in the comparison with the requirements of ISO 14001 (Environment management system) and ISO 45001 (Occupational health and safety management system).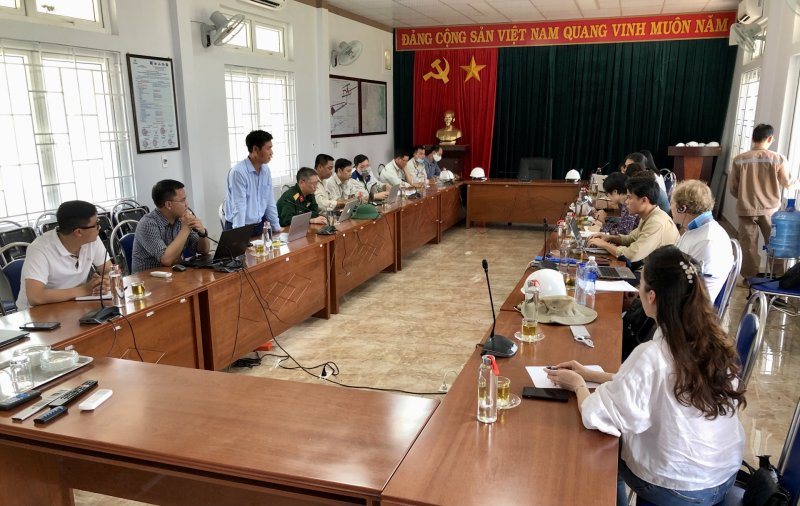 AFD delegation visited and worked with EVNPMB2 and contractors on the Ialy Hydropower Plant Extension project
The delegation worked with the PMB2 on the project implementation status, the construction management, the HSE commitments, and the next action plan. In the first phase, the consortium of technical consultants including Tractebel and Bureau Veritas Vietnam has supported EVN in developing HSE criteria in the phase of selecting contractors and construction & installation package for the Ialy Hydropower Plant Extension project. In addition, the experience learned during the deployment of the HSE management system in Ialy will be shared to others EVN's hydropower projects which are under construction and in operation. The technical consulting team proposed improvement recommendations on the environment, social, health and safety system (ESHS). So far, the project has achieved certain results related to the HSE management system implementation:
Environmental concerns are efficiently monitored thanks to dust reduction works such as installing the misting system on the road near the construction site (in addition to maintaining watering vehicles), construction of wastewater treatment and construction sullage treatment tanks, installing waste bins at construction sites and camps, constructing hazardous waste storage facilities…Regarding social concern, the investor has provided compensation for crop damage to local people in Ya Tang commune, Sa Thay district, Kon Tum province. Besides that, Health, Safety and Environmental guidelines are displayed at the site.
In terms of health, all workers receive health checks periodically and understand first aid procedures. The onsite medical clinics have sufficient equipment available. The contractors also installed equipment to measure light, air quality, and noise in the tunnel to maintain a safe and healthy working environment.
When it comes to safety, rules signs have been placed at the construction areas; protective equipment and disseminated safety rules before each shift are provided to workers. After nearly a year of construction, there had been no labor accidents or explosions.
"What we have achieved in the very first phases of ESHS management with the technical assistance of Tractebel and Bureau Veritas Vietnam has proved AFD and EVN's dedication in developing, constructing, and operating hydropower project in an efficient, sustainable, and environmentally responsible way. Following that, we attained high worker health and safety, with minimized impacts on local inhabitants, and better-regulating impacts on the surrounding environment and ecosystems," stated Do Trung Thanh, Deputy Director of PMB2 of Ialy Hydropower Plant Extension project.
"AFD is proud to be a partner of Vietnam in a variety of initiatives that contribute to the country's energy transition. The assistance to EVN in improving its HSE practices toward international standards, with Ialy hydropower extension project as a pilot application of such HSE system, we expect to help improve EVN's current practices, in particular for hydropower construction projects where all employees work healthily, safely and environmental impact will be at the lowest level. This will be a crucial step in the journey towards sustainable energy for the country" said Nguyen Thi Thanh An, Head of Climate and Energy Team at AFD Vietnam.
PV
TAG: