Craft village development facilitated
The northeastern province of Thai Nguyen has the largest number of tea craft villages in Vietnam. In 2021, Thai Nguyen recognized an additional eight tea craft villages, taking the total number to 249.
Thai Nguyen Province has mobilized resources for tea craft village development for years. Through industry promotion programs, the provincial industry and trade sector helps tea businesses in Thai Nguyen develop intensive processing, improve product quality and add value to tea products.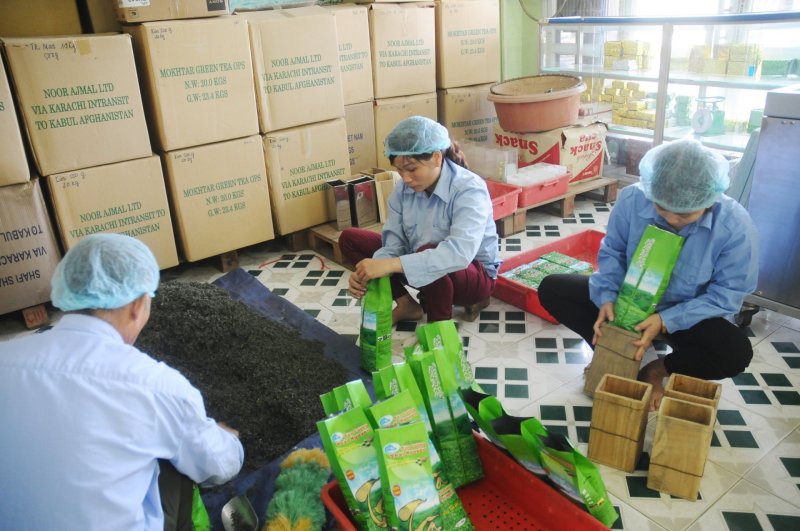 Industry promotion funding significantly helps develop rural industrial production
In 2021, the provincial Department of Industry and Trade, in coordination with relevant units, procured 230 tea leaf rubbing machines worth more than VND1.191 billion for craft villages, half of which was financed by the state budget. According to the beneficiaries, the modern tea leaf rubbing machines have helped them reduce power consumption, improve product safety and hygiene, and increase product value by 20-25 percent.
Luu Duy Dan, Chair of the Vietnam Association of Crafts Villages, said that over the past five years, with industry promotion program support, the association organized 15 seminars and workshops across the country, offered startup, artisans and workers training courses focusing on traditional craft and craft village development and product value improvement.
The efficient introduction of industry promotion activities has helped increase the number of industry promotion project beneficiaries. "We have proposed that the Ministry of Industry and Trade and other ministries, sectors and localities coordinate in infrastructure development, creating conditions for craft village-based tourism to develop," Dan said. The association suggested that the Ministry of Industry and Trade honor fine art and handicraft products and promote events to attract more domestic and foreign visitors to craft villages, as well as organizing competitions to promote the role of artisans and skilled workers in craft village development.
Handicraft and craft village development is a priority of industry promotion programs.
Hai Linh
TAG: