MBBank continues strategic partnership with Doctor Anywhere
According to the contract, from April 08th 2022, MBBank officially provides dedicated healthcare packages for MB Priority clients of all branches in Vietnam.
Living with the motto: "Devoting to provide added values to clients, partners", MBBank has always been a pioneer in the banking sector for creating specialized values for premium clients. In 2020, MBBank was the first bank to deliver exclusive healthcare offers for its private banking clients through the partnership with Doctor Anywhere and has received several positive feedbacks after two years of operation.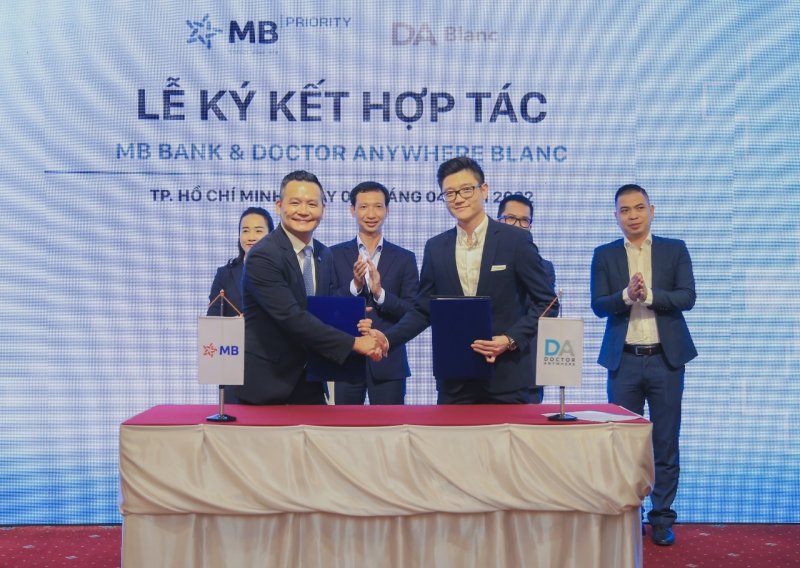 Considering that as a significant collaboration, DA Vietnam introduced DA Blanc at the end of 2021 – a premium healthcare service aimed at providing comprehensive, high quality healthcare for users. With MB Priority as their first strategic partnership, DA Blanc has exclusively designated healthcare packages for MB Priority clients with house-call doctors, personal medical secretary service, online healthcare consultations with established doctors in and outside of Vietnam, blood test packages, gene decoding , etc. are some of the services available. These healthcare packages ensure clients can take care of their health and their families in a smarter and more comfortable way. This is a timesaving, cost-effective solution for everyone.
On behalf of MBBank, Mr. Dang Thanh Tung, Priority Service Director, stated, "Being a commercial bank with a clear vision in the Private and Priority segment, MBBank has always focused on developing lifestyle services for our clients. Since 2020, MBBank has collaborated with Doctor Anywhere to deliver customised healthcare services to Private clients, among other bespoke services. Following the successful implementation with Private clients, MB decided to further the benefits of dedicated healthcare services to Priority clients. We hope that this offering would create appealing experiences, as well as improve our client's quality of life just like MB Priority slogan: Enrich your life. We believe that clients will become familiar with distinctive, specialized, and comprehensive healthcare experiences. It's time to say goodbye to exhausting, time-consuming procedures during conventional health check-ups."
According to MBBank representative, in the future, MBBank will continue to introduce more non-financial products and services to serve their clients even better, according to their motto of "Appealing clients".
Sharing Doctor Anywhere's vision, Mr. Le Ngoc Hai, CEO of Doctor Anywhere, said, "Doctor Anywhere aspires to provide quality, accessible and convenient healthcare services to our clients. With DA Blanc, not only will we provide healthcare services on demand, we are also dedicated to becoming the trusted partner and companion of our clients anytime, anywhere. We can confidently say that we have built a comprehensive ecosystem which is capable of serving every healthcare need of our clients. When Vietnam was chosen to be the pioneer market for DA Blanc, we have been consistently listening to our client's needs and feedback to enhance the service quality. With strong tech capabilities and a wide network of allied providers and healthcare infrastructure across Vietnam, DA Blanc has served and brought value to thousands of clients in 2021."
These days, there is a dramatic increase in the demand for healthcare services, especially in the new normal with many potential risks. The partnership between DA Vietnam and MBBank is the opportune response to provide beneficial healthcare solutions for MB Priority clients and their loved ones. After the signing ceremony, it is estimated that MBBank and DA will deliver the services to tens of thousands of Priority clients in 2022.
Thanh Thanh
TAG: