Exciting escalation in production and trade activities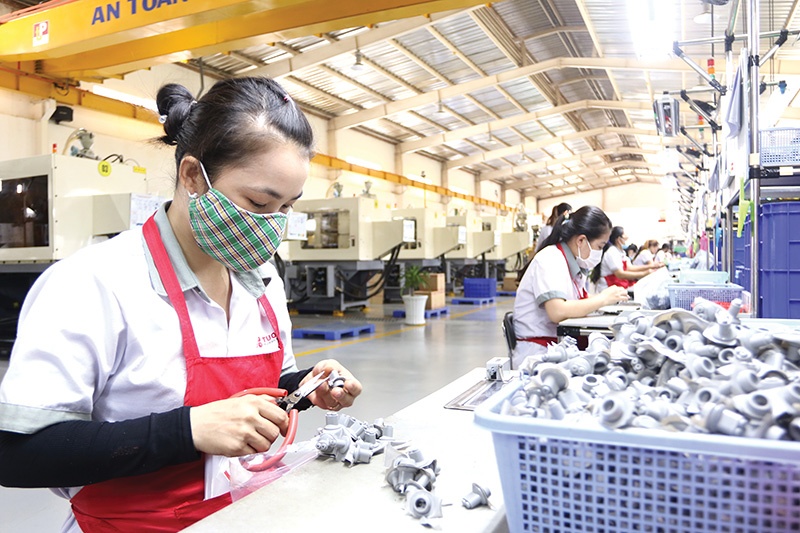 Bui Minh Tri, head of the Management Board of Industrial Zones in the southern province of Binh Duong, said that industrial production has had a significant increase and regained growth momentum since the end of 2021.
"As soon as the province updated its pandemic prevention policy, enterprises actively made plans to promote production and business activities. Now, businesses in the industrial zones have both maintained stable production and business and ensured the health of their workers," Tri told VIR.
Binh Duong is not the only province in the country that witnessed a recovery in both the export and manufacturing Purchasing Managers' Index. Other provinces such as Dong Nai, Bac Ninh, Bac Giang, Thai Nguyen, and the capital of Hanoi reported that business orders are increasing and many companies have in hand 50-90 per cent of orders for the whole year.
"It is very important, meanwhile, for businesses to promote the recruitment of workers to meet production needs," Tri added.
Last year the total number of businesses entering and re-entering the market only reached nearly 160,000, decreasing by 10.7 per cent, and nearly 120,000 businesses withdrew from the market. Now, millions of factory workers are fully vaccinated, meaning the Omicron variant appears to be less severe than Delta in 2021.
According to the GSO, in the first two months of this year when the Lunar New Year holiday took place amid decreased production activities, the economy saw nearly 20,300 newly-established enterprises registered at $12 billion, up 11.9 per cent in the number of enterprises but down 17.1 per cent in capital, respectively, on-year.
However, the economy's export revenue reached $53.79 billion, up 10.2 per cent on-year, and the import turnover totalled $54.73 billion, up 15.9 per cent as compared to the same period last year.
In the first two months of 2022, the United States remained the biggest importer of Vietnamese commodities with an estimated value of $18.3 billion. Meanwhile, China was Vietnam's largest exporter with $20.8 billion in turnover, followed by South Korea with $10.2 billion, the GSO reported.
According to Phan Thi Thanh Xuan, vice president of the Vietnam Leather, Footwear, and Handbag Association, export orders of many member companies are expected to be solid at least until the second half of the year, which is a good basis for businesses to regain growth. "The production rate of businesses, especially leather and footwear businesses in the southern region, is currently quite good," Xuan said.
Kyle F. Kelhofer, country manager for Vietnam, Laos, and Cambodia for the International Finance Corporation said Vietnam's competitiveness, although improved in recent years, has room for further growth. Thanks to its resolute fight against the pandemic, Vietnam has a good headstart but it also has an opportunity to make necessary policy improvements to run even stronger economically.
"A specific need for the domestic private sector is increased access to finance, and one measure is to provide these companies with greater access to international financing sources at more competitive costs through removing mortgage obstacles for international lenders," Kelhofer said.
Meanwhile, David Whitehead, representative of the Australian Chamber of Commerce in Vietnam, explained, "To ensure sustainable business in the long term, we see the need for safety protocols to be implemented not only for employees' health and safety, but also in materials handling, packaging, transport, and logistics. And there must be shortened or diversified supply chains to minimise the risk of disruption to supply."
vir
TAG: