E-commerce platforms to boost farm economy
A plan aiming at engaging 10 million farming households in trading on e-commerce platforms was issued by the Vietnamese Ministry of Information and Communications and contributing to enhancing the off-farm efficiency of the farming industry in 2022.
Staff from an e-commerce platform is guiding a local farmer on how to set up a booth on the e-commerce floor. Photo: Postmart
The plan set the goal of supporting 100% of farmers to take their products online and increasing the quantity and value of agricultural products traded on e-commerce platforms.
The goal of the plan is to have 100% of products, under the One Commune One Product program, that are rated with three stars and above listed on e-commerce platforms Postmart.vn and Voso.vn.
To implement the goal, the farmers will receive digital and business skills training about trading on e-commerce platforms. They will be assisted in making transactions on e-commerce sites and promoting consumption of agricultural products as well as expanding domestic and international markets.
Through e-commerce platforms and digital platforms, the farmers will be updated on demand forecast and agricultural production capacity as well as information about the markets, weather, crops, varieties, and fertilizers.
The Ministry of Information and Communications requested e-commerce platforms to support farming households in training and guiding production and business households on digital skills, how to use smart mobile devices during transactions on e-commerce platforms.
On July 21, 2021, the Ministry of Information and Communications issued Decision No. 1034 approving the plan to connect agricultural production households with the e-commerce floors to promote the development of the digital economy in agriculture and rural areas.
As of this February, more than 5.2 million farming households are selling on the e-commerce floors. More than 5.7 million agricultural production households have been trained in digital skills. Around   65,000 products are traded online with nearly 79,000 transactions.
Hanoi's action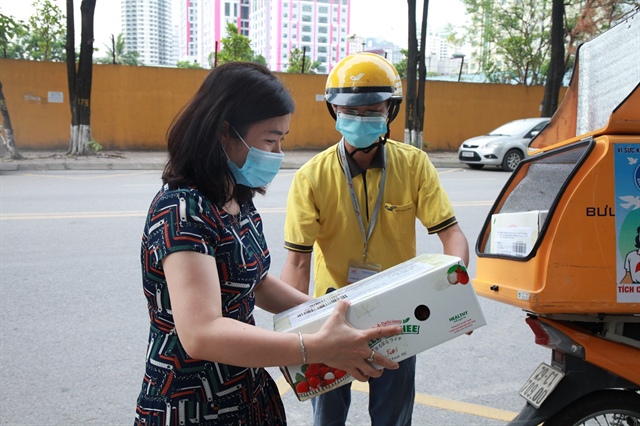 Hanoi's consumers are shopping more on e-commerce platforms amid Covid-19. Photo: Vietnam Post
Following the national plan, Hanoi's authorities have also planned to promote the city's agricultural products sold via e-commerce platforms Postmart.vn and Voso.vn.
The municipal Departments of Agriculture and Rural Development, Information and Communications, in collaboration with stakeholders and e-commerce platforms, will organize training courses on trading processes on the e-commerce platform for production households such as packaging, connection, and delivery as well as measures to ensure product traceability.
Among these, the department is tasked with supporting farm businesses in testing and certifying the quality of agricultural products sold on e-commerce platforms, inspecting and supervising them to ensure their compliance with food safety rules. Meanwhile, the Department of Industry and Trade will assist e-commerce platforms in trade promotion procedures and expanding export markets.
Hanoi Times
TAG: