Vietnam needs to build sustainable cinnamon growing areas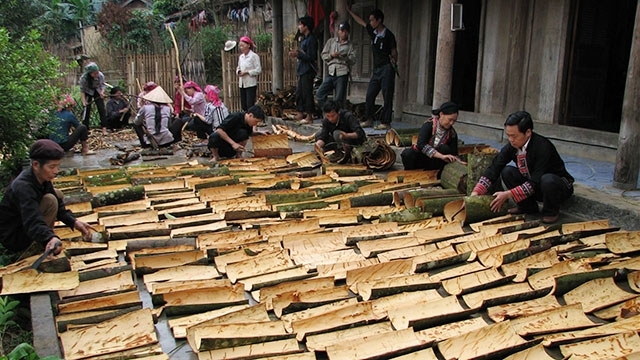 Cinnamon becomes the tree lifting people out of poverty in Yen Bai. (Illustrative image). (Photo: Thanh Son - Duc Khai)   
NDO - Vietnam is the world's third largest producer and exporter of cinnamon in terms of output, after Indonesia and China. With an area of more than 150,000 hectares, growing cinnamon trees is currently a livelihood for hundreds of thousands of households in remote provinces, and at the same time contributes to the socio-economic development of many localities.
According to a report by the Food and Agriculture Organisation of the United Nations (FAO), Vietnam's total cinnamon production reached more than 41,400 tonnes, accounting for 17% of global production. The annual global demand for cinnamon is increasing rapidly, about 8% to 12%, causing the price of cinnamon to continually increase, especially from 2016 until now.
This is a positive sign, but these facts can also lead to a massive transformation of growing cinnamon in Vietnam. Besides production, activities related to the purchase, processing and export of cinnamon, between domestic and foreign enterprises also increased.
Without strategic, timely and sustainable management and development orientations of the cinnamon industry, it may lead to confusion for local management agencies, difficulty in meeting quality standards, price risks, and output markets. This will lead to negative consequences and impacts for cinnamon growers and businesses, related to cinnamon processing and exporting in Vietnam.
In Dinh Hoa district, Thai Nguyen province, with a natural area of more than 52,000 hectares, of which forestry land accounts for more than 65%, farmers have chosen to develop cinnamon as a suitable direction. After five years of implementation, up to now, the entire district has planted more than 2,250 hectares of cinnamon. Currently, a number of five-year-old cinnamon areas planted under the project, have begun to provide a stable source of income for cinnamon growers.
In Quang Nam province, where many mountainous districts are considered the centre of cinnamon production, the province has a master plan, and directly supports mechanisms, policies and finance for cinnamon growers. Accordingly, the policy aims at preserving the original native cinnamon varieties, contributing to creating jobs, improving incomes, and transforming the crop structure in the cinnamon-growing areas. During the 2018-2025 period, the localities of Nam Tra My, Bac Tra My, Tien Phuoc and Phuoc Son, are entitled to mechanisms on supporting the development of cinnamon material areas.
Other provinces such as Ha Giang, Yen Bai, Lao Cai and Lai Chau are also actively implementing the project of cinnamon tree development, in the direction of stable and sustainable planning.
Bac Ha district (Lao Cai) currently has more than 9,500 hectares of cinnamon; revenues from cinnamon reached more than 300 billion VND per year. Many households earned hundreds of millions of VND per year from growing cinnamon, and thousands of families have a stable life and became rich thanks to cinnamon trees. Currently, the whole district has 2,400 hectares of organic cinnamon with high yield and quality. The district has encouraged and supported the building of brands for cinnamon products, in association with the implementation of the "One Commune, One Product" (OCOP) programme in the locality, and encouraged businesses to participate in the deep processing of qualified cinnamon products for export.
Particularly in Yen Bai province, over recent years, thanks to the high price of cinnamon, people of ethnic groups in some localities, have promptly converted crops of lower economic value to growing cinnamon. Van Yen district currently has about 50,000 hectares of land for cinnamon cultivation. Every year, about 6,000 tonnes of dried cinnamon bark are sold to domestic and international markets.
From the tree lifting people out of poverty, now cinnamon becomes a tree to help farmers with an average income of about 4 million VND per year. In order to develop stably, Van Yen district has built a geographical indication for cinnamon trees for its communes since 2010. Especially, from 2020, Van Yen cinnamon became one of Vietnam's 39 products protected by the EU, after implementation of the EVFTA.
Recognising the urgency of having strategic visions and long-term solutions for the cinnamon industry, the Vietnam Administration of Forestry, under the Ministry of Agriculture and Rural Development, assessed the current status, potential and challenges, looking for solutions to support the sustainable development of Vietnam's cinnamon industry, especially solutions to promote the connection of commodity chains.
According to Bui Chinh Nghia, Deputy Director of Vietnam Administration of Forestry, cinnamon is a type of non-timber forest product with increasing international market demand; the cinnamon growing areas in Vietnam are also expanding and developing to meet market demand; so without timely orientations, there is a risk of facing unsustainable development problems.
For stable and sustainable development, the cinnamon production and processing industry needs to improve product quality according to market requirements. In particular, it is necessary to promote the formation of cooperative groups and cooperatives, to connect farmer households in material areas with consume products. Along with that, the State and local authorities need to have appropriate mechanisms and policies, to encourage businesses to invest in cinnamon production and processing.
VU HOANG
Translated by NDO
TAG: