Lava Digital and Flix Communications to develop a social media listening tool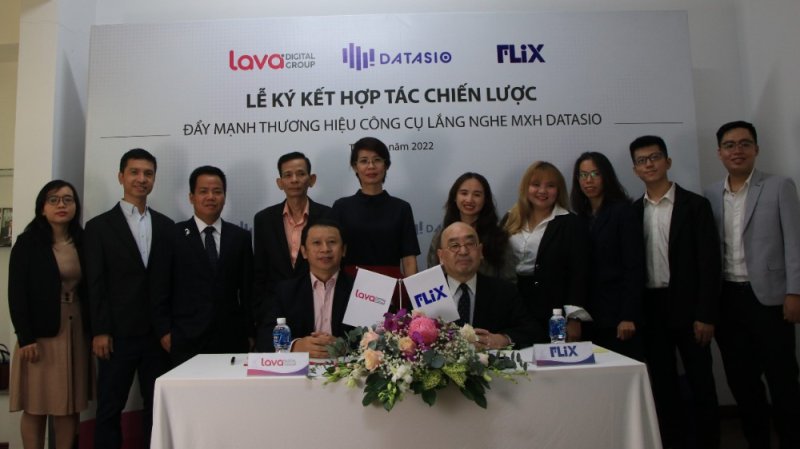 Vietnam's leading digital media agency Lava Digital has formed a strategic alliance with Japan's Flix Communications to develop an on-demand social media listening platform called Datasio.
The AI-driven digital media and e-commerce platform applying natural language analysis technology from Japan will be developed by Flix Communications. The tool is expected to give high-precision services in analyzing users' language and behaviors since it has an excellent ability to "understand" Vietnamese language.
Datasio, which helps enterprises to minimize the use of humans in big data analysis, save time and cost, has quickly won the heart of leading Japanese corporations operating in data, media in Vietnam.
Entering the strategic alliance, Flix Communications and Lava Digital, an arm of Lava Group, which has operated for 10 years in the digital media and marketing industry, will be a helpful market analysis and research tool for media creators and enterprises. The platform will be an "extension arm" for businesses in their strategies to reach markets and consumers in Vietnam.
The on-demand social media listening service will help businesses optimize operating costs and access transparent data which is collected by an automated process.
"We are proud to accompany Flix Communications in providing Datasio platform in Vietnam market with the advice of Ms. Tran Lien Phuong, a senior advisor of Lava Digital, who has 25 years of experience," stated Mr. Nguyen Ha Duc Minh, Chairman of Lava Digital Group.
With the ability to listen to natural language and select data, Datasio platform will be meaningful and effective in finding insights to reach customers better, shared Ms. Tran Lien Phuong.
"Partnership with Lava Digital will bring a great leap for Vietnam market. Technology and big are key materials not only for media creators and strategists but for marketers and brands. With a mission to bring real data, Datasio is a platform carrying out the mission we are pursuing," said Mr. Toshiro Imai, Director of Flix Communications.
Lava Digital Group is a digital agency with 2 main businesses including online advertising and marketing technology solutions. Its clients include Mindshare, Mediacom, Dentsu, Hakuhodo, OMG, Publicis, Sony, Ford, Honda, Yamaha, Spotify, Daily Motion, and TikTok.
The Group is among the Top 3 Digital Media Agency providing digital media services and marketing technology solutions in Vietnam.
Flix Communications is a global agency from Japan, providing advertising communication services, events, and integrated marketing solutions. It entered Vietnam in 2002. In 2015, Flix took another step in the market with digital technology.
In 2021, Flix Communications was honored at the SME100 Asia Awards – Top Fastest Growing Small and Medium Enterprises in Vietnam. This is also the driving force for Flix Communications to continue to expand its operation scale and customer network and to promote digital businesses in Vietnam.
Share this:
Facebook
LinkedIn
Reddit
Twitter
Email
Related
TAG: