Ørsted and T&T Group hold first supplier event for their multi-GW Offshore wind pipeline in Vietnam
The well attended workshop saw presentations from Ørsted's supply chain experts and speeches by representatives from the Economic Industry Department under the Ministry of Industry and Trade and the Electricity and Renewable Energy Agency under the Ministry of Industry and Trade. It was noted that Vietnam's national energy development strategy gives a clear mandate to establish an innovative policy framework that will allow for the breakthrough development of offshore wind in alignment with Vietnam's Marine Strategy.
Ørsted's existing suppliers in Vietnam also made presentations. These included CS Wind who said that their cooperation with Ørsted is "very unique and based on strong mutual commitments". Since 2016 CS Wind has manufactured 25 percent of Ørsted's offshore wind towers in Vietnam exporting to projects in Asia and Europe. Another supplier, VARD, at whose shipyard in Vung Tau Asia's first Service Operation Vessel was built said that working with Ørsted "has been rewarding and we have experienced a strong cooperation and dedication".
Sebastian Hald Buhl, Country Manager in Vietnam, says, "Ørsted and our partner T&T Group are fully committed to supporting Vietnam in achieving its ambitious 2050 Net Zero Emissions target. We will work closely with Vietnamese suppliers to help build a vibrant and competitive supply chain that can meet the needs of both the domestic industry as well as markets across Asia and Europe. We believe that by using our large project pipeline and combining Ørsted's global track record in building local supply chains with T&T Group's in-depth market knowledge we can kick start a new high-tech industry for Vietnam".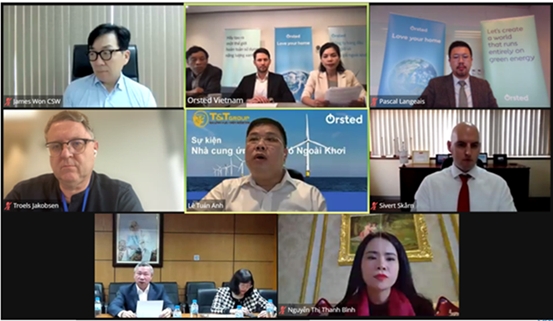 Pascal Langeais, Head of APAC Procurement & Supply Chain, says: "Our end-to-end business model gives us a long-term view and strong incentive to invest in building a sustainable local industry. Offshore wind is new here, but we see that Vietnam has excellent foundations upon which to build a strong and competitive offshore wind supply chain. In part this is due to the existence of strong industries with complimentary skills such as the oil and gas and shipbuilding sectors, but also very much due to Vietnam's highly skilled and educated workforce.With the event today we are building awareness of what is required to become a successful supplier to our industry and of the tremendous opportunities that it offers to Vietnam's many talented suppliers."
Ms. Nguyen Thi Thanh Binh, Deputy General Director of T&T Group, said, "The Government of Vietnam's long term energy master plan is setting Vietnam up as a regional leader in renewables with 44 GW installed capacity in 2030 and 144 GW in 2045. However, most of today's renewable power equipment is imported. We believe that with the high potential of Vietnam's renewable energy sector, especially within offshore wind power, there is significant potential to change this picture and build a strong domestic industry with strong export potential".
Thu Thủy
TAG: