Hanoi's key industrial exports increase despite pandemic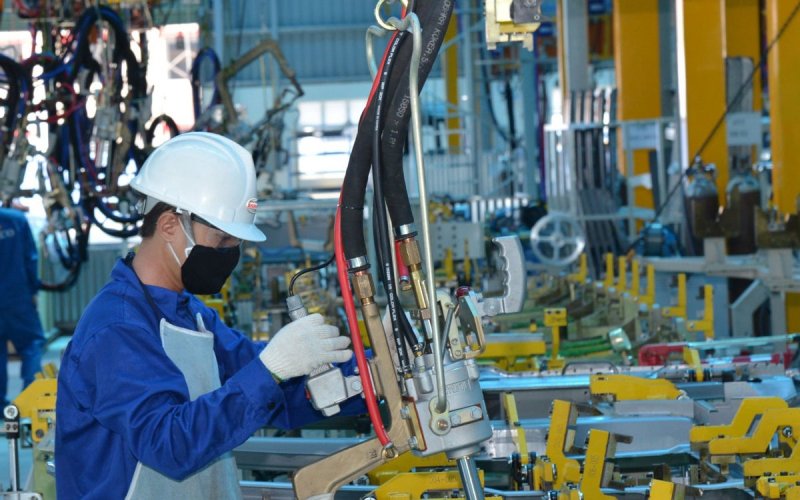 In 2021, Hanoi's industrial sector grew an estimated 5.11-5.49 percent compared to 2020
In 2021, the US-China trade war and the complicated Covid-19 pandemic, with its ensuing global economic downturn, supply chain disruptions, border closures, and increased prices of production materials and consumer goods, all seriously affected worldwide socioeconomic activities in general and industrial production in particular. Vietnam, including its capital Hanoi, was no exception.
Despite difficulties and challenges, Hanoi successfully performed its dual task of controlling the pandemic and maintaining economic development. In 2021, the city's industrial sector grew an estimated 5.11-5.49 percent compared to 2020, contributing 0.72-0.77 percentage points to the capital's 2.35-3 percent gross regional domestic product (GRDP) growth. The city's industrial development index grew an estimated 4.78 percent in 2021.
The energy, processing and manufacturing industries experienced strong development, as did the high-tech industry in the digital control, automation, nano, plasma, laser, and biotechnology segments, among others. A number of large private industrial groups have been established, contributing to the proportion of Vietnamese enterprises with modern technology.
Nguyen Manh Quyen, Deputy Chair of the Hanoi People's Committee, said the city will prioritize development of key industrial sectors and products using advanced technology with a high added value. Key industrial products' contribution to the city's industrial production and export values are expected to increase to 40-45 and 20-25 percent by 2025, respectively, Quyen said. The city will develop 8-10 key industrial product groups, strive for 10 percent of key industrial enterprises to be listed as top-500 enterprises in Vietnam, and endeavor to have 150-180 products recognized as key industrial products by the city people's committee, he added.
Hanoi considers manufacturers of key industrial products an important force that plays a significant role in the capital's development. Quyen said Hanoi is committed to accompanying the development of industrial enterprises in general and key industrial product manufacturers in particular. The city will create favorable conditions in terms of production space, technical infrastructure construction and credit incentives for businesses so that key industrial product manufacturers have the opportunity to develop and contribute to the country's development in general and the capital's growth in particular. Hanoi will continue to adopt policies encouraging key industrial product manufacturers to form internationally competitive enterprises that can help other businesses develop, Quyen said.
Hanoi Party Committee's Program 02-CTr/TU dated March 17, 2021 places emphasis on growth model innovation, economic restructuring, international integration, improvement of productivity, quality, efficiency and competitiveness, and rapid and sustainable economic development in the 2021-2025 period.
Nguyen Hanh
TAG: