Generali launches new policy kit with pioneering and innovative features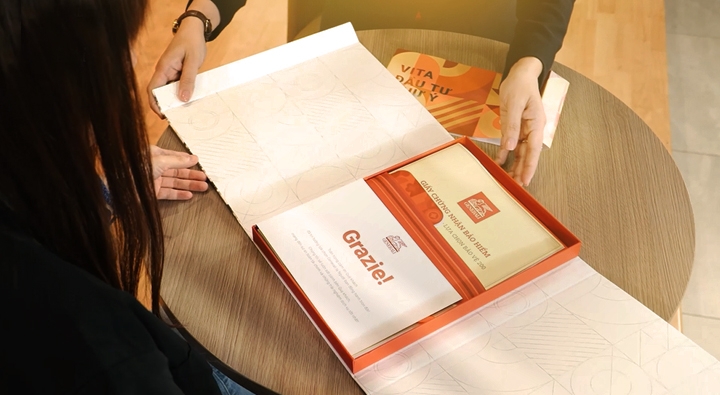 Generali's new policy kit is a physical and digital integrated version, which offers customers hassle-free access to online information while not compromising the enjoyable and satisfying experience of holding a physical policy kit featuring premium and elegant look and feel.
With this new policy kit, customers can easily search for policy-related information from any devices anywhere, anytime. Customers can also conveniently conduct self-services via GenVita, Generali's digital health ecosystem. All processes and documentation have been simplified to the optimum extent to deliver a fresh, quick and easy experience for customers.
Ms. Tina Nguyen, Generali Vietnam CEO, shared, "The launch of the new policy kit demonstrates Generali's great appreciation, as well as our life-long commitment to our customers. This is a great start to the new year 2022 for Generali, with an ambitious plan for many more pioneering products, technologies and services for customers."
Leveraging its strength in technology, Generali has quickly switched all operations and customer services to 100 per cent online. Generali constantly invests in enhancing customer experience and has taken prompt action to adapt to the "new normal". For instance, Generali pioneered in lifting the requirement for original documents in the claim process, shifting from face-to-face to remote selling, accepting claims for "telemedicine treatment" and "home treatment" services, etc. Additionally, Generali also set up a special fund of up to VND10 billion to support Covid-19 infected customers.
Such efforts have enabled Generali's R-NPS score, which measures overall customer satisfaction with the company to consistently increase and lead the market in 2020 and 2021. Generali was also named the "Leading health insurance and customer experience provider in Vietnam" at the 2021 Golden Dragon Awards.
Generali Vietnam is a member of Generali Group, one of the largest global insurance and asset management providers from Italy. Established in 1831, Generali is present in over 50 countries, with a total premium income of €70.7 billion in 2020. With more than 72,000 employees serving more than 68 million customers globally, Generali has a leading position in Europe and an increasingly significant presence in Asia and Latin America. In Vietnam, after ten years of operation, Generali Vietnam currently has a nationwide network of about 80 GenCasa (agency offices) and customer service centers, serving over 400,000 clients.
PV
TAG: