RoK, Vietnam in race to reach US$100 billion in trade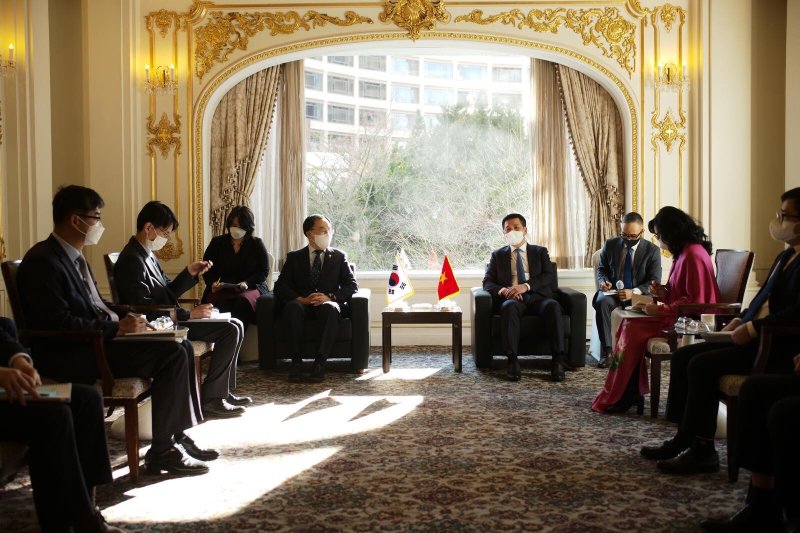 Vietnamese Minister of Industry and Trade Nguyen Hong Dien met RoK Minister of Trade, Industry and Energy Moon Sung-wook during his visit to the RoK in late December 2021
Seeking new driving forces
Despite the impact of the Covid-19 pandemic, two-way trade turnover between the RoK and Vietnam reached an estimated US$77 billion in 2021, an increase of about 17 percent compared to 2020. It means that bilateral trade has recovered strongly and has optimistic growth prospects.
However, the bilateral trade turnover target of US$100 billion set for 2023 is facing challenges in the context of supply chain disruptions, trade protectionism and difficulties in goods transportation and logistics, requiring the two sides to review and accelerate the implementation of action plans.
At the 11th meeting of the Vietnam-RoK Joint Committee on Trade, Industry and Energy Cooperation held in late December 2021, Vietnamese Minister of Industry and Trade Nguyen Hong Dien and RoK Minister of Trade, Industry and Energy Moon Sung-wook discussed measures to support enterprises in adapting to Covid-19, minimizing damages and maintaining operations, while seeking new driving forces for the promotion of partnership between the two countries in trade, industry and energy.
The two leaders agreed to work together to expand the scale of bilateral trade. These include facilitating trade, promoting market opening for agricultural products, lifting trade barriers, limiting the application of trade remedies, strengthening cooperation in the protection of intellectual property rights and the fight against counterfeit goods, and boosting the development of logistics.
As for industry, the two ministers agreed to carry out activities to further tighten the supply chain connection between the two countries and support businesses in making effective use of free trade agreements to which Vietnam and the RoK are signatories. This would be accomplished through technology transfer and capacity improvement in the field of support industries, while helping Vietnam formulate the Law on Industry Development, strengthening investment and trade connections in the fields of auto, engineering, electronics, garment and textile, and chemicals.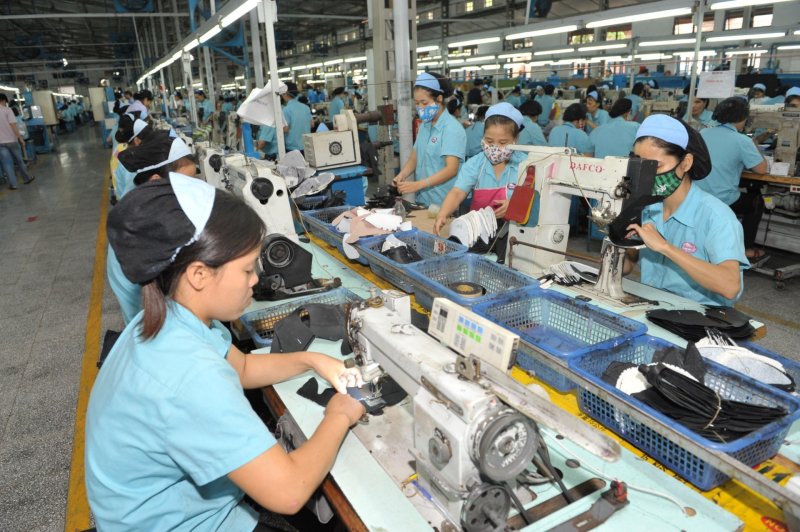 Taking advantage of VKFTA
The two countries have made good use of the Vietnam-Korea Free Trade Agreement (VKFTA) over seven years of implementation. Two-way trade is estimated to have more than doubled from US$36.5 billion in 2015 to US$77 billion as of November 2021, while total RoK investment in Vietnam also increased to US$74.1 billion from US$43.7 billion in 2015.
To remove difficulties and create a favorable legal corridor for its implementation and take full advantage of the benefits provided by the trade deal, the two ministers agreed to work closely to foster partnership in customs and origin of goods, animal and plant quarantine, technical barriers to trade, trade remedies, and economic, services and investment cooperation.
Vietnam and the RoK can take advantage of the UK-Vietnam Free Trade Agreement (UKVFTA), too. The two leaders undertook to promptly finalize procedures for the signing of an agreement on implementing the accumulation of origin of textile materials between the two nations under the UKVFTA, while continuing to coordinate closely in implementing the Regional Comprehensive Economic Partnership (RCEP).
Thu Thuy
TAG: