Abu Dhabi development fund interested in investing in Vietnam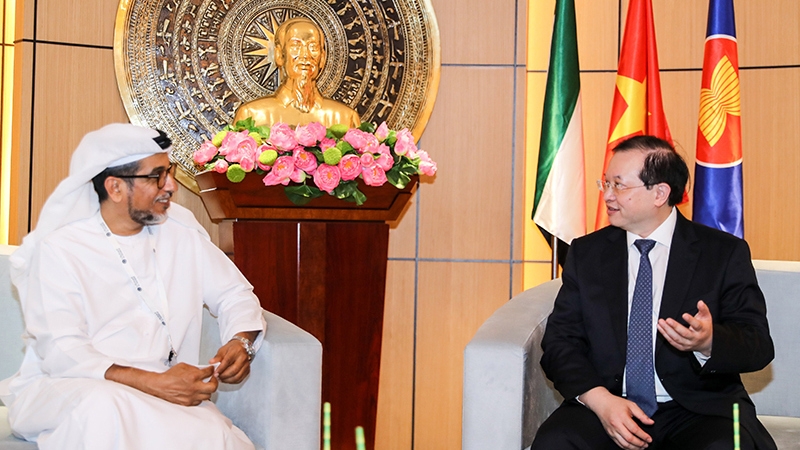 Deputy Minister of Culture, Sports and Tourism Ta Quang Dong and ADFD Director General Mohammed Saif Al Suwaidi   
NDO - The Abu Dhabi Fund for Development (ADFD) is interested in investing in Vietnam, said its Director General Mohammed Saif Al Suwaidi, during a meeting with Vietnam's Deputy Minister of Culture, Sports and Tourism Ta Quang Dong, on December 29.
The meeting took place within the framework of the Vietnam National Day at the World Expo 2020 Dubai, in the United Arab Emirates (UAE).
The ADFD was founded in 1971, with a focus on infrastructure projects such as affordable housing, schools and hospitals in 97 countries, but none of the fund's projects have been implemented in Vietnam.
Mohammed Saif Al Suwaidi said the fund is planning to carry out research into the Vietnamese market, adding that Vietnam is one of the potential markets where the fund is greatly interested in.
For his part, Deputy Minister Ta Quang Dong affirmed that Vietnam will be a favourable investment destination for foreign investors, with its stable politics, a rich culture and hospitable people.
Dong informed the UAE official, of Vietnam's economic performance in recent years, with gross domestic product growing by 2.3% in 2020 despite the impacts of COVID-19.
At the meeting, the two sides agree to work closely through the Vietnamese Embassy in the UAE, to survey the Vietnamese market so that the ADFD can develop substantive and effective projects in Vietnam in the future, including those in tourism.
TAG: