Vietnam stands firm as world's second-largest garment exporter
Vietnam has leapfrogged Bangladesh to become the world's second-largest garment exporter, behind China.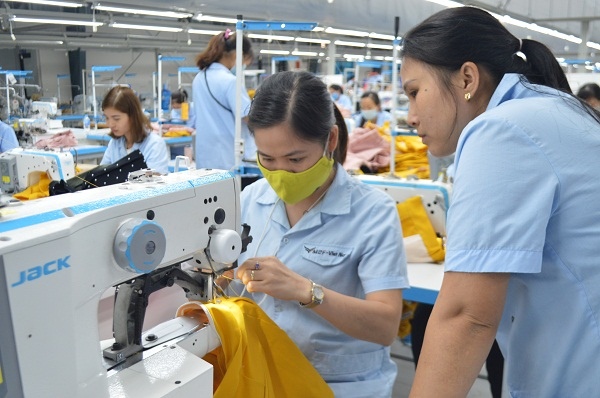 Inside garment factory of M2 Company in Haiphong. Photo: Khac Kien
"China remained the largest garment exporter with a global market share of 38%, followed by Vietnam with 5.1%, and Bangladesh in third with 5%."
Vuong Duc Anh, a spokesperson of the Vietnam National Textile and Garment Group (Vinatex), revealed the information at a press conference held on December 23.
According to Anh, due to the pandemic impacts, Vietnam's garment exports this year remain below expectation, but the country still moved to the world's second place as other competitors have suffered more.
For Vinatex, the company's consolidated revenue also rose by 10.7% in 2021 to a record high of VND16.4 trillion ($716 million), which resulted in a pre-tax profit of VND1.2 trillion ($52.3 million), more than double the result from last year and over 70% compared to the pre-pandemic period.
Anh said for the coming years, Vinatex and its affiliates would continue to strengthen the value chains to become a "complete package for customers in the garment-fashion industry."
While competitive pricing continues to be a key part of Vinatex's business strategy, he suggested the company may target niche markets, including clothes for the army, fire prevention, and green products.
"The main target for the 2022-2025 period would be for Vinatex to be capable of meeting demands from large-scale supply chains around the world," Anh said.
A report from the Vietnam Textile and Apparel Association (VITAS) revealed major markets, including the US, Canada and EU continue to contribute a sizable portion to the high revenue.
Given the bright prospect of the economy, VITAS President Nguyen Duc Giang expects more orders are returning in 2022 and help boost the export turnover of the local textile industry to $43.5 billion.
Hanoi Times
TAG: