Vietnam seeks solutions to ease congestion of agricultural products at border gates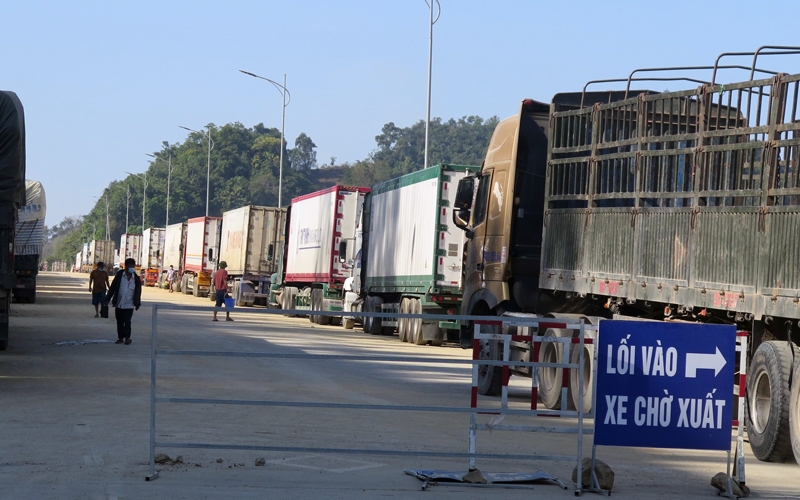 Trucks carrying agricultural products are stuck at Tan Thanh border gate (Lang Son). (Photo: HUNG TRANG)   
NDO – Nearly 4,600 container trucks carrying goods and agricultural products were at border gates in Lang Son Province on December 20 waiting to conduct customs clearance to ship goods to China, according to Lang Son authorities.
Only Huu Nghi International Border Gate is operating to clear goods while Tan Thanh Border Gate has suspended customs clearance since December 18 and Chi Ma Border Gate has halted customs clearance since December 8, leading to serious congestion of agricultural products.
Faced with that situation, the Ministry of Agriculture and Rural Development on December 20 worked with the People's Committee of Lang Son Province and the Commercial Counsellor of the Chinese Embassy in Vietnam to find solutions.
Chairman of Lang Son Provincial People's Committee Ho Tien Thieu said that the number of container trucks now exceeds the customs clearance capacity while China is tightening measures to control the COVID-19 pandemic on people and goods, leading to the congestion of goods at Lang Son Border Gates.
At Huu Nghi International Border Gate, the number of cleared vehicles per day is very low, at about 90-100 vehicles, compared to its previous capacity of 250-300 vehicles per day.
Deputy Minister of Agriculture and Rural Development, Tran Thanh Nam, said that while China is continuing to tighten measures to control the pandemic on people, vehicles and goods packaging, some Vietnamese businesses have not strictly complied with 5K regulations, leading to some drivers being infected with Covid-19. This is one of the reasons why the Chinese side has stricter controls on people, means of transport, and goods, causing a sharp drop in customs clearance.
Therefore, businesses need to well implement the prevention and control of the COVID-19 pandemic and strictly comply with 5K regulations to avoid causing damages. In addition, the Ministry of Agriculture and Rural Development also suggested that the Chinese authorities have an online meeting with the ministry and leaders of Lang Son Province to discuss common measures on pandemic prevention and control on human, vehicles, and goods packaging.
Trade Counselor of the Chinese Embassy in Vietnam Hu Suo Jin said that the traffic jams of agricultural products at border gates are at a serious level due to the pandemic. Currently, the General Department of Customs of China is asking relevant agencies and localities in China to urgently find suitable solutions to release the agricultural products that are piled up at the border gates while still ensuring good prevention and control of the COVID-19 pandemic.
In the immediate future, Lang Son Province should continue to negotiate and make recommendations to the Chinese side to implement solutions to increase customs clearance time at border gates and improve the working efficiency of the forces working at border gates on the Chinese side.
At the same time, it is recommended that localities in Vietnam should produce goods according to market demand while meeting the regulations and standards of the import market from harvesting, preliminary processing, packing and transporting to ensure safety against the pandemic.
In addition, the Ministry of Agriculture and Rural Development should soon discuss with Chinese authorities about the unification of disinfection, testing and phytosanitary methods for Vietnamese agricultural products before export to China to create favourable conditions for customs clearance activities.
TAG: