Rising COVID-19 Infections Put Vietnam Near Bottom Of Bloomberg's Resilience Ranking
Exactly two months after Vietnam lifted COVID-19 lockdowns and reopened the economy, the country recorded its second-highest ever daily local infections. The Health Ministry on December 1 confirmed 14,506 coronavirus cases from 60 localities, led by Ho Chi Minh City with 1,675 cases.
Two southern towns, Can Tho and Soc Trang, reported 989 and 757 cases, respectively. The capital city of Hanoi saw 467 cases. 
Except for the days when prior cases were added to the database, this is the second highest single-day record behind Sep. 3 with 14,894 cases, according to VnExpress' COVID-19 statistics.
Vietnam has been seeing a new surge in cases as movement restrictions are further eased. The country has recorded an average of 12,741 daily new cases in the last seven days.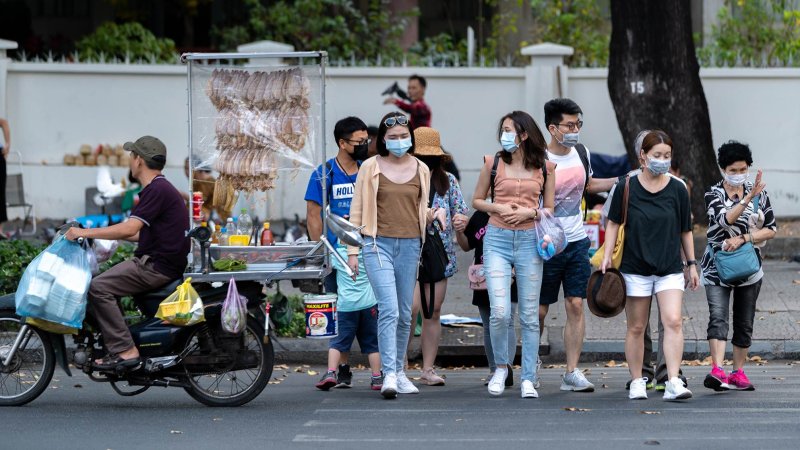 Source: Vietcetera
Health experts previously explained that the increase in the number of cases is an expected phenomenon given the resumption of economic activities. Dr. Truong Huu Khanh, an advisor for the Children's Hospital 1 in HCMC told VnExpress last month that as long as the cases "don't turn severe or fatal thanks to vaccinations, it would help HCMC achieve herd immunity."
However, Vietnam's efforts to navigate the new normal by "living with the virus" isn't going as smoothly as the country hoped to be. A new COVID resilience ranking by Bloomberg saw Vietnam listed near the bottom.
Ranked 51st out of 53 countries, Vietnam scored 48.1, just five points higher than the Philippines, the last in the list. Bloomberg's monthly resilience ranking is a snapshot of where the virus is being handled the most effectively with the least social and economic upheaval. Compiled using 12 data indicators that span virus containment, quality of healthcare, vaccination coverage, overall mortality and progress toward restarting travel, the Ranking captures how the world's biggest 53 economies are responding to the same threat.
Vietnam's monthslong lockdown in the second half of 2021 negatively affected its score. The country, however, scored high on vaccination. As of December 1, Vietnam has already inoculated 71.7 million people or 74.4% of the total population, with at least one shot. Nearly 52 million people have been fully vaccinated.

Source: Bloomberg
"Southeast Asia continues to populate the bottom of the Ranking, with the Philippines remaining in last place, followed by Indonesia, Vietnam and Malaysia," Bloomberg reported. "The lowest two places on the Ranking have given out less than 100 COVID shots per 100 people, a key barrier to improving their scores." 
The United Arab Emirates, Chile and Finland took the top three spots on the resilience ranking, boosted by their high vaccination rates, border reopenings and strong economic recovery. 
After relatively strong economic growth and only less than 1,500 COVID-19 cases and 35 deaths in 2020, Vietnam's gross domestic product decreased by 6.17% in the third quarter of 2021 over the same period last year, the deepest decrease since Vietnam calculated and announced quarterly GDP up to now, data from the General Statistics Office show. Government officials have said that economic growth could slow to between 3.5%-4.0% this year, below Vietnam's earlier forecast of 6.5%.
Bloomberg warned that the emergence of new variant Omicron may change the ranking in the coming months. While there's still very little information on the severity of the impact of the new strain, it has already forced several nations to reimpose travel bans and border closures.
Vietnam has not detected any Omicron-related infections yet, but it has already started implementing proactive measures. Prime Minister Pham Minh Chinh in an official statement requested the Ministry of Health to keep a close watch on the pandemic situation caused by the new variant, frequently contact the WHO to get timely and precise updates, and propose timely and effective anti-pandemic plans.
The Ministry of Transport, Ministry of Foreign Affairs and other relevant governmental organizations were also ordered to tighten control over people who have come to or transited South Africa, where the variant was first detected, and other countries affected by Omicron. Flights to and from South Africa, Botswana, Namibia, Zimbabwe, Eswatini, Lesotho and Mozambique have been temporarily halted by the Vietnamese government. Visas and travel permissions for people going to or arriving from these countries have also been suspended.
TAG: