Webinar on multilateral approach to circular economy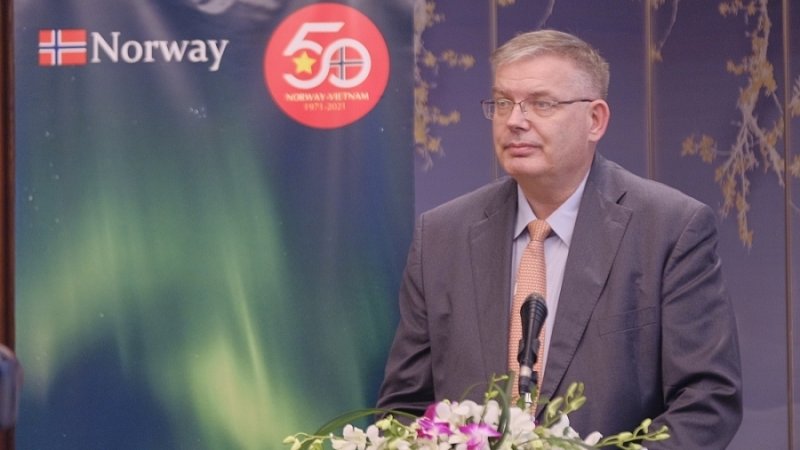 Deputy Norwegian Ambassador to Vietnam Jan Wilhelm Grythe speaking at the event (Photo: congthuong.vn)   
NDO/VNA – A webinar on multilateral approach – the success key to the circular economy was held on November 30.
The event was co-hosted by the Asian Development Bank (ADB), the Ministry of Natural Resources and Environment (MONRE)'s Vietnam Environment Administration in collaboration with the Norwegian Embassy in Hanoi and Innovation Norway.
Speaking at the event, Deputy Norwegian Ambassador to Vietnam Jan Wilhelm Grythe said Norway's multilateral approach, under which governmental agencies and local administrations work closely with research institutes, private sector and non-governmental organisations in the process of policy building and enforcement, has proved success in various areas. Norway wants to share this approach with Vietnam, he said.
Speakers shared experience and expertise in the management of solid waste and climate change, coordination between the central administration and local authorities, as well as the meaning of achieving a circular economy with zero emissions.
Recently, the MONRE and the United Nations Development Programme (UNDP) announced the establishment of the Vietnam National Circular Economy Network to raise awareness and capacity of all stakeholders, including governmental agencies, businesses, civil social organisations and scholars.
At the 26th United Nations Climate Change Conference of the Parties (COP26), Vietnam signed the Global Coal to Clean Power Transition Statement. Vietnamese Prime Minister Pham Minh CHinh also affirmed Vietnam's commitment to reduce greenhouse gas emissions to zero by 2050.
TAG: