Vietjet signs 150-million-USD deal with Swiss MRO service provider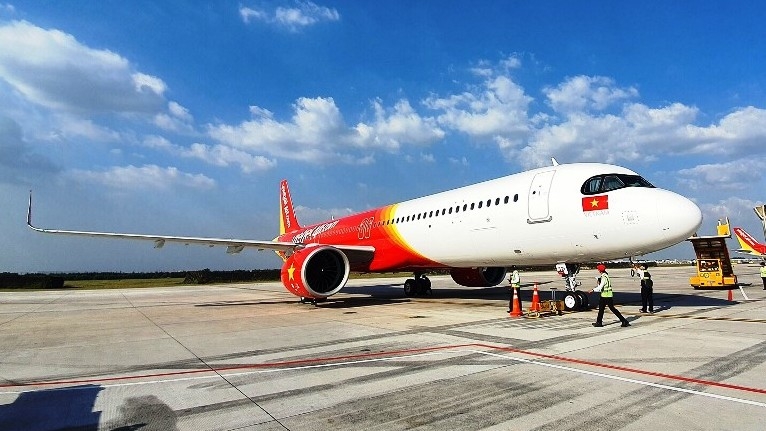 An aircraft of Vietjet   
NDO/VNA - Vietjet and SR Technics, a world leading maintenance, repair and overhaul (MRO) service provider, on November 26 inked a Memorandum of Understanding (MoU) worth 150 million USD involving the provision of MRO services on Vietjet's CFM56-5B engine fleet, installed on their Airbus A320 and A321 aircraft.
The signing ceremonies in Bern, Switzerland, were witnessed by Vietnamese President Nguyen Xuan Phuc, President of the Swiss Confederation Guy Parmelin, high-ranking officials and business representatives of both countries during the Vietnamese leader's official visit to Switzerland.
Under the MoU, the work on the engines will be carried out at SR Technics' world-renowned facilities at Zurich Airport in Switzerland and in Vietnam. The MoU also includes providing engine maintenance, technical and training services, component requirements and repair, and setting up a new Aviation training centre, as a joint venture between Vietjet and SR Technics.
Vietjet and Swiss Aviation Software (Swiss-AS), the world's leading provider of aviation maintenance solutions based in Switzerland, also signed a strategic cooperation agreement to further extend Vietjet's adoption of Swiss-AS's maintenance and engineering solution AMOS to support Vietjet's fleet.
The two parties will extend their cooperation to cover various scopes, strengthening the existing long-term strategic partnership over the next ten years. Swiss-AS and its relevant subsidiaries will provide Vietjet the added platform of AMOS mobile/EXEC for aircraft technical management on mobile devices, thus allowing full automation and digitalisation for Vietjet's engineers.
In addition, Vietjet will use the system with more capacity and update other AMOS modules to better serve in-house management including automation of planning, aircraft scheduling and budget management, etc. Swiss-AS will also provide the AMOS "train the trainer" program for Vietjet with notable frequency and scale in the coming time.
Speaking at the MoU signing ceremony, SR Technics' CEO Jean-Marc Lenz said: "We are very proud that Vietjet is committing to a long-term partnership with SR Technics. This confirms their confidence in SR Technics' ability and expertise to provide best-in-class MRO services including engine maintenance and technical and training support in line with the highest benchmarks in the industry in terms of safety and quality. Therefore, entrusting us to deliver top-quality performance on their engines, proves how strong the foundation of our future collaboration is. I look forward to visiting the new Aviation training centre which will be built in Ho Chi Minh City in collaboration with our renowned Vietnamese partner."
Fabiano Faccoli, Chief Operating Officer of Swiss-AS, said: "It has been an honour for Swiss-AS to support Vietjet in its impressive growth over the last decade. Swiss-AS is looking forward to further strengthening the excellent partnership and, through its AMOS product suite and services, be instrumental in digitalizing Vietjet's Technical Operation. Swiss-AS shares Vietjet's customer-focused strategy and is keen to support Vietjet to further improve productivity and quality through innovation, technology and creativity."
Meanwhile, Vietjet Managing Director Dinh Viet Phuong said: "The signed agreements between Vietjet and our strategic partners today pave the way for further development, especially in the process of transferring and adopting aviation technologies and setting up aviation academy to positively contribute to the development of Vietnam's aviation industry. We cherish the cooperation, which has been nourished by a long-standing relationship between Vietnam and Switzerland and especially on the occasion of the Vietnamese President's official visit to Switzerland."

TAG: