Vietnamese Carmaker VinFast Debuts Electric SUVs In The US
Vietnam's first major domestic Vietnamese car maker, Vinfast, is set to showcase several of its electric SUVs to the public at the LA Auto Show from November 19-28. The show marks VinFast's official debut to the American market as it sets its eyes on the electric car marketplace beyond Southeast Asia.
Founded in 2017, VinFast started expanding beyond Vietnam in July 2021. Now, it's one of the few new electric car brands making an appearance at the LA Auto Show, where it will appear alongside more established brands like Ford, Porsche and Subaru. The show will feature a 55,000-square-foot electric vehicle test track for patrons, a first for any auto show.
VinFast is a member of Vingroup — the largest private corporation in Vietnam with businesses across technology and hospitality. In less than two years, VinFast has emerged as the country's number one car seller, thanks to a automotive manufacturing complex constructed four years ago in Hai Phong. VinFast' first gasoline-powered models hit Vietnam's streets in 2019.
The company sold about 30,000 vehicles in 2020 alone, and expects sales of more than 45,000 for 2021. It is now preparing to launch its very first smart electric vehicles to the domestic market at the end of this year, and globally in 2022.
VinFast's US CEO, Van Anh Nguyen, told LA Downtown News  that the company's focus is on becoming "a global smart electric vehicle brand." Nguyen said the pandemic and related supply chain issues have not affected it. It has "made us more flexible to achieve our goals," she said.
"As planned, we will launch the VF e35 and VF e36 models globally in 2022 and participate in several large-scale exhibition events in the US and Europe. While adapting to new conditions in COVID-19, we also take this chance to promote the development of the domestic supporting industries, restructure supply chains to reduce dependence on external sources, and diversify sales methods."
Nguyen added that VinFast will be joining other large-scale auto shows in the US and in Europe in the coming months to promote its two SUV models before it's officially launched late next year. Pre-orders for units will start in the first half of 2022.
VinFast, having its sights on becoming a reputable, global car brand, is also focused on sustainability and "intends to play a significant role in the global development of green transportation," Nguyen told the media.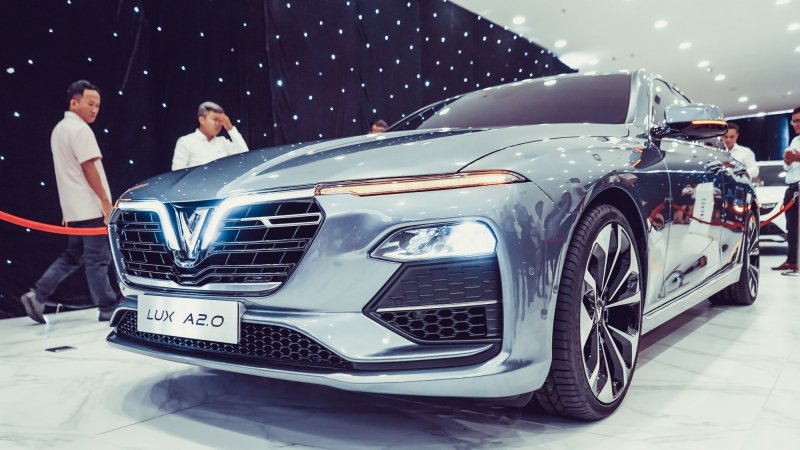 VinFast at an auto show in Ho Chi Minh City. | Source: Shutterstock
VinFast also recently announced the establishment of its California headquarters. The 15,000-square-foot facility, located in the Playa Vista area – a neighborhood known as "Silicon Beach" and packed with tech firms in Los Angeles, will include a management team with plans to hire more than 400 workers there and at its regional office in LA over the next several years, reads a report from The Sun. The automaker also eyes opening 35 showrooms and service centers in California this year.
"We are excited to make Los Angeles the permanent home of VinFast US," Nguyen said in a statement. "California in general and Southern California in particular are rapidly becoming the epicenter of the advanced transportation world thanks to forward-thinking ideas, an abundance of talented workers, and the passion for making transportation electrification a reality. We are grateful to Governor Newsom and Mayor Garcetti for their continued support."
Considering its US expansion as "an incredibly important strategic decision", VinFast's global Chief Executive Michael Lohscheller told Reuters on Wednesday that the company plans to list on the US stock market within the next couple of years. "Specific timing will depend on the market and other conditions. We will reveal more information at an appropriate time," said Lohscheller.
Previous reports stated that VinFast was weighing a $2billion IPO, and is seeking a valuation of at least $50 billion after a listing. At $2 billion, VinFast's IPO would be the biggest ever by a Vietnamese company after Vinhomes JSC's $1.4 billion first-time share sale in 2018, according to data compiled by Bloomberg. The carmaker could also become the first Vietnamese company to list in the US if successful.
TAG: