Fisheries sector sees recovery signs in October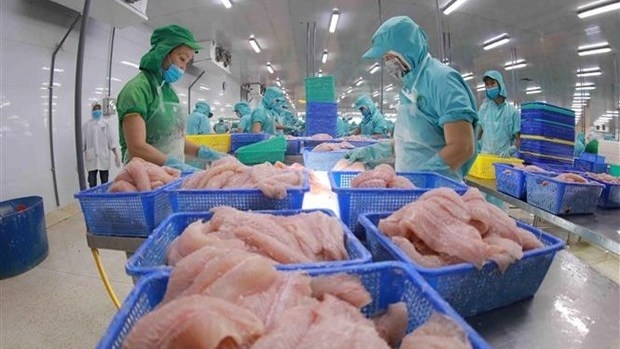 Illustrative image (Photo: VNA)   
NDO/VNA – Positive signs have been seen in fisheries production, processing and exports in many localities since early October.
According to the Vietnam Association of Seafood Exporters and Producers (VASEP), fisheries exports reached US$918 million in October, equal to the figure of the same period last year and a rise of 47% over last month. Upturn was seen in exports of the majority of products such as tuna, squid, octopus and shrimp.
The increase showed that the sector is become more stable and on the road to recovery, according to the association.
In the first 10 months of this year, fisheries exports were estimated at US$7.1 billion, a slight rise of 2.4%. Highest rise was seen in export revenue of bivalve molluscs at 39% to US$113 million. Exports of tuna posted an increase of 10% to US$598 million, squid and octopus at 4.5% to US$475 million, and shrimp at 2.6% to US$3.2 billion.
Due to a shortage in material, export revenue of tra fish in October dropped 18% year on year to US$139 million. However, the figure in the first 10 months of this year remained unchanged at US$1.2 billion.
The US remained the major market of Vietnamese fisheries products, accounting for 24% of the total export value at US$1.7 billion, up 25% year on year. It was followed by Japan with US$1.08 billion and China and Europe with US$872 million and US$864 million, respectively.
TAG: