Vietnam's import-export turnover up 24% in nine months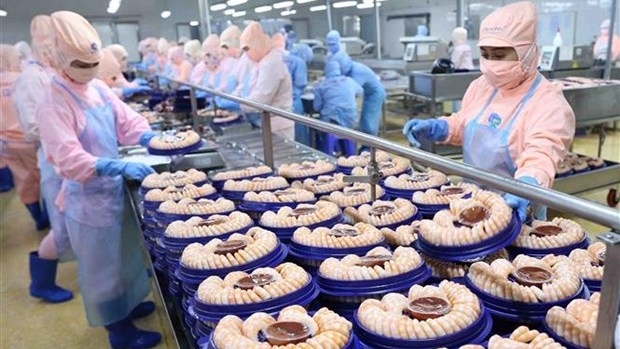 The production of shrimp for export at a factory of Minh Phu Seafood Corp in Nam Song Hau Industrial Park (Hau Giang province). (Photo: VNA)   
NDO/VNA – Vietnam's trade turnover in the first nine months of this year reached US$483.17 billion, a year-on-year increase of 24.4%, according to the General Statistics Office.
In September alone, the import-export turnover attained US$53.5 billion, down 2% compared to the previous month but up 4.2% against the same period last year.
Vietnam shipped US$240.52 billion worth of goods abroad in the first nine months of 2021, up 18.8% year-on-year. The domestic sector contributed US$62.72 billion and the FDI sector (including crude oil) contributed US$177.8 billion, increasing 8.5 and 22.8% annually, respectively.
During the period, 31 products recorded an export value of over US$1 billion each and together they accounted for 92.5% of the nation's total export.
The export of the group of processed industrial products reeled in US$214 billion, an increase of 19.5% from the same period last year. It was followed by agricultural and forestry products with US$17.7 billion (up 17.6%) and aquatic products US$6.17 billion (up 2.4%).
The US remained the biggest export market of Vietnam, spending US$69.8 billion on imports of Vietnamese products, a year-on-year rise of 27.6%. China came second with US$38.5 billion, up 18.3%. The EU and ASEAN followed with US$28.8 billion and US$20.6 billion, increasing by 11.6% and 21.2%, respectively.
The import turnover in the nine-month period reached US$242.65 billion, a hike of 30.5% compared to the same period last year. Of which, domestic businesses imported US$83.72 billion worth of goods, up 25%, while FDI enterprises made up the majority with US$158.93 billion, an increase of 33.6%.
TAG: