EVFTA brings trade opportunities to French companies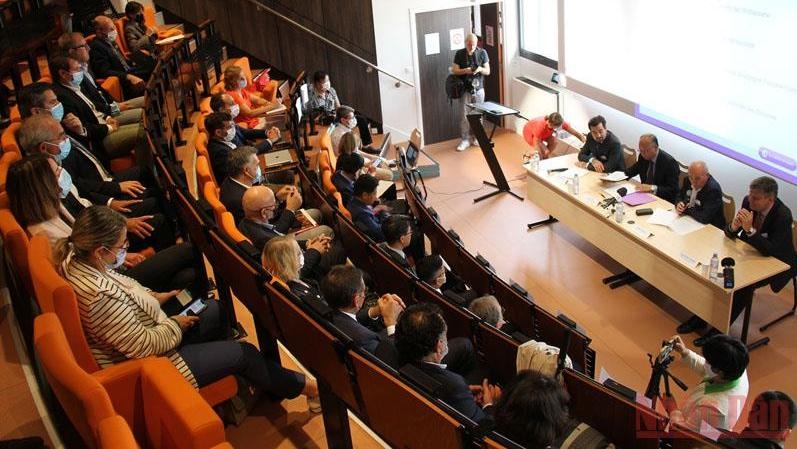 Overview of the event.   
NDO – Many French businesses believe that the European Union (EU) – Vietnam Free Trade Agreement (EVFTA) has brought about many opportunities for them invest and do business in Vietnam since the agreement took effect in August 2020.
They made the affirmation during a seminar held on September 16 and 17 in Macon City of France's Saone-et-Loire Province by the Vietnamese Embassy in France and the Chamber of Commerce and Industry (CCI) of Saone-et-Loire Province to discuss the EVFTA.
The event attracted the participation of representatives of nearly 50 enterprises in the province and its neighbouring localities, who are operating in the fields of agriculture, pharmaceuticals, wood processing and mechanics.
Addressing the event, Chairman of the CCI of Saone-et-Loire Province Michel Suchaut said that Vietnam and Saone-et-Loire have shared many similarities in foster cooperation, noting that Vietnam is strategically located in the heart of Southeast Asia, while Saone-et-Loire is also a strategic crossroads in the centre of Europe.
He also stressed that Vietnam is a potential market for French businesses in general, and for those in Saone-et-Loire Province in particular.
Therefore, he called on Businesses in Saone-et-Loire to seize the opportunities brought by the EVFTA for their operations.
For his part, Vietnamese Ambassador to France Dinh Toan Thang stated that together with the EVFTA, the EU-Vietnam Investment Protection Agreement (EVIPA), once officially approved, will create a framework for stable and long-term economic - trade - investment cooperation between Vietnam and the EU in general, and France in particular.
He pledged that the Vietnamese Embassy in France will work side by side with French businesses, contributing to strengthening and fostering the strategic partnership between the two countries.
Participants at the event were updated on the investment and trade development environment in Vietnam, and the potential and opportunities that the EVFTA brings to French companies.
TAG: