Controlling the pandemic to promote production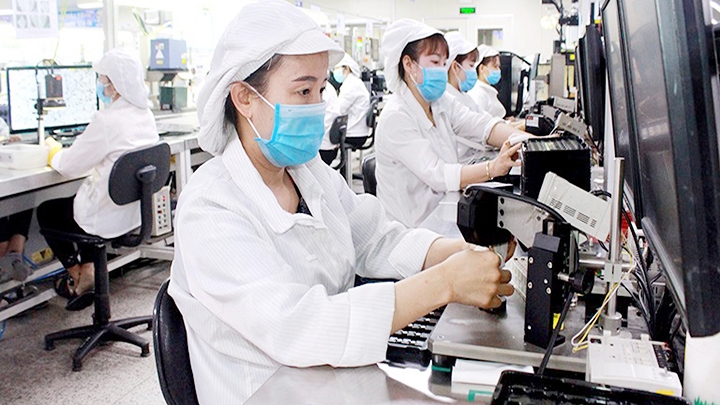 Jahwa Vina Co., Ltd in Khai Quang Industrial Park, Vinh Phuc province maintains jobs for thousands of workers. (Photo: NGUYEN LUONG)   
NDO - With many good initiatives and creative actions, several provinces have initially contained the COVID-19 pandemic and are making every effort to foster production to realise the dual goal set by Government.
Residential areas, villages, communes, and towns in the provinces of Quang Ninh, Vinh Phuc, Thai Nguyen and others have effectively controlled the entry of people and vehicles into the localities.
Quang Ninh province quickly established a Command centre for pandemic prevention and control and consolidated Steering Committees at all levels in accordance with the direction of the Prime Minister.
The province has actively built a plan to stand ready for the concentrated isolation of 50,000 people and a treatment plan for 1,000 patients. Quang Ninh has also put into use a digital map of the pandemic situation and installed surveillance camera systems at concentrated isolation facilities in addition to increasing testing capacity to 50,000 pooled samples per day.
The province has persistently implemented this strategy to prevent the pandemic from gateways and key positions by tightening the movement of people, vehicles and goods into and out of the province.
Besides electronic medical declarations, people must be fully vaccinated and have a negative SARS-CoV-2 certificate from a maximum of 48 hours prior to entering the province.
For lorries and container trucks passing through pandemic checkpoints, cabs must be sealed and drivers are required not to get out of the vehicle until arriving their destination.
Quang Ninh has also given COVID-19 vaccines to 172,000 people since April 2021, with more than 105,000 people fully vaccinated.
Timely support for businesses has helped the coal industry, one of the key industries of Quang Ninh and the whole country, to overcome difficulties and stabilise production and business in the past eight months, with coal output of over 25 million tonnes, nearly 65% ​​of the year's plan.
General Director of Vietnam Coal and Mineral Industries Group Dang Thanh Hai said: "the coal industry has still effectively maintained the '3 on-site' production model to avoid any disruption in the supply chains of coal, electricity and minerals in the national economy".
Quang Ninh posted a GRDP growth rate of 8.02% in the first eight months of this year, much higher than the same period last year and the national average.
Import and export turnover also increased by 11.6% over the same period in 2020 while the number of newly registered enterprises rose by 5% and those resuming operations soared by 60%.
When the pandemic appeared in Vinh Phuc province in early May 2021, the province required all businesses in industrial parks to test experts, managers and workers within 10 days. At the same time, the local authorities asked agencies, units and enterprises in the area to make medical declarations through scanning QR codes.
Dr. Dang Ngoc Huy, director of the Health Department of Thai Nguyen province said that the province has seen no new cases of COVID-19 for more than 14 days thanks to its effective implementation of the directions from the Party, State, the National Steering Committee for COVID-19 prevention and control and the Ministry of Health.
The province has also issued more than 400 documents on directing epidemic prevention and control from January 1 this year while always listening to people's opinions to remove any arising problems.
Along with effective control of the pandemic, Thai Nguyen province also strives to boost production and attract investment for economic development.
As the largest company in the province, Samsung Electronics Vietnam has recorded no F0 cases since early this year and maintained normal production with 10% growth over the same period last year.
"We are assured and believe in the pandemic prevention and control measures that the Government and Thai Nguyen province are conducting and that the company has conditions to boost production," said General Director of the Samsung Vietnam complex Choi Joo Ho.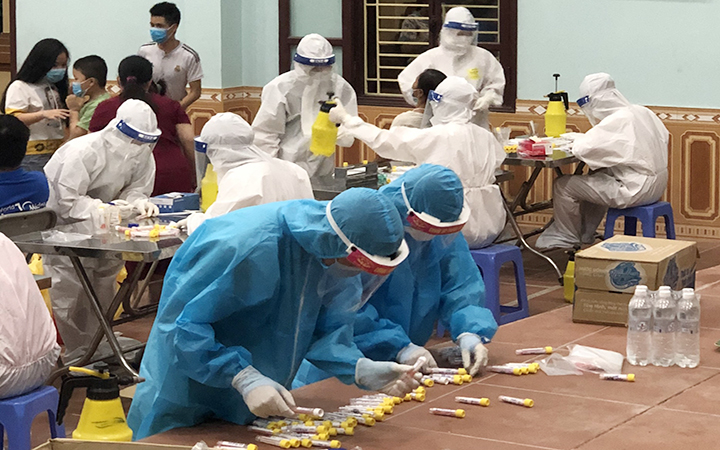 COVID-19 testing for workers in Diem Thuy Industrial Park, Phu Binh district, Thai Nguyen province. (Photo: THE BINH)
Since the beginning of the year, Thai Nguyen has attracted and adjusted 21 FDI projects with a total investment of over US$100 million and established five new industrial clusters with total investment of VND1.5 trillion.
As many as 560 enterprises has been set up with total registered capital of more than VND5 trillion. The province also reported a 6.5% increase in GRDP and 5.7% increase in the export value of goods since early this year.
At a working session with Thai Nguyen province on the afternoon of September 3, Prime Minister Pham Minh Chinh acknowledged and praised the province for achieving good results in COVID-19 prevention and control, helping protect people's health and develop production.
Thanks to effective disease control, Vinh Phuc province has implemented many solutions to attract investment and create conditions for businesses to boost production.
By August 15, the province had attracted 24 domestic investment projects with total registered capital of more than VND11 trillion, up nearly 58% and 48 FDI projects with total registered capital of US$895.7 million, up 196% over the same period last year.
Han Jung Ho, chairman of the Republic of Korea Business Association in Vinh Phuc affirmed that "The leaders and authorities of Vinh Phuc province have done a great job in controlling the pandemic, creating a safe area for Korean enterprises".
DUNG HA - THO BINH
TAG: