Top 10 Best Known Instant Noodles in Vietnamese Market
During lockdowns, the consumption of instant noodles naturally increases. Among hundreds of brands on the market, here are our recommendations of the 10 most popular options that you can easily find in supermarkets.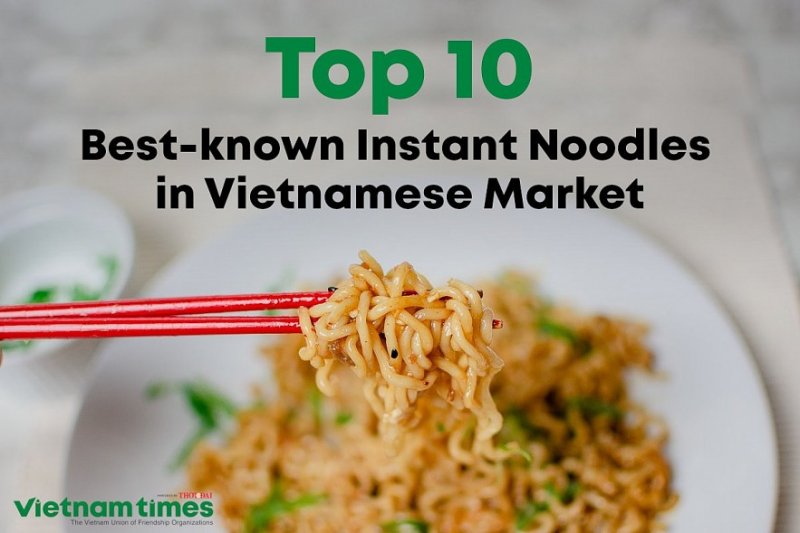 Photo: Hong Anh/ VNT
Tips to choose instant noodles
Based on methods to produce the noodles
Frying: Noodles that have been deep-fried in oil have a rich and fatty taste, soft and less chewy texture. Frying is currently among the most popular methods to produce instant noodles in the Vietnamese market, therefore, you will have a variety of brands to choose from.
Non-frying: The group of non-frying methods includes baking, air-drying, and steaming. If you enjoy a lighter, less oily taste, non-fried noodles are a perfect choice. In addition, non-fried noodles have a similar chewiness to fresh noodles.
Based on the flavor
Light, veggie: If you like to add other ingredients to the noodle dish, or simply love a light taste, vegetarian, mushroom, miso soup are the best choices.
Savory: For those who like their instant noodles to be more flavorful, spicy and sour, Thai tom yum, Thai hot pots
Meaty: Meat and bone stew is among the most popular instant noodle seasonings. For a meatier taste, we recommend products coming with a concentrated soup sachet such as Cung Dinh, Omachi, Koreno.
Recreation of special dishes: In addition to the mentioned typical flavors, many companies introduce instant noodles that mimic famous dishes, such as Japanese ramen with seafood, Korean spicy fried chicken, Italian bolognese spaghetti.
10 most popular instant noodle brands in Vietnamese market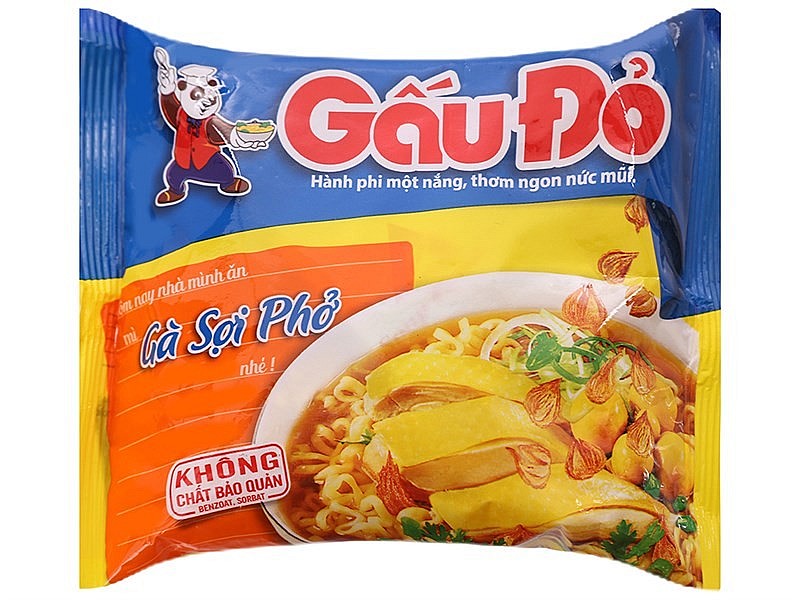 Gau Do (Photo: Kiddy Mart)
10. Gau Do - Chicken flavor, flat noodle
Fried noodle - 63g - 295 kcal per serving
Gau Do stands out because of its flat noodles. The company cleverly marinates fish sauce in the noodle to create a traditional Vietnamese flavor. Gau Do has a taste of chicken pho combining with fried onions.
A serving of Gau Do is 63g, lighter than the majority of other instant noodles, just enough to solve mid-day hunger. The light weight comes with a low price, too. Costing less than VND 3,000 (US$ 0,13), this is an extremely economical choice but still ensures a balanced taste.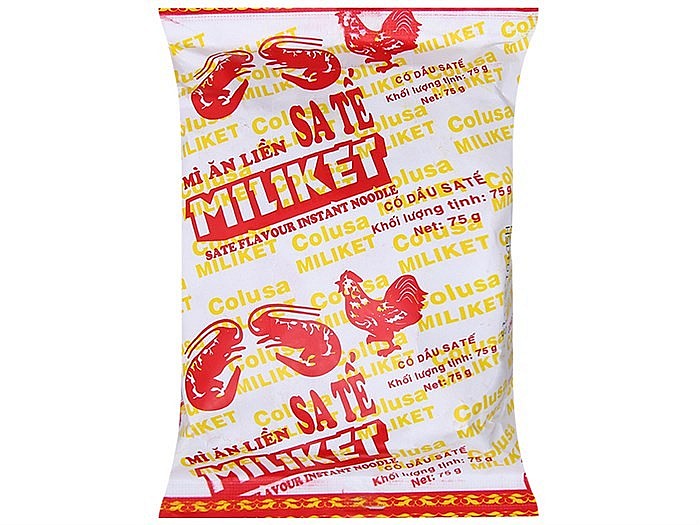 Miliket (Photo: Dien may Xanh)
9. Miliket - Satay
Fried noodle - 75g - 335 kcal per serving
Miliket satay noodles are made from wheat and tapioca flour, therefore they are firmer and chewier. Unlike the original version of Miliket, which is rather plain and salty, the satay and shrimp flavor here is strong enough to stimulate the taste buds, but not too spicy.
Due to the company's long history in the market, Miliket products are quite popular on e-commerce sites, supermarkets, markets, even small grocery stores. Each bag costs less than VND 4,000 (US$ 0,17).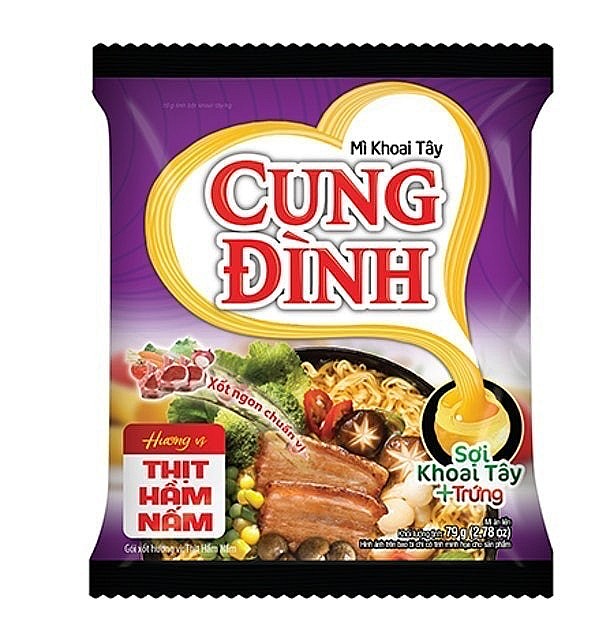 Cung Dinh (Photo: My Best)
8. Cung Dinh - Pork and mushroom flavor
Fried noodle - 79g - 334 kcal per serving
Cung Dinh noodles are one of a few that are made from potato starch and eggs, giving them a starchy feel and beautifully bright yellow color. The company claims that Cung Dinh noodles are firmer and
The product comes with a bag of concentrated soup from stewed pork bone broth, which has a real meaty and fatty taste. The product does include a seasoning package of dried mushrooms to enhance the taste.
All the good ingredients to create the product's meaty feel result in a slightly higher price compared to other products on the market. Each package of Cung Dinh in pork and mushroom flavor costs VND 7,000 (US$ 0,3).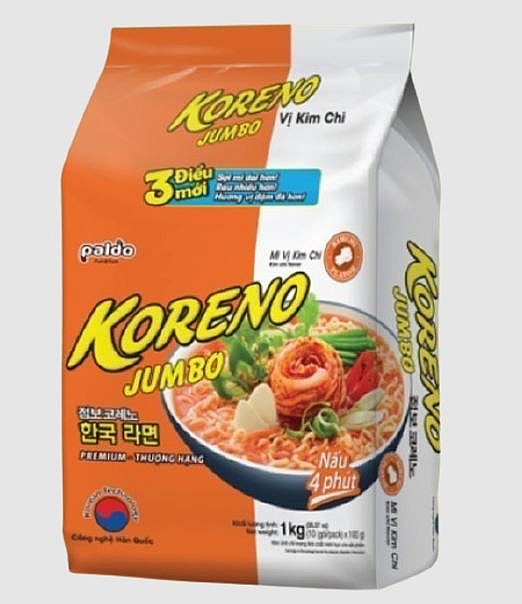 Koreno Jumbo (Photo: My Best)
7. Koreno Jumbo - Kimchi flavor
Fried noodle - 100g - 441 kcal per serving
Koreno Jumbo is produced with Korean technology. The noodles are well-cooked and deep-fried, leading to a less oily and more crunchy feel. Due to this special feature, the noodle needs 4 minutes to prepare, a litter longer time than other products, its texture worths the waiting.
Koreno Jumbo comes with diverse flavors, such as spicy beef or chicken, but we recommend kimchi - a signature Korean pickled cabbage.
Koreno in kimchi flavor has a balanced and savory taste. A little spicy, but just enough to enhance the Korean feel.
As its name suggests, Koreno Jumbo comes in a package of 10 servings, each weighs 100g, making it a good choice for the main course.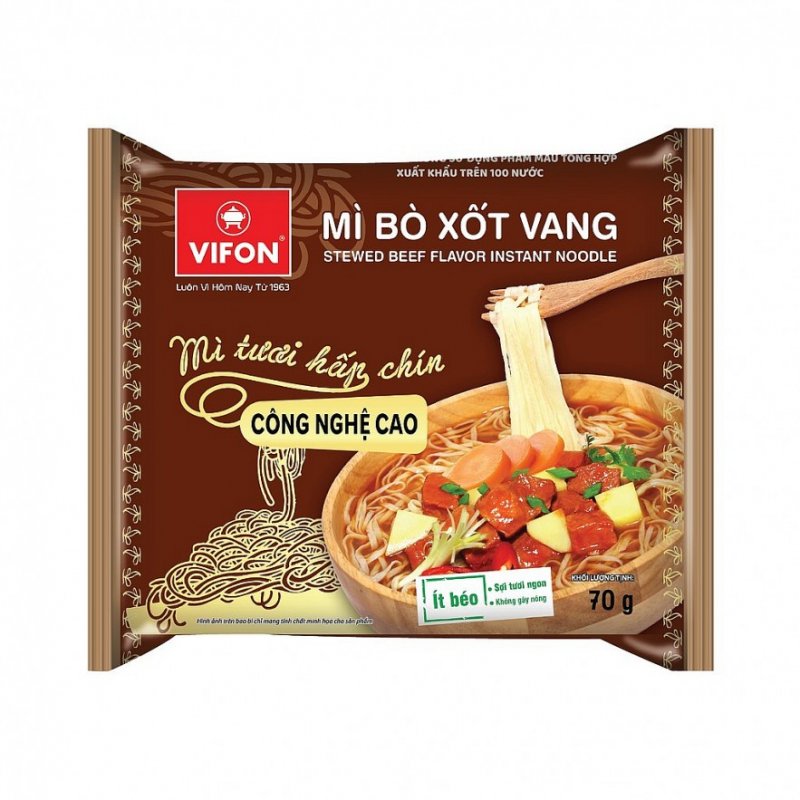 Photo: Vifon
6. Vifon - Stew beef in bordelaise sauce flavor
Steamed noodle - 70g - 355 kcal per serving
Vifon's beef in bordelaise sauce flavored noodle is a company's new product, aiming to introduce a new method of making noodles: steaming instead of frying. Due to this method, the product contains a lower amount of fat, while maintaining the freshness of the noodle.
In terms of taste, the product has a package of stew beef in red wine soup with a slight cinnamon aroma and rich taste.
Vifon claims that it uses no harmful preservatives and colorants to bring customers a healthier version of instant noodles. Each package costs VND 6,900, equivalent to US$ 0,3.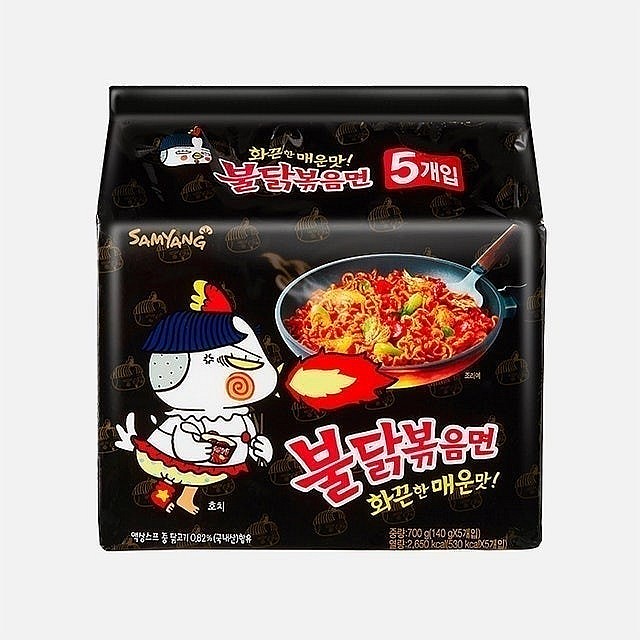 Buldak Samyang (Photo: SyDelicious)
5. Buldak - Spicy chicken flavor
Fried noodle - 140g - 530 kcal per serving
For those who love super spicy flavor, Buldak is a not-to-miss option. Trying to recreate the flavor of signature Korean spicy fried chicken that is loved by Vietnamese youngsters, this mixed noodle is no joke in terms of spiciness.
Buldak offers a cheese flavor version, which is less spicy for those who cannot stand the extreme heat.
To prepare the dish, you need to cook the noodles for 5 minutes, then drain the water and mix the sauce sachet with the noodles.
A package of Buldak includes five packages, each costs VND 25,000 (US$ 1,1), the costliest on the list.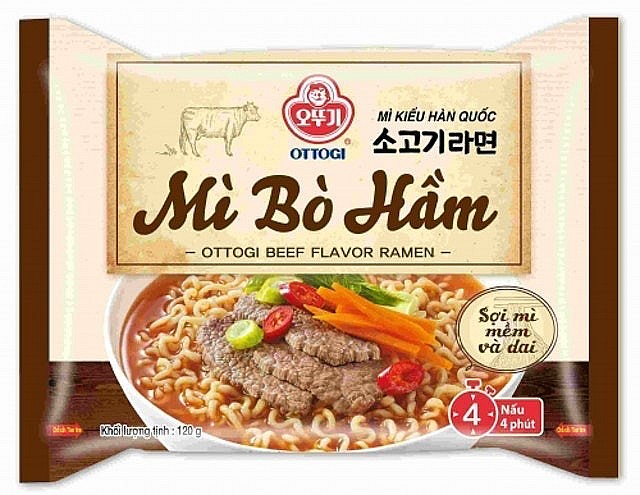 Ottogi (Photo: Bach hoa Xanh)
4. Ottogi - Beef flavor ramen
Fried noodle - 120g - 500 kcal per serving
Coming in a large 120g package, each Ottogi beef ramen serving makes a meal full of energy and flavor. The chewy and thick noodles combine with a mild beef stew sauce and a variety of dried vegetables form a rich flavor and beautiful sauce color.
Ottogi instant noodles have several different flavors for customers to pick, all of which relate to Korean cuisine.
The package is priced at VND 12,500 (US$ 0,5).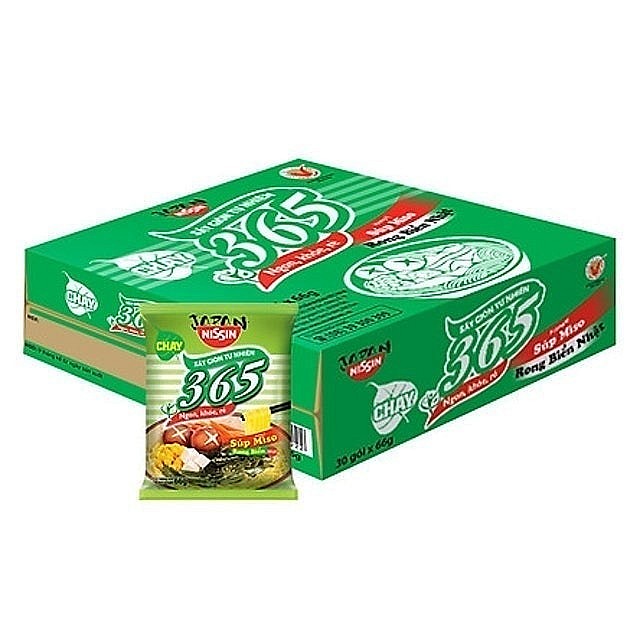 Nissin 365 (Photo: My Best)
3. Nissin 365 - Vegetarian noodles with seaweed miso soup
Non-fried noodle - 66g - 196 kcal per serving
For vegetarians or those who do not like a meaty taste, we have a plant-based option: Nissin 365 vegetarian noodles with seaweed miso soup. NISSIN 365 is a low-fat non-fried noodle product, made by a modern drying line to preserve the freshness of noodles while adding less fat content.
A low-fat soup with miso flavor, seaweed, and roasted sesame brings a light taste. Nissin 365 calls itself a healthy version of instant noodles, but it is still instant noodles after all. Though contains low calories, the dish does not provide enough nutrition.
Retail price: VND 4,800 (US$ 0,2)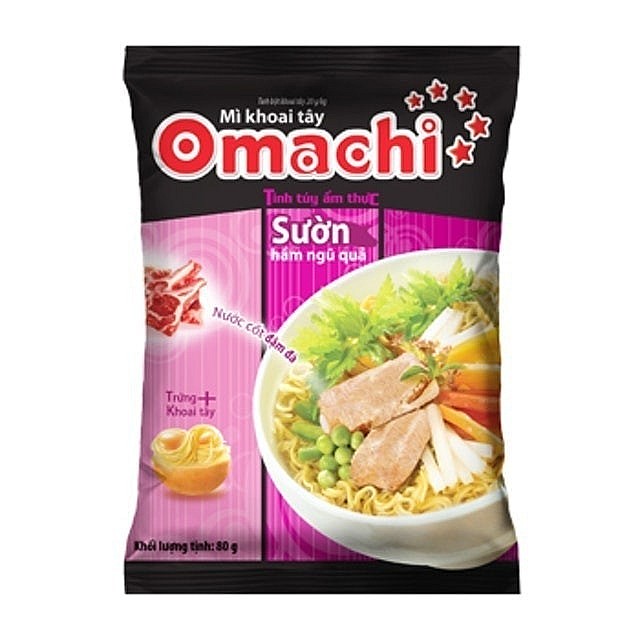 Omachi (Photo: My Best)
2. Omachi - Pork and five fruits
Fried noodle - 80g - 367 kcal per serving
Omachi potato noodles are a combination of wheat starch, potatoes, and eggs, so the noodles have a natural yellow color, thick and firm texture, and a characteristic starchy flavor.
The noodles come with three separate seasoning sachets, in which the broth is the most unique part that forms Omachi's flavor. According to the company's advertisement, the noodle sauce is concentrated from the pork bones, vegetables and fruits broth, therefore, it has a naturally sweet and meaty flavor.
The dish only needs three minutes to prepare. Each package of Omachi in pork and five fruits flavor costs VND 8,000, equivalent to US$ 0,34.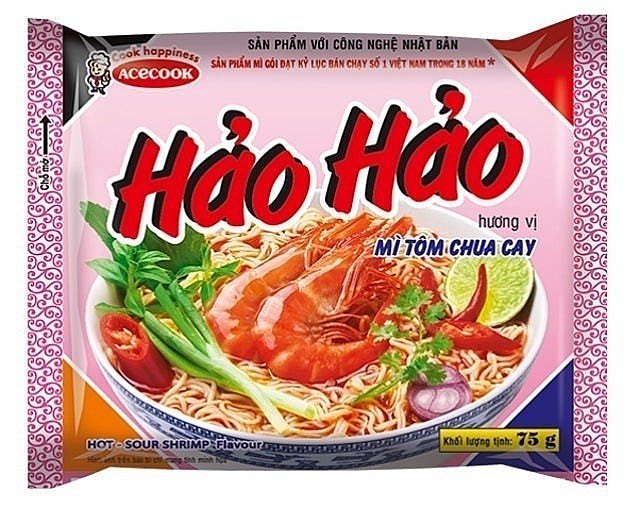 Hao Hao (Photo: My Best)
1. Hao Hao - Spicy and sour shrimp flavor
Fried noodle - 75g - 350 kcal per serving
Always lies in the group of best-sellers in different commercial channels, it is of no surprise that Hao Hao tops the list of 10 most famous instant noodles in the Vietnamese market. Born in 2000, Hao Hao has maintained its quality and reputation for more than 20 years.
Hao Hao is loved for its noodles' texture: light but firm, not too starchy, not falling apart too quickly when being put in boiling water. Therefore, it is often chosen to put in hot pots.
Hao Hao is sold at VND 3,800 (US$ 1,17).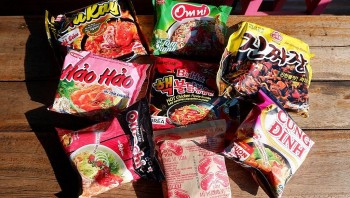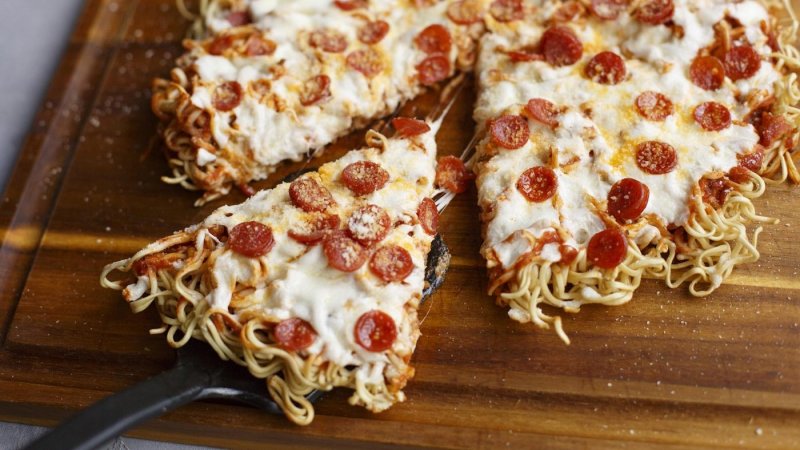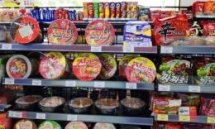 Valerie Mai
TAG: