Banks expect positive profit growth at year-end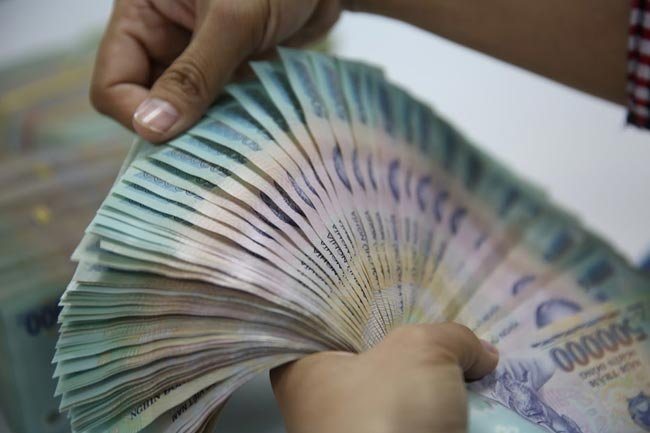 An unidentified person checks Vietnamese banknotes at a bank. Despite the pandemic, banks will still see a positive profit growth until the end of the year – PHOTO: THANH HOA
HCMC - Despite the pandemic, banks will still see a positive profit growth until the end of the year, said many bank experts.
Many research units have predicted that bank profits will continue to surge for the rest of the year after banks posted hefty profits over the past two quarters.
A recent report showed that many securities firms had revised up the prices of bank stocks.
The market research division of Viet Capital Securities Company (VCSC) has adjusted its consolidated net bank profit forecast in 2021 up 37.8% from the previous estimate of 20.5% in early 2021, according to a VCSC report.
VCSC attributed the upgrade to the strong demand for credit and a high net interest margin. In addition, management agencies will prepare to maintain the economic growth, while controlling inflation.
Echoing the view, Maybank Kim Eng Securities Company (MBKE) also forecast that banks would be granted higher credit growth limits.
Speaking at a recent online talkshow, Nguyen Hung, general director of TPBank, said that the impact of Covid-19 in July and August would affect the full-year profits of the bank.
However, Hung said that TPBank had yet to revise down its profit target.
Extending loan payment deadlines and restructuring customers' debts will reduce the bank's revenue, but it is not much, Hung said.
Bank profit is expected to fall in the third quarter of the year, but will rebound in the fourth quarter, he added.
MSB will also set aside a provision and lower the bad debt ratio to balance coefficients, said Nguyen Hoang Linh, general director of the bank.
VCSC said that the provision cost for the rest of the year was expected to decrease by 2.95% year-on-year and from the earlier forecast at 4.3%.
"Though the credit growth is forecast to expand in 2021, the provision cost of restructured loans will fall," said VCSC.
Banks will control credit costs effectively and successfully when some key fields such as property, export-import and retail develop more healthily in 2021 than last year, according to VCSC.
BIDV Securities Company also said that the good control over asset quality could contribute to the profit growth of banks in the second half of the year.
The banking industry is moving toward positive changes compared with the credit cycle before, benefiting from lowered interest rates, said many analysts.
"We are still positive about the Vietnamese banking sector due to strong credit growth, increasing revenues from service fees, stable provisions, contributing to an expanding return on assets to 1,8%-2%," according to the research unit of MBKE.
TAG: