Urgent support needed for pandemic-hit workers to retain long-term human resources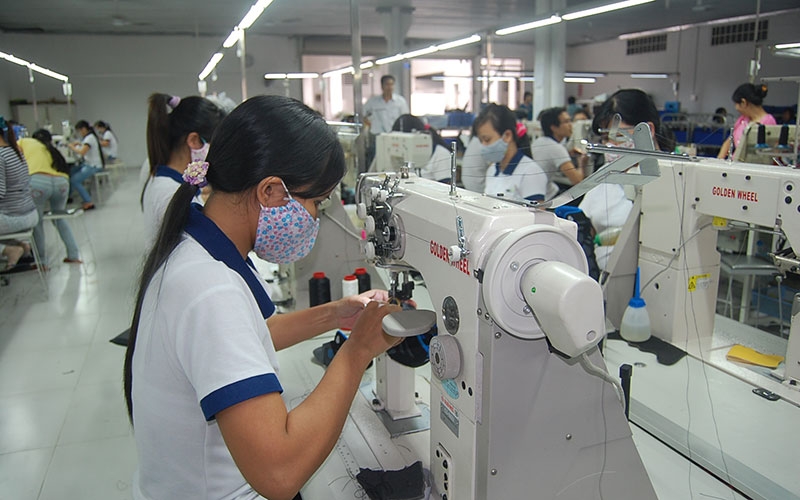 Producing textile products for export at Dong Nai Garment Company. (Photo: MINH TRANG)   
NDO - Although there are no statistics or assessment of the impact of the phenomenon of people returning to their hometowns from southern epidemic hotspots, many risks exist both in terms of health and finance. The problem for authorities at host cities at this moment is to take care of people's lives at all costs to retain production forces and keep human resources in long-term.
Establishing a door-to-door support network
Many employees working in southern provinces had to rush back to their hometowns to avoid the COVID-19 pandemic and faced a lot or risks due to unsafety regarding travelling, health and expenses.
The situation only temporarily calmed down when the Government issued express dispatch No. 1063 - requesting local leaders to absolutely not let people move out of their residences from July 31 until the end of social distancing.
Tran Hoang Ngan, director of Ho Chi Minh City Institute for Development Studies Tran Hoang Ngan told Nhan Dan reporter that "Going home is a very normal thing, but not at this time. As a city resident, I understand that you are very worried about the risk of infection and no income to pay for meals and daily expenses. But please stay calm, Ho Chi Minh City is determined not to abandon anyone."
Ngan has delivered this message at a time when the Government is prioritizing vaccines for the city and the vaccination capacity has been raised to 100,000 doses a day. In addition, dozens of hospitals are being invested rapidly in both equipment and human resources from the central level.
Relief work has also saw changes as the city has begun to set up a door-to-door support network to provide essentials to residents, ensuring that no one is left behind.
Moreover, the Government is directing the reduction of prices of electricity, water and telecommunications. Meanwhile, many landlords are providing free accommodation to ease difficulties for workers.
"There are many reasons that may motivate you to return your hometowns, but staying in the same place is patriotic. If you still decide to return to your homeland, please wait until you are vaccinated and only leave when there is the help and coordination from the authorities. Please think about exhausted medical workers, who are always ready to rush to emergency rooms, to join hands with the frontline forces," Ngan said.
Nguyen Quang Dong, an expert in public policy, said that people need to go back to their hometowns at this time because they cannot continue to maintain their lives in the epidemic area with empty hands and zero income.
To keep them in the city, there is no other way but for the authorities to speed up the vaccination schedule and have a clear message about the relief policy of providing essentials and even handing out cash so that people do not miss any meals and can cover living expenses.
The relief must be maintained until the pandemic is under control, maybe for months, depending on the situation in pandemic prevention and control.
Risk of labour shortage
Before the issuance of the Government dispatch No.1063, some central provinces announced to stop receiving people from pandemic areas because the health system was overloaded and could not afford to organise concentrated isolation.
However, Dong said that the responsibility of the localities is to receive returning citizens and if there is a shortage of resources, they can ask for support from the Government.
"Local leaders are facing difficulty in taking charge of pandemic prevention and control, but many localities have limited capacity. The state budget must be responsible for immediately supporting poor provinces to solve the relief problem. The policy at this time must be implemented under the state of emergency, even if it is acceptable to pay support to the wrong objects to some extent, such that no one is missed," Dong emphasised.
Associate Professor, Dr. Pham The Anh, head of the Department of Macroeconomics under the National Economics University, said that the responsibility to help people stay at the same place belongs to both the host authorities and local authorities. The host authorities need to quickly disburse the social security support package to the people. Meanwhile, the local authorities at their hometowns should provide food or cash support to their citizens living in epidemic areas.
Thus, overload will be eased for the pandemic areas while central provinces will also avoid the risk of infection and potential burdens if people continue to repatriate.
Anh also noted that the massive movements of people from their residential areas in recent days will certainly affect long-term resources in the southern key economic zones. At the same time, it creates the burden of creating jobs and ensuring social security for the provinces with repatriated workers.
In economic regions, once the pandemic is under control, it will be not easy to immediately call workers back to work. Labour shortages in industrial parks and manufacturing plants will be quite possible in the near future, Anh added.
Without labour forces for production, there will be no economic development and no contribution to the state budget. Therefore, the economic damages to Ho Chi Minh City, Binh Duong, Dong Nai, and others will be very severe if they do not try their best to retain workers at this time," Anh warned.
The large shortage of labour resources is a visible threat to the textile and garment industry, the largest labour-intensive industry today. Chairman of the Vietnam Textile and Apparel Association Vu Duc Giang said that many of the people in the rush to return to their hometowns in the last days of July and early August were workers of the garment and textile industry. They are workers who had to quit their jobs or suspend working and cannot afford to pay for their accommodations.
Currently, textile and garment enterprises have received orders until the fourth quarter of 2021 and early 2022, but they are concerned that when production recovers, only about 60% of the workers who returned to their hometowns will come back to work. The situation will delay the delivery schedule and affect the export performance of the economy.
TO HA
TAG: