Vietnam's garment-textile export turnover hit 19 billion USD in H1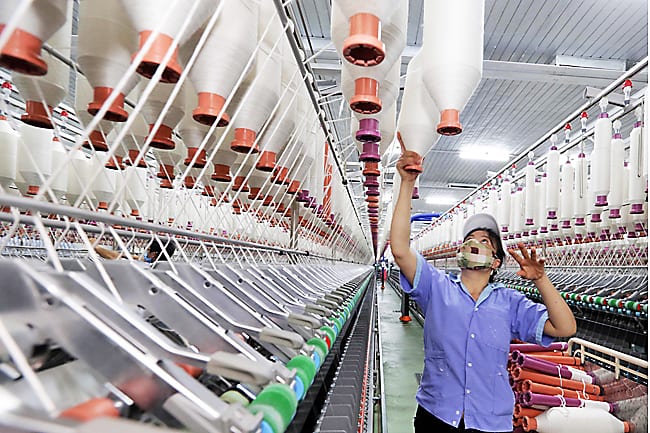 Vietnam earns nearly 19 billion from textile exports in the first six months of 2021, up more than 20 percent year-on-year.
The positive results was attributed to early post-pandemic recovery of markets.
However, businesses are facing new challenges due to severe impacts of the fourth wave of COVID-19 outbreaks, which started from late April in the country, Vietnam News Agency citing a note by Chairman of Chairman of the Vietnam National Textile and Garment Group (Vinatex) Le Tien Truong.
According to Chairman of the Vietnam Textile and Apparel Association (VITAS) Vu Duc Giang, Vietnam set to earn 39 billion USD from garment and textile exports in 2021.
To realise the target, businesses need to proactively seek sources of raw materials for domestic production in order to take advantage of opportunities from new-generation free trade agreements that Vietnam has joined.
Businesses need to promote chain-based production and have specific measures to expand markets, thus further pushing exports, Giang suggested.
Related: How to register a garment-textile business in Vietnam
Representatives from other garment and textile companies said businesses should pay attention to moderlising production equipment, expanding production and improving workers' capacity, thus meeting high quality orders and demanding requirements of importers.
In general, Vietnam's export earning hit 27 billion USD in July, down 0.8 percent month-on-month and up 8.4 percent year-on-year, reported the General Statistics Office (GSO) on July 29.
On seven-month calculation, the figure reached 185.33 billion USD, marking a yearly rise of 25.5 percent. Of which, 48.52 billion USD was from domestic economic sector, up 14.6 percent and the remaining from foreign-invested sector, inclusive of crude oil, up 29.9 percent.
The US remained Vietnam's largest importer with turnover hitting 53.6 billion USD, up 37.4 from the same period last year. It was followed by China 28.7 billion USD, up 24.2 percent and the European Union 22.5 billion USD, up 15.5 percent.
According to the GSO, imports in July was estimated at 28.7 billion USD, up 3.8 percent month on month and 29.9 percent year on year.
Twenty-seven goods groups earned over 1 billion USD from export, or 90.2 percent of the total. Five of them brought home more than 10 billion USD, equivalent to 57.8 percent.
To boost production and exports, the Ministry of Industry and Trade pledged to tap opportunities from free trade deals, step up export promotion activities post-pandemic, as well as continue developing energy, mechanical engineering industries, according to Vietnam News Agency.
Share this:
Facebook
LinkedIn
Reddit
Twitter
Email
Related
TAG: