Experts highlight vaccination's importance for economic recovery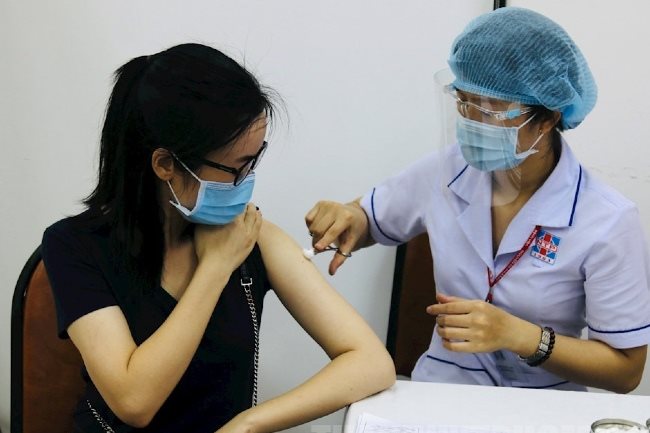 A woman is injected with the Covid-19 vaccine in HCMC - PHOTO: MINISTRY OF HEALTH
HCMC - While the fourth wave of Covid-19, which began in late April, is hitting Vietnam's economy hard, vaccination is vital and a long-term solution for a healthy economic recovery, said experts in economics and finance from RMIT University.
Lecturers and researchers Dr Greeni Maheshwari and Dr Daniel Borer from RMIT's School of Business and Management stressed that vaccination is the best solution to reignite the suffering economy and return to a normal life.
Dr Borer especially emphasized that vaccination can help minimize the risks from supply disruptions at industrial parks.
"The rapid Covid-19 outbreak returning has reduced productivity and left factories operating below capacity in the manufacturing industry in Vietnam, where suppliers of many global firms are located," he said.
"Vaccination is the key to return to full economic activity. Vietnam would be at a disadvantage if supply chains are disrupted and the country remains closed to foreign businesses as a measure to prevent the virus spread, while other countries in the region open up thanks to successful vaccination," he added.
Dr Maheshwari said hundreds of thousands of manufacturing workers getting vaccinated will help maintain production.
"Vaccination will be beneficial for factories where thousands of workers are working in close proximity. This vaccination drive will help fight the virus and ensure the good health of workers which will enhance production and boost the economy," she added.
According to Dr Maheshwari, many countries including European countries and the United States have put their greatest efforts into vaccination, and are now starting to enjoy dramatically decreasing infection rates and the gradual normalization of life.
During the Covid-19 vaccination drive, Dr Borer assessed that that Vietnam now faces a challenge to rekindle the economy gradually but safely, while an increasing number of people get vaccinated.
"Herd immunity is said to be reached at 60-80% of the fully vaccinated population. If Vietnam waits to achieve herd immunity before restoring the economy, valuable months will be lost and more companies might go bankrupt," Dr Borer said.
"The Vietnamese Government could implement a system where businesses with 60% of their staff fully vaccinated could return to regular operations," he added.
"This micro-management at the business level would allow the re-establishment of operations for an increasing number of companies and revive the economy, while keeping those sectors where the vaccinated population is low restricted."
Dr Maheshwari believed Vietnam still remains attractive to foreign investors and its economy is set to return to growth once vaccination campaigns have been accelerated.
"Although foreign direct investment has dropped significantly due to the severe global recession, Vietnam is still an attractive country for investors as it has been successful in recovering from the third outbreak. As long as the fourth wave is controlled, it will not have much impact on the economy," she said.
According to Dr Maheshwari, the vaccination drive will also help some of the industries such as manufacturing and tourism to resume their operations and this will bring a positive impact to Vietnam's gross domestic product growth rate in the coming time.
TAG: