Digital competition promotes youth engagement in national digital transformation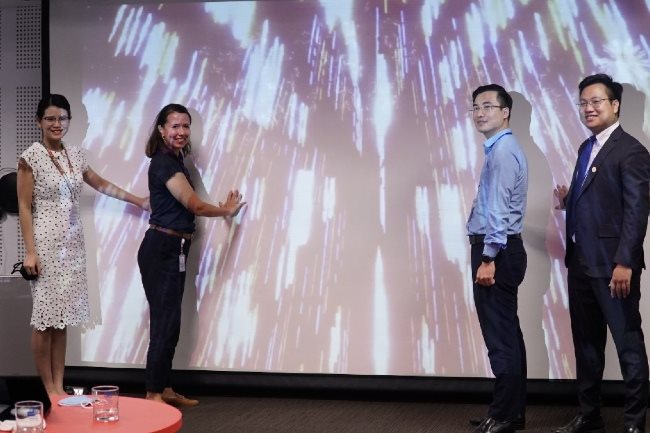 Representatives from UNDP and the Hanoi Youth Union launch the Youth Digital Citizen Challenge 2021 - PHOTO: UNDP
HCMC - The UN Development Programme (UNDP) and the Hanoi Youth Union are jointly organizing the competition, "Youth Digital Citizen Challenge 2021", to encourage young people to design better digital solutions and services.
The competition welcomes all participants including students, programmers, designers and entrepreneurs from 18 to 30 years of age. There is no restriction on the population group, occupation, or geographical location as long as participants have ideas and capabilities in the fields of information technology, communication and entrepreneurship, or fields related to the challenge.
This is a great opportunity for the youth to express their creativity and produce breakthrough ideas in order to contribute to the national digital transformation.
Despite a relatively good information and communication technology infrastructure, including widespread internet coverage, Vietnam is still in the early stages of its digital transformation journey.
The UNDP's Public Administration and Performance Index in 2019 showed that people's acceptance of important online services on the provinces' web portals is below 4%.
According to the Ministry of Home Affairs, Vietnam has over 20 million young people, equal to some 25% of the population. With a view to tapping into the innovative potential of young people and the power of technology, the "Youth Digital Citizen Challenge 2021" encourages young people to create a solution package, including a technology product or service or a communication strategy to boost the quality of e-public services.
According to the E-Government Development Index of the United Nations, from 2014 to 2020, Vietnam climbed from the 99th place to the 86th place among 193 nations.
"This shows continuous efforts from Vietnam in recent years to embark on digital transformation. The youth of Vietnam has the skills, knowledge, innovation and devotion to support local governments in the process of helping the country achieve its targets as well as toward the achievement of the Sustainable Development Goals by 2030," said Diana Torres, UNDP deputy resident representative.
The registration and first round of the competition is being held online until August 10. Ten teams with the best ideas will be selected to participate in a two-day bootcamp from August 18-19 with experts from UNDP, the Hanoi Youth Union, government bodies, and some of the best companies in Vietnam to develop the teams' ideas.
Three winning teams will have the chance to earn rewards worth a total VND70 million, co-working space packages and other grand prizes.
TAG: