Finance Ministry says has spent VND21.5 trillion on Covid-19 fight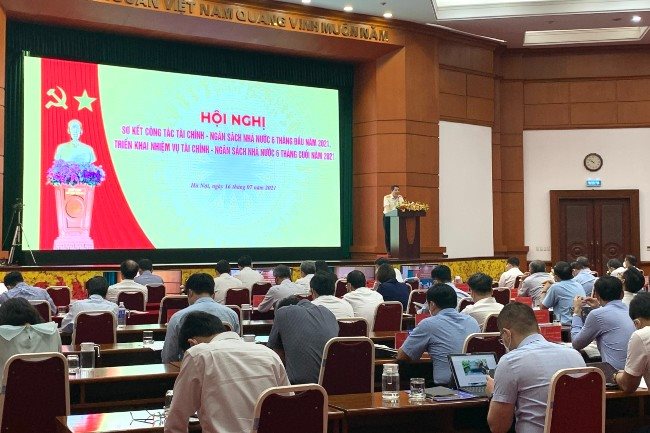 The Ministry of Finance provides details on the Government's spending on Covid-19 containment at a meeting on July 16 - PHOTO: VGP
HCMC - Vietnam has spent VND21.5 trillion from the State budget to deal with Covid-19 since the pandemic broke out early last year, the Ministry of Finance announced at a meeting on July 16.
In the first half of this year alone, the Government spent VND4.65 trillion on Covid-19 infection prevention and control activities.
Among the total spending of VND21.5 trillion on the Covid-19 fight, VND8.4 trillion was used for the purchase of Covid-19 vaccines and medical equipment, covering quarantine costs and supporting frontline forces. Meanwhile, VND13.1 trillion was used to provide relief and financial support for people affected by the pandemic following the Government's resolutions No. 42 and No. 154.
To accelerate the purchase of Covid-19 vaccines and the Covid-19 vaccination campaign, the ministry has proposed the Government allocate VND1,237 billion from the State budget's standby fund in 2021 for the Ministry of Health to buy Covid-19 vaccines and carry out vaccinations.
The ministry has also proposed the National Assembly Standing Committee allocate VND13.3 trillion from the State budget savings in 2020 to buy Covid-19 vaccines.
Moreover, the Government has established the Covid-19 vaccine fund to mobilize legal sources of capital, together with the State budget, to buy Covid-19 vaccines for local residents. Up to now, the fund has mobilized approximately VND8 trillion.
On June 30, Prime Minister Pham Minh Chinh signed a decision to spend an additional VND7.65 trillion on the purchase of 61 million doses of Covid-19 vaccines.
The additional fund will also be earmarked for the transport, distribution and storage of vaccines sourced from the COVAX Facility and foreign funding and sponsorship.
According to the Ministry of Finance, the Government has asked all ministries, departments and localities to cut convention expenses by at least 50% and regular expenditures by at least 10%, thus increasing the spending on development and Covid-19 containment.
TAG: