Salary more decisive than employer branding in job seekers' choices amid pandemic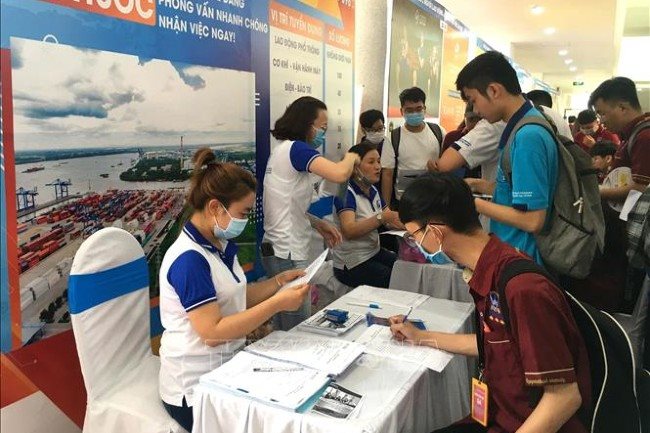 A job fair in HCMC - PHOTO: VNA
HANOI - Job seekers now care about salary more than employer branding when it comes to taking up a job in the context of the Covid-19 pandemic affecting all socioeconomic aspects, according to the latest report of recruitment company Navigos Group.
According to Navigos' survey, 60% of job seekers think that salary and employee benefits, including bonus, insurance and annual leave, are prerequisite factors for them to decide whether to apply for a vacancy or not.
Meanwhile, the remaining 40% said employer branding, including corporate culture, business scale, investment model, industry, leadership type, work environment and company reputation in the market affect their decisions.
Similarly, most employers said salary and employee benefits are the key factors for them to attract candidates. Approximately 60% of businesses who participated in the survey agreed with the above statement.
Moreover, 85% of small and medium enterprises, which have 100 to 1,000 employees, believed that candidates always have a clear expectation about salary, bonus and remuneration. The above factors are also considered as motivational factors for a candidate to commit to working for a long time and helping the business achieve common goals.
Some 80% of job seekers in the survey said that the Covid-19 pandemic won't make them change their decision to give priority to salary and employee benefits while seeking jobs.
Accordingly, 50% believe that providing a good salary and employee benefits will be one of the main keys to show how well-developed a business is and 20% explained that the economy has not returned to normal, so a stable income has become one of the reasons to help them reduce stress.
Meanwhile, 10% claimed that by maintaining salary and employee benefits, enterprises can make the work environment more positive.
Among the employee benefits, the factors that job seekers care about the most are insurance schemes and healthcare, sales commissions, a Tet (Lunar New Year) holiday and seniority bonuses as well as professional training programs.
Candidates in HCMC are most interested in insurance schemes in addition to a stable income. In Hanoi, candidates give priority to a sales bonus, a Tet holiday bonus and an attractive seniority bonus.
Regarding employer branding, factors that job seekers appreciate the most are a good work environment (68%) and business size (62%).
Contrary to the need to know the salary of job seekers, most employers today rarely disclose the salary range.
More than 15% of companies do not disclose the salary in their job posting. Only a few companies, 4-9%, will reveal the salary.
The reason is that employers want to assess a candidate's ability and make the salary negotiation easier. In addition, employers also want to avoid questions about the salary from current employees and find more potential candidates at different levels of work.
The survey also pointed out factors that might create an attractive job posting without salary information. These include a sales bonus, a Tet bonus and an attractive seniority bonus, insurance schemes, an attractive professional training program, career trends, an interesting work environment, excellent and experienced leadership, business scale and work locations.
Navigos Group's report on "The employees' choice between 'Salary, Employee benefits' and 'Other factors in Employer Branding'" was conducted on nearly 1,000 job seekers and more than 400 employers.
TAG: