VN-Index rises as largecaps fly higher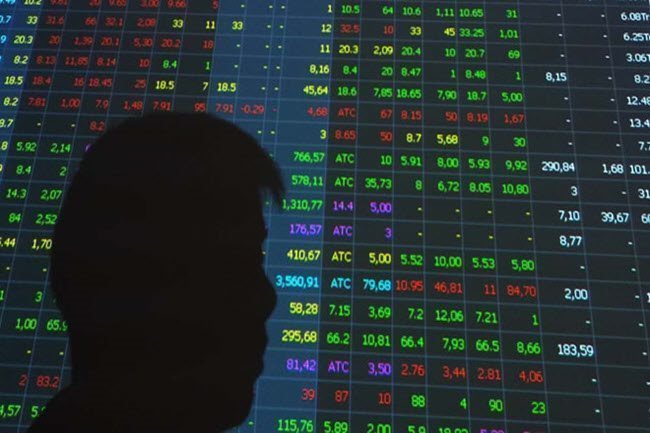 The silhouette of a man is cast on an electronic board that displays stock information. The VN-Index of the Hochiminh Stock Exchange gained 5.39 points today, July 16 – PHOTO: TNO
HCMC - The VN-Index of the Hochiminh Stock Exchanged continued its upward spiral, ending up 5.39 points today, July 16, supported by strong gains of largecaps.
Market breadth was positive as 287 stocks gained steam while 82 others lost ground. The main index added 0.42% from the session earlier at 1,299.31.
The southern bourse saw trade volume and value inch up 5.8% at over 465 million shares and 2% at VND15.5 trillion, respectively. Block deals amounted to 50.3 million shares valued at VND2 trillion.
In the VN30 basket, consumer goods firm MSN and housing developer VIC reversed course to improve 4.8% and 3.7%, respectively, at the close.
Ending the day up over 1%, insurer BVH, tech firm FPT, sugar maker SBT and realty firm KDH also contributed to driving the main index.
Steelmaker HPG extended its winning streak for the second straight day and took the lead on the southern market by liquidity with 22 million shares changing hands.
Among bank stocks, MSB maintained growth momentum and reported a matching volume of over 19 million shares, while lenders VPB, ACB, TPB and OCB were also in positive territory.
Many securities stocks such as SSI, HCM, CTS, APG, VIX and VCI finished the day down and became the key drag on the southern bourse.
The Hanoi Stock Exchange made positive movements as the HNX-Index edged up 1.47 points, or 0.48%, at 307.76. Some 95 million shares worth VND2.2 trillion were transacted.
Lender SHB was still in positive territory and reported a matching volume of 30 million shares.
Some largecaps, including petroleum stock PVS, lender NVB, and property firm CEO, were among worst performers, while many securities stocks such as VND, SHS, BVS, MBS, ART and APS made a slight decline.
TAG: