Live pig prices lowest in two years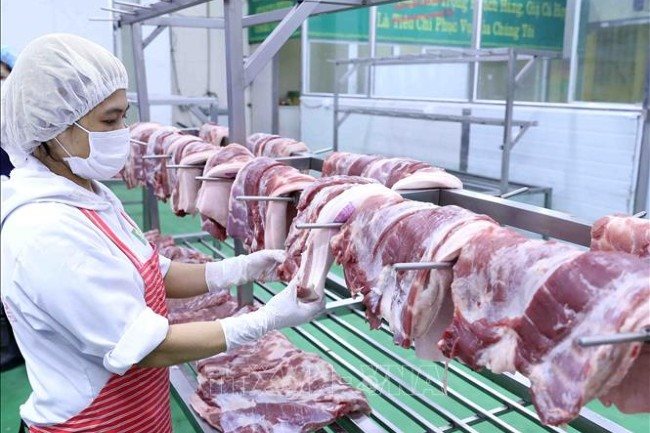 A woman arranges pork at a meat company. Pork prices remain high although live pig prices have fallen sharply – PHOTO: VNA
HCMC – Due to transport disruptions caused by the Covid-19 pandemic and the closure of a number of traditional markets, live pig prices across the country have dropped to VND52,000-57,000 per kilogram, the lowest since mid-2019.
Live pig prices in the northern cities and provinces currently range from VND56,000 per kilogram in Hanoi and Tuyen Quang to VND59,000 per kilogram in Thai Nguyen, Yen Bai, Lao Cai, Nam Dinh, Thai Binh, Vinh Phuc and Ninh Binh.
In the Central Highlands and central region, live pig prices are VND55,000-56,000 per kilogram.
Live pig prices are the lowest in the southern cities and provinces, ranging from VND52,000 to VND57,000 per kilogram. In Dong Nai Province, the prices are the lowest in the country, at VND52,000.
Ha, a live pig trader in Dong Nai, said traders are facing many difficulties to transport live pigs to other provinces as the drivers have to present a negative test certificate for Covid-19.
"If transport disruptions continue, live pig prices would fall to VND52,000 per kilogram in the coming time," he said.
According to Nguyen Tri Cong, chairman of the Dong Nai Livestock Association, wholesale markets and major distribution centers in HCMC have been suspended, affecting the consumption of pigs.
"While live pig prices have dropped sharply, the production cost has increased significantly. The cost to raise pigs is estimated at VND60,000 per kilogram. With the current live pig prices, the farmers are suffering heavy losses," he said.
The Dong Nai Livestock Association has written to the provincial government and related departments proposing opening meat stores in Bien Hoa City to increase the consumption of live pigs and offer pork at reasonable prices for the locals.
The Agro Processing and Market Development Authority (Agrotrade) said live pig prices in the southern cities and provinces, which are currently hit the hardest by the fourth Covid-19 wave, have seen the steepest drop. Agrotrade forecast live pig prices would rebound slightly once transportation issues are resolved.
Although live pig prices have fallen sharply, pork prices at meat stores, minimarts, wet markets and supermarkets remain high due to an increase in related costs, especially the cost of transport.
TAG: