Businesses failing to meet anti-virus requirements have to suspend operations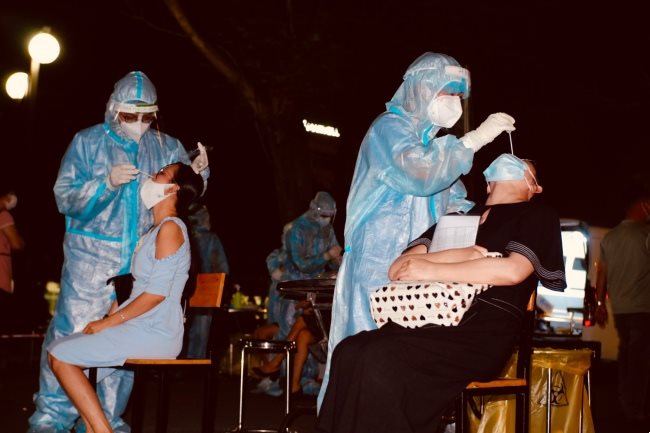 Medical workers collect samples from workers at the Tan Thuan Export Processing Zone in District 7, HCMC, for Covid-19 testing. Businesses in the city that fail to meet anti-Covid-19 requirements will be shut down from July 15 - PHOTO: HCMC CENTER FOR DISEASE CONTROL
HCMC - HCMC vice chairman Duong Anh Duc signed a decision on July 13 stating that businesses in the city that fail to meet anti-Covid-19 requirements have to suspend their operations from July 15.
Given the fast spread of Covid-19 in the city, only businesses that can arrange accommodation and meals at work for their staff are allowed to remain operational.
Workers can live in enterprises' dormitories or hotels meeting Covid-19 infection prevention and control requirements.
Employers must arrange buses for transporting their workers between their concentrated accommodation facilities and their factories. This means their workers are banned from using their own vehicles to get to work.
Drivers transporting goods and equipment from and to production facilities must have proof of negative Covid test.
As the country's economic hub, HCMC is home to a large number of industrial parks, export processing zones and hi-tech parks. The city has recently detected many chains of Covid-19 infection in these areas, forcing the local authorities to take tougher measures to stop the spread of the virus there.
Up to now, the city has confirmed more than 400 Covid-19 infections at 50 companies at the Tan Thuan Export Processing Zone in District 7 and the Saigon Hi-Tech Park in Thu Duc City. Many factories have been closed down after their workers tested positive for the coronavirus.
The HCMC Department of Health will send medical teams to these industrial areas to test the workers there every week. The testing cost will be covered by the employers.
According to HCMC chairman Nguyen Thanh Phong, over 40 businesses in the city have registered to apply the stay-at-work mode. The city plans to transform 15 unused warehouses into quarantine facilities for the workers.
HCMC currently has 1.6 million workers working at factories, including more than 320,000 people at 17 industrial parks, export processing zones and hi-tech parks.
TAG: